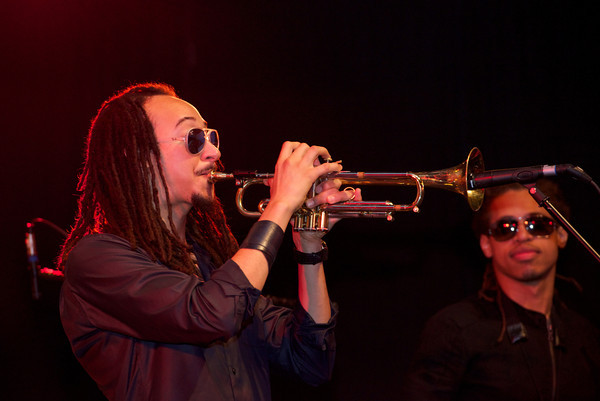 Theo Croker
While much of the world was just beginning to enjoy summer, the Caribbean island of St. Lucia said goodbye to its sunshine season with the "2014 St. Lucia Jazz & Arts Festival." This was the second year of the festival under a new rebranding structure following its first 22 years. Though every day did find some manner of jazz artist performing (including an intimate Thursday evening with Avant-garde' pianist Omar Sosa and Dee Dee Bridgewater featuring fast-rising trumpeter Theo Croker), the sounds wafting from the outdoor Main Stage leaned far more deeply into world music (Elvis Crespo, Barrington Levy, P-Square) and contemporary American Soul (Maxwell, KEM, Leela James and the Commodores). It was an eclectic and entertaining lineup but one that would have more accurately fallen under a banner of "World Pop and Arts Festival." Semantics aside, the cornucopia was refreshing for open-minded music lovers, spanning stylistic and generational boundaries in a setting welcoming of families and folks of all ages.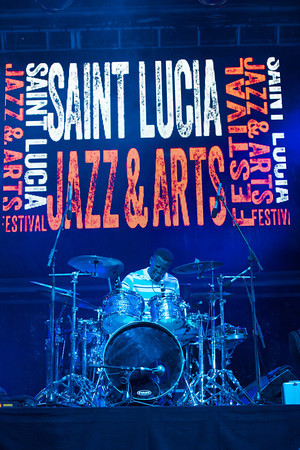 From the moment I stepped onto the waterfront grounds of Pigeon Island in the upper northwest corner of the Island, colorful sights and festive music abounded. I was welcomed by stilt walkers that I literally had to walk through to get to the entrance with calypso and drum bands on either side, instantly separating me from the dullness of the outside world. Here, it was carnival time and the air crackled with celebration. Once in, there was a side stage that showcased local acts ranging from DJs to brass bands to dance groups performing whenever there was a break between star acts on the main stage. And at the Heineken-sponsored V.I.P. Beer Garden, Los Angeles transplant Carl Gustave rocked the house with solo electric guitar strains ranging from James Brown and B.B. King to Jimi Hendrix. His parents are St. Lucian but he was born in California. He moved to the island 16 years ago and now plays all the 5 star hotels and festivals.
While the food booths ranged from savory kabobs and rice with chicken plates to Dominoes Pizza slices, the main culinary attraction was Chef Nina Compton, a "local St. Lucian girl done good" who became famous as a first runner up-placing contestant on the American competition TV show "Top Chef." This success resulted in a "SLJF" first: having her helm an on-site Island Gourmet Restaurant where she whipped up spicy, tongue teasing dishes and mingled with her fans. Asked what music she likes to play when preparing her award-winning specialties as Chef de Cuisine at Scarpetta Italian Restaurant at the Fountain Bleu Hotel in Miami where she now calls home, Compton shared, "Depending on the mood, we put on artists like Steel Pulse, De La Soul or Celia Cruz. I always have music on! It puts the staff in a good mood. When you're happiest, you make the best food."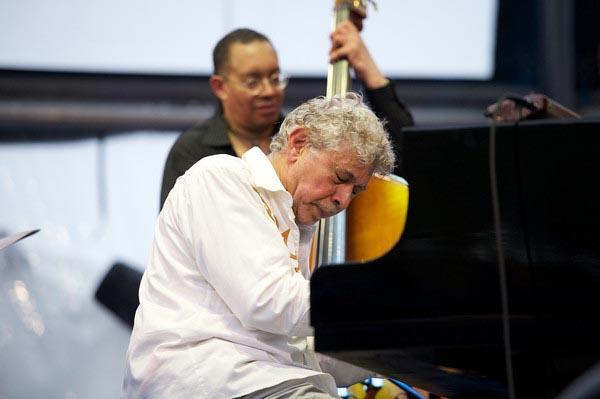 Monty Alexander
Beginning with Friday, highlights of the Main Stage started with Trinidad's unique Alternative Quartet, a very dynamic pop-leaning string foursome of two men and two women. The group passionately blends dance music, smooth jazz and classical led by violinist/producer Andre Donawa with 2nd violinist Andre Comeau, viola player Nariba Herbert and newest member cellist Wasia Ward. Their single "I Am Paradise" was a rousing visual standout with the band playing live as their sunny music video played in-sync on the multi-screens that arced behind them. Multi-instrumentalist band leader Teddyson John followed blessed with triumphantly returning superstar special guest Alison Hinds, "The Queen of Soca" who fired up the stage with song and dance classics that put St. Lucia on notice that she is ready, willing and able to rule for another term. Friday night's headliner was legendary Jamaican singer/toaster Barrington Levy and his skin-tight band which had everybody on their feet with his broad ranging catalog of story-telling dancehall hits: from the rowdy, weed-smoker's chant "Seedless" to the cautionary parable "Murderer." The reggae master had the crowd in the palm of his hand with his high energy set – they did not want to let the man go home.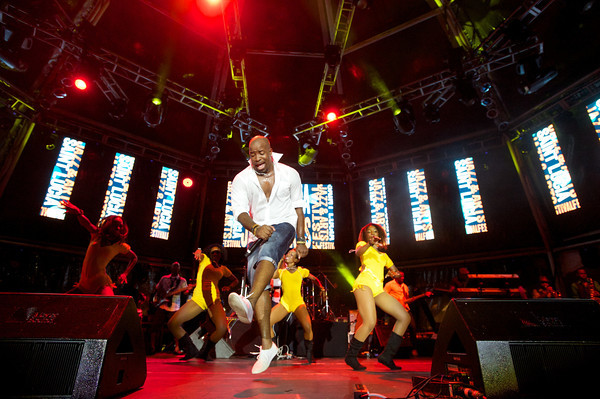 Teddyson John
Saturday started with collective Saint Lucia Expose' led by songwriter/producer Michael Robinson. This was a group of young singers and musicians that he put together especially for the festival to showcase talent deserving of recognition but and material that gave them their own identity which he composed for them. Those featured singers were powerhouse belter Anesha Antoine, smooth crooner Jesse Leonce and playful upstart Thaddeus Lione. They were followed by local jazz guitarist Ronald "Boo" Hinkson whose stoic demeanor belied the emotion that poured through his hands to his instrument. He was joined by another local favorite, Barbara Cadet, a barefoot "pied-piper-ess" of lilting soprano sax.
American Neo Soul love man KEM arrived to make converting inroads with the island audience, spinning his winning hybrid of smooth jazz, funk and ballads. Dressed all in white as a symbol of rebirth, he spoke candidly of the demons and struggles he overcame to now be able to bring the people messages of hope, light and romance. He and his 8-piece backup of rhythm, horns and female backup vocalist (led by bassist/MD Al Turner) hit the crowd with everything from a spot-on cover of Rick James' "Give It To Me Baby" to his own hypnotic grooves "Find a Way" and "I Can't Stop Loving You." There is no question St. Lucia will have him back. Next was American born Puerto Rican Meringue sensation Elvis Crespo who delivered a dazzling, crowd-pleasing show of flashy dance numbers. Closing the night was Nigerian duo P-Square (brothers Paul & Peter Okoye often compared to Usher and influenced by Michael Jackson) who are on a mission to take the literal fireworks of their boombastic native club music – including the international crossover hits "Personality" and "Alingo" – to the next frontier of America without compromising their cultural identity.
Sunday proved to be both the best and the most jazz-oriented day beginning with what was the most pleasant musical surprise of the "jazz festival": Island all-star group Bluemango'. This is a collective led by St. Lucian keyboardist Richard Payne of highly skilled Jazz Fusion players from Martinique, French Guaina and Dominica that is also engagingly melodic – the very best of both worlds. It is a rare treat for all of the individual stars of this band to play together – they often rehearse via Skype – but the effort is so worth it as they are celebrating their tenth anniversary. Backstage Payne explained, "We think the Caribbean is the next continent – separated by water but united by common Creole language and history. We have a natural compatibility." Standout soloists are guitarist Yann Negrit (who rips like hard rocker Yngwie Malmsteen), saxophonist Jussi Paavola and special guest vocalist James Germaine – all of whom have solo CDs.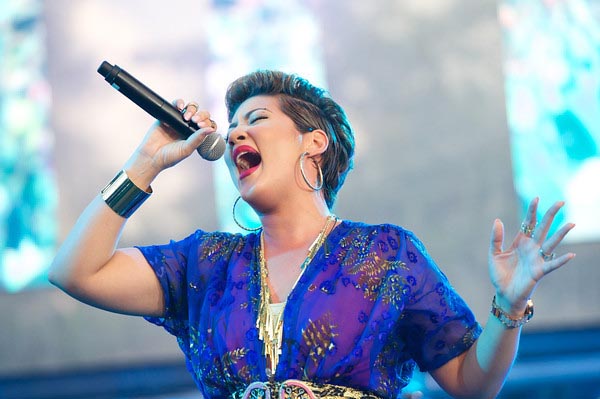 Tessanne Chin
Singer Tessanne Chin of Jamaica got a huge boost as the winning contestant of Season 5 of TV's "The Voice." From the moment she stepped on stage it was clear why. This young lady has powerful pipes that hit the back of the hills behind the audience with goose-bumps raising fire. A native of Jamaica, her repertoire stretched from heart-on-sleeve originals to a Bob Marley anthem and a Whitney Houston power ballad. Tessanne nailed all of them with perfectly modulated skill, sensitivity and a humble personality that makes people fall in love with her. She is going to be a very big star. Meanwhile American soul shouter Leela James matched Tessanne's might note for note but locked more squarely into a vintage R&B and funk vibe that included a strong cover of Rufus featuring Chaka Khan's "Sweet Thing." Preparing audiences for her July-slated album Fall For You – her first of personal, vulnerable all original material – Leela revealed a more sensitive side. But not before coming out of her shoes after the second song and raising temperatures about 10 degrees when a male fan jumped up on stage to dance very suggestively with her – even grinding. Asked about this backstage, Leela stated, "I like to make people feel good at my show. I enjoyed that this guy was not stiff and uptight. If he wanted to party I was willing to let him come party with me! I'm here to spread good energy."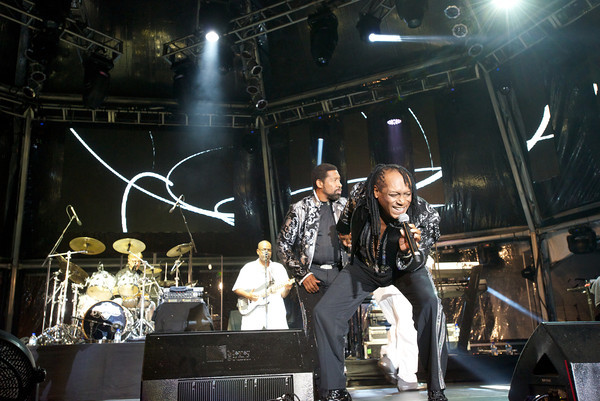 The Commodores
Veterans the Commodores made their long overdue St. Lucia debut, down from the classic Motown-era sextet to the trio of original multi-instrumentalist/singer members Walter Orange and William King with Lionel Richie's replacement J.D. Nicholas. Hard funk reared its ferocious head, especially when they did "Brick House" as a finale.
Jamaican jazz piano legend Monty Alexander played an extended set of his patented reggae jazz fusion with the dual band The Harlem-Kingston Express that was the jazz event of the festival. Headliner Maxwell also served St. Lucia a strong though toned down for family audiences set that closed the Mother's Day concert on a classy note including new song "Of All Time."
A final reflection about St. Lucia and its people: I went on a late Saturday morning junket to the island's famous Castries Market. I rounded a corner and ran smack into a bustling street market with vendors selling every new and used item imaginable. Looking up to the hillside, I marveled at a colorful dotting of homes against the green of the tall grasses. Bob Marley & The Wailers' "Who The Cap Fit" poured out from one of the shacks.
I turned around, crossed the street and stopped to have a short talk with some men on the corner about local cars, the languages spoken there and a debate about the watches two of them were wearing. Wishing them a good day, I entered a much less busy courtyard of small stores where women were languorously setting up their spaces. I took a seat to rest my feet and just soaked in the peacefulness. A cat prowled the floor, a young man twirled by giving an impromptu runway show and an old woman strolled the yard with a big box of clothes on her head – no hands.
I enjoyed the wonderful music of the festival, but when I get back to the island, these town folk and spaces are the first things I long to revisit.
Words by A. Scott Galloway
Photos by Earl Gibson III