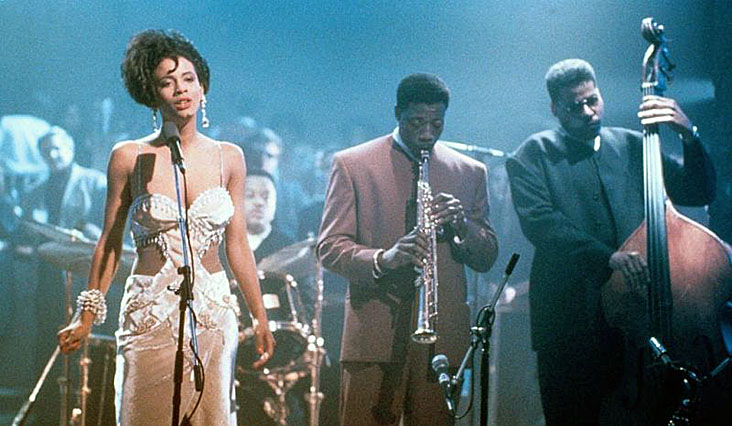 (l-r) Cynda Williams, Wesley Snipes, and Bill Nunn in Mo' Better Blues
Anyone from the ages of 35 – 45 who love jazz, either loves the movie Mo' Better Blues and or loves Clarke Bentancourt one of the leading ladies in the film. After the movie came out women were getting their hair cut like hers (myself included). Clarke was the quintessential beautiful, feminine, sensual and sexy woman who just wanted to showcase her talent of singing and to be loved. The actress behind Clarke is Chicago's very own Cynda Williams.
Mo' Better Blues was Williams' break out role however her first love is singing. "After graduating from Ball State University, I went to New York with the intentions of becoming a Broadway star. I was a musical theatre person and that's what I wanted to do. I really didn't know much about movies; I wasn't a movie watcher, I was too busy to sit down and watch a movie. I was always on stage, singing in church," she says. "That is my joy and my number one thing (singing). When I did Mo' Better Blues, it opened up both doors for me; the music side and the film side. But at the time, as much as I loved to sing, I was very hardcore about what I was going to sing. The way I was being pulled, the type of music I was pulled to sing, was not at all in my heart and not singing the kinds of things I wanted to sing or saying the kinds of things I wanted to say. So I preferred to sing on the local circuit or sing with bands, write and act (my bread and butter) and that is the road I took."
Back in the early 1990's when Jazz was on a high, especially with young people because of its fusion with the world of Hip-Hop, Williams says she wasn't really in to the genre despite her experience in the film. "I was very much a church girl; that's where I would spend all of my time. You wouldn't find me in any clubs of any sort. I started going out dancing once I moved to Los Angeles but I wasn't one to go to clubs and sing or listen to jazz because I was singing gospel in church so I wasn't really a part of that scene at all."
"Mo' Better Blues was all an acting job," Williams continues. "I didn't know anything about jazz, never spent any time in clubs at all. So, it was strictly just feeling the vibe and pulling the energy. When I did the show I went to a few things. I wasn't really a part of that world. And I really didn't start getting into that until I was much older. I did some stuff in D.C. with a Jazz band. I hung out in D.C. Jazz singing and that was a lot of fun. So, I'm only now, starting to really get into that. Like I said for me it wasn't age appropriate for me at the time. My work was very different. Although I always respected it and enjoyed it from afar but I was just in to my own thing."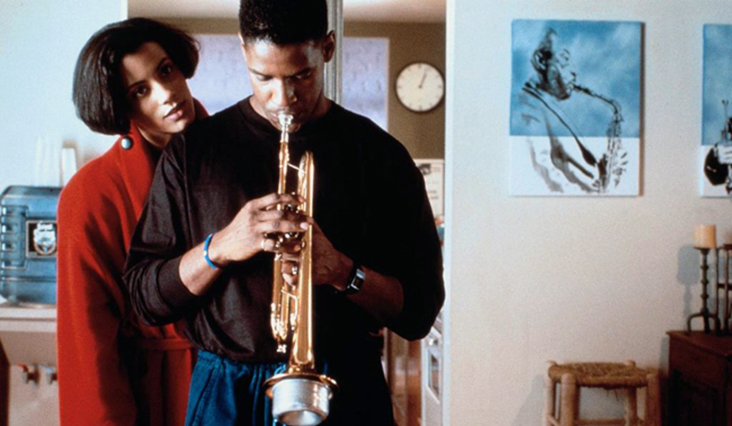 Cynda Williams and Denzel Washington in "Mo Betta Blues"
With the exposure Mo' Better Blues gave Williams, she says, the impact was very strong among people. "I know from my experience from Jazz musicians, everywhere I've gone in the world, including Singapore, they know who I am. I've had a very large fan base of Jazz musicians based on that film. It's like their bible, they love the movie and they loved all the characters because they said that it was the closest thing to showing the way their world really is. So, people I respect: those Jazz musicians I respect know who I am and that is crazy. 'I'm just a little ol' girl from Chicago.' I maybe an actress but I have a hard time seeing myself as some star that people think I am. I mean, I've been blessed to have work but the attention that it has gotten me has overwhelmed me at times. So, yes, it has a strong impact on that world."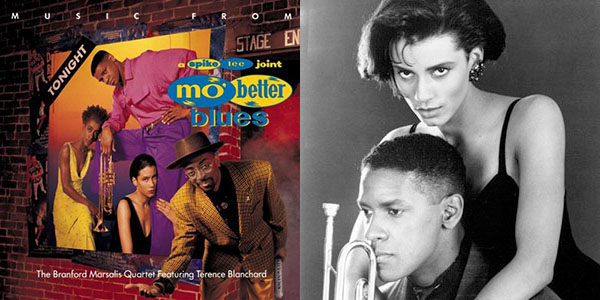 Williams brought her talent back to her hometown of Chicago in June 2012 as the role of Ronnie in Paul Oakley Stovall's play Immediate Family at the Goodman Theater. Directed by Phylicia Rashād, the show ended in August 2012. Ronnie is the half-sister to the main character's (four siblings), who all have secrets that will soon be told. Williams says, the show is an important show because it gives the audience the opportunity to think on their own and to figure out their own thoughts on the subject matter of the play. "The play is about adults siblings, who have quite a few secrets amongst each other for various reasons. They grew up in a very religious household and found out when they were children, that their father wasn't the angel they thought, especially the older sister. All kinds of secrets were revealed when they were young and it kinda messed up the family a little bit.
One of the brothers; being gay, obviously caused a lot of issues with the father. Fast forward to now, and everyone is coming home for the wedding of the youngest brother. My character, Ronnie, is a half-sister and I was one of the reasons why their father wasn't an angel, because they found out I was his child." Williams admits, "Now there are some heavy subject matters, but there is always levity in there so I think it's a very important story that needs to be told especially today, it's very relevant with all we're going through and changes in our way of thinking. It's not a preachy kind of show, it states the facts as they are."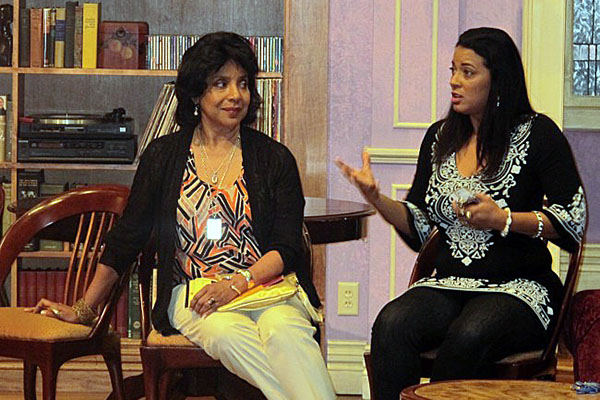 Phylicia Rashad and Cynda Williams
Living in Singapore for a time was something that she and her husband Roderick Plummer thought would be great for their daughter, however acting was a limitation. "My husband is a film producer and he also teaches. He started teaching film production and entertainment law at Chapman University Singapore, and we thought it would be a wonderful experience for our daughter to live abroad for a couple of years," she says. "I still did a lot of singing at cabarets and some nightclub stuff. Acting wasn't available to be honest; my height. Most people there are very small and I tower over them, so when you have a leading man that is 5'5 and you're 5'8 they're not fond of that. So it limited my work options in acting."
Cynda Williams has appeared in over 20 films throughout her career and she is grateful for her break out role in Mo' Better Blues for it brought her to where she is now. "I didn't know how it would change my life. I've been very fortunate, but I believe I have a whole lot more to go and I think better work than I've done before. So, I'm very excited about where I began, but I'm more excited about where I'm going and where I am right now. And I'm thankful for the doors that were opened for me. I'm thankful for Spike for giving me the opportunity because he didn't have to that; I was nobody and I came from nowhere and he put his trust in me to be able to pull off that character, so here I am, I'm very fortunate."
By Keli Denise