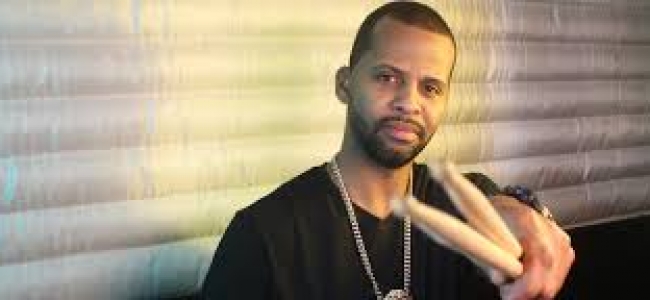 To say that John "Lil John" Roberts is a hot commodity in the R&B and jazz drumming world, is like saying that water is wet.  Roberts has backed up an eclectic range of artists, but now, it's his turn to shine, with his new release, The Heartbeat.  Roberts has the classical chops to play with any jazz group out there, but also has the funk and soul background to hold his own and deliver in the pocket.  He puts these talents to use for himself on The Heartbeat, as well as inviting a few of his talented friends as guest artists.  Roberts was gracious enough to chat with iRock Jazz and fill its readers in on his new project, the definition of "funk jazz," working as an indie artist, and starting a musical movement in Atlanta during the 90s.
iRJ:  How does your newest project, The Heartbeat, differ from some of your other records?  What's new?
LJR:  This is my first solo debut record, so, I haven't really had any other representation outside of the band project I did with my old band, The Chronicle, in 1998.  It's another chapter from that sound because it's still similar to what I do now.  I don't think that's going to change because of my influences.  It definitely has that funk jazz approach with some R&B mixed in.  It also has a rock song in there.  It's just a diverse record.  You couldn't put it in one box because it has so many different styles to it.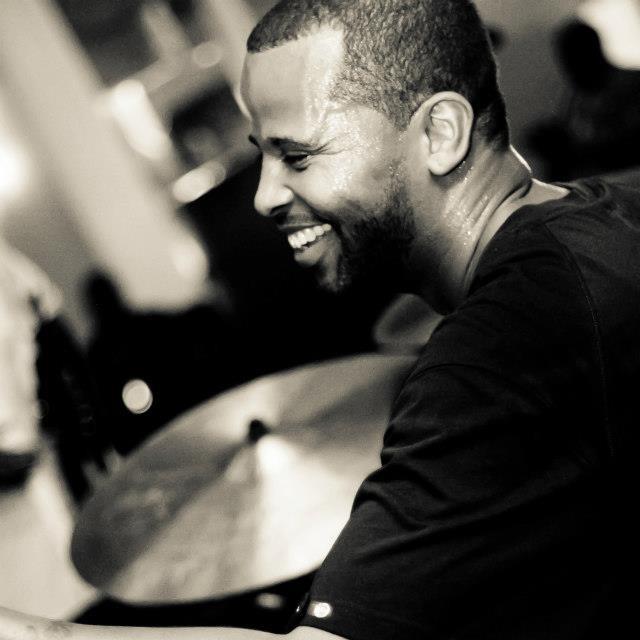 iRJ:  In my opinion, your song "Space" is the break out single on the album.  How did that single come about, and how did you put together the host of talent that's on "Space"?
LJR:  Stokley [Williams] (Mint Condition), Eric Roberson, Anthony David, and Musiq Soulchild are all on there.  That was the first song that I did on this record.  I went in the studio with some good friends of mine who are killer musicians that happened to be in town.  They were on tour with D'Angelo.  Chris Dave, who plays drums with D'Angelo, also plays on "Space."  Pino Palladino was in town as well, who's one of our greatest bass players of our generation.  Pino has played with The Who and Nine Inch Nails.  He's touring with D'Angelo now, and he also played on the Voodoo record.  So we went in the studio and the first vibe that we came up with is what "Space" is.  It's not the whole song.  I cut some things out because I wanted to make it more structured.
We really went in and jammed for most of that track.  Halfway through the song, the rest of that track is what we actually did.  But, the beginning of it is the groove, which I cut.  Then, I reached out to Eric Roberson, who's another good friend of mine, and said, "Man, I really feel that this needs a hook with some vocals on it."  Eric went and wrote a hook, and I loved it.  Then, I asked him if he could do a verse as well, and he did.  So then I wanted to get some other guys on this song together, kind of like a posse song.  So I reached out to Anthony David, who lives in Atlanta with me.  He jumped on it, and sent me a verse right away, which we implemented in the track.  I reached out to Stokley, who also wanted to do something with me on this record, so he sent me his verse.  Musiq Soulchild is like my little brother, since we are both from Philadelphia.  I actually used to music direct for him.  When he heard the track, he told me, "Whatever you do when you put this song together, I want that break down.  I don't care what you do with the rest of the song, but I want that break down."  So the whole song came together magically.  I reached out to James Poyser because I wanted some extra keyboards on it, so James went and laced it.  So the entire keyboard playing that you hear is James Poyser from The Roots.
iRJ:  Is this now a new model for music today?  This seems like it's a tear out of the Robert Glasper – Black Radio playbook.
LJR:  I can honestly say that I was doing this style ever since 1994.  That's why I called it the "funk jazz" style.  I'm not going to say that I was responsible for the genre, but I was responsible for it in Atlanta.  It was a movement that we has going on here in Atlanta.  I first moved from Philly to Boston to go to school at the Berklee College of Music, and then I moved to the South and saw a void that needed to be filled.  So, I put a band together and we started playing functions and backing up artists all around town.  Then we formed an actual event called the Funk Jazz Kafé, with my partner Jason Orr.  That was part of the whole movement too.  I would say that Robert Glasper might have been able to make it famous because of the push that he had with the label.  Robert is my friend too, and he played on my record as well.  But even Robert knows that when cats used to come in the 90s to Atlanta, they would come to hear The Chronicle at the Yin Yang Café.  We were doing that style of music by having artists to come up and vibe on the session.  But the difference was, we were doing it live.  We mostly were known for doing all of that stuff on the spot live, with singers and a DJ.  So we were fusing a lot of that stuff already.
iRJ:  You brought up the term "funk jazz."  In your own words, describe what "funk jazz" is.
LJR:  Funk jazz basically has elements of jazz.  The meat of the music is still jazz driven, but you got a lot of back beats going on in between it.  The funk part of it comes from the rhythmic part of the sound.  It also incorporates funk and hip-hop styled beats and just mixes those up with the jazz elements.
iRJ:  You have pretty much worked with everybody as a musician.  Do you find that it is hard getting your name out there as an indie artist? 
LJR:  Yeah.  Of course it's going to be different because I'm not on a major label and don't have a major machine pushing my project.  Probably if I had signed with a major situation, it could have gotten me out there even more than what it is so far.  But I really didn't want to go that route.  I didn't do this record for that purpose.  I'm interested in building my brand as a producer, songwriter, and a drummer.  We'll see; maybe I'll change on the next record.  Let's let this one do what it needs to do for however long.  Then, I can go on to another project and have a bigger machine to help push the product.  Being where I'm at right now with Purpose Records, I really like the buzz I'm getting after two weeks.  I'm already on the Billboard charts with no major marketing push.  That's huge to me already.

iRJ:  Do you have a better appreciation now for what labels do, by being an indie artist?  Or, do you think that the cards fall in the indie artist's lap today, with the way the music industry is going?
LJR:  I tip my hat off to any person that decides to do it themselves, because it's a lot of work.  I've spent a lot of money and time doing things myself.  I also have a handful of people helping me, which I call my team.  There's only about three or four on that team.  I really have a lot of respect for anybody that goes outside and does it themselves, in an independent situation.  But still, on the flip side of that, it allows us to be very creative and do the things that we want to do, and not have to meet someone else's expectations.  You don't have an executive or A&R behind you the whole time saying: "Yeah, we want something like this or something like that."  "We want you to work with this person and that person."  This just gives me the opportunity to be free and express the music the way I want to do it.  So, everything is in my control to do what it is that I like to do.
iRJ:   Every album tells a story.  What is the story for The Heartbeat, and what do you want people to get out of this music?
LJR:  I want them to get a good message out of the songs.  That was my main concern.  I want to put a record out that has a good message.  Each song has a message of inspiration and positivity.  You don't hear us saying crazy and off the wall stuff on there.  It's really a positive record.  From the feedback that I have gotten from people who have already brought it, they say it has helped them to heal in their situations in life.  I was really touched to hear messages like:  "John, I was having a bad day today, but then I put on your CD and all of a sudden, it made my day better."  That was exactly what I wanted to do with this record.  I wanted it to be heartfelt, have a message, and for the band to be jamming.  I wanted the music to be killing and the guest artists to show their art through their contributions to the music we produced.
Words by Corey Washington