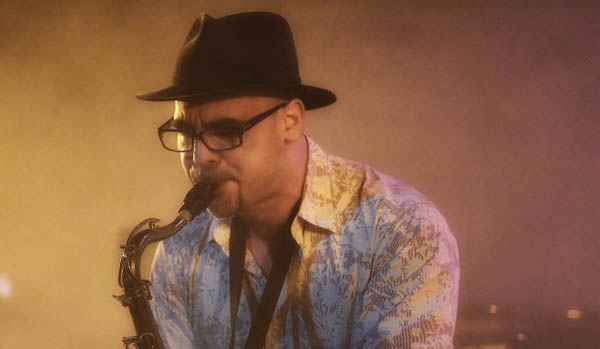 Jacques Schwarz-Bart was born in Guadeloupe where he was first exposed to voodoo ritual chants and found his musical expression and voice. As an infant, his mother sang voodoo chants to him, which settled deep in his heart as nuggets of gold. Those nuggets would resurface and give birth to the fusion of voodoo ritual chants and rhythms and jazz arrangements. Jacques' Jazz Racine Haiti Project released January 2014, brings the energy of the ritual chants and the insertion of modern jazz melodies together giving voice to the powerful spirituality of voodoo music. Jacques Schwarz-Bart spoke with an iRock Jazz interviewer about his evolution from a sideman to bandleader and the birth of his vision, in addition to the fusion of ritual voodoo chants and Jazz.
iRJ: How was your understanding of Jazz and your Jazz experience in Guadeloupe different from when you came to the Berklee College of Music?
JS: I was raised partly in Guadeloupe and partly in Switzerland. I actually discovered Jazz while in Switzerland. One of my best friend's Dads was a psychiatrist who had a very beautiful, extensive and impressive vinyl jazz collection. That's where I discovered Count Basie, Duke Ellington, Lester Young, Carmen Hawkins, Bird, Dizzy, Coltrane, Don Byas and so many other incredible musicians. I was already mesmerized by the beautiful world of music. I think I was born more musical than verbal.
It took me a while to talk, but music was a natural way to express myself. They nicknamed me after a little bird when I was about one and a half years old because I was singing all the melodies around me. That's how I expressed myself from the beginning. Therefore, when I heard Jazz around the age of four, it was if I entered a sacred temple of mystery and wonderment. From that point onward, it has been a love affair with this musical style.
What rooted me into music when I was in Guadeloupe was not jazz, it was root music called, Gwoka. It's our version of what's left of our voodoo culture in Guadeloupe. It's very strong just like in Haitian voodoo; very mysterious vocals dialoging with drums. There is something mystical about it. It's played at night with only candle lights burning in the middle of sugar cane plantations. I felt that I could see all kinds or energies, or feel them all around me, while we were singing those chants. I guess it gave me a mystical outlook into musical expression.
My first two records on the Universal label were dedicated to a marriage between Gwoka and Jazz music. So, I've been exploring the world of roots music and how it relates to jazz music ever since I became a bandleader. The first roots music I heard was when I came into the world in a state where I could not filter anything through the spectrum of any culture or any language as a newborn. I received something so special and so precious. It was the voodoo chant that my mother was singing to me. It was like a nugget of gold that was planted into my heart. Not being of Haitian descent, I never felt like I was the one to uphold this torch, to pursue this jazz the voodoo way. Curiously enough, receiving it was enough to be entitled to pursue it.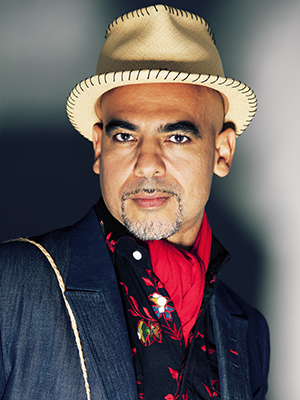 I came to this conclusion because I was invited to play in Morocco with Gwoka masters and priests. The Gwokas are Black Africans that were enslaved by Muslims in North African countries like, Morocco, Tunisia, and Algeria. They created the religion based on voodoo as well. When we finished performing that first night, the Gwokan Master told me that he saw the same spirits in me as he did in the Gwokan people. So, he invited me to a ceremony. I was very curious because I could not imagine what he meant. After sitting mesmerized and paralyzed from head to toe sitting next to him for twelve hours, when I finally stood up, I felt like my entire DNA content and composition had been altered forever. But, I still did not realize what it was; I felt more complete. When I was on the plane headed back to New York, it seemed as if the energy from the voodoo chants that I had received at birth, came back to me as a big ball of inspiration. I realized that is what connected me to Africa. After that, I never thought twice. It was clear to me that I had to explore this gold nugget my Mom had deposited in my heart at birth.
iRJ: When you were in Berklee you had the opportunity to meet Roy Hargrove and play in his band, was it the RH Factor?
JS: I was part of the RH Factor as Cuban band and first tenor in his first Big Band. I was also in his band when we did a Quintet or Sextet with Frank Lacy… I must have played in six or seven bands with Roy over the past few years.
iRJ: In 2005, you left the Roy Hargrove band. How difficult is it to go from a sideman to step out individually to become your own bandleader?
JS: It is tremendously difficult. Firstly, it was how much I felt indebted to Roy for giving me a chance. I love the man and what he represents. His magical and majestical style on the Trumpet; I learned so much from him, standing next to him in the band, listening to him and his mind blowing improvisational skills over the years. But at the same time, when I started writing in 1998, slowly I began to forge my own vision over the years. It became unbearable to me, not being able to do my own thing, which was writing and not playing. Every time I had the gig scheduled under my own name, Roy's manager would call for a gig and I would have to cancel mine. I came to the conclusion that it couldn't work. So, I had to take a risk and do my own thing even if that meant losing Roy and getting nothing in return.
The years are counted when you're a bandleader. You can't start at age 55 as a bandleader. I had to do it while I still had the energy. It turned out that two months after I left Roy's band, I got signed to Universal. I had come pretty far with writing and composing my first album by that time. I made a demo in my home studio and Universal signed me right away. Daniel Richard, the guy from Universal, flew to New York to meet me and to sign the deal. I never thought that it would work out that way, but it did. It gave me the boost that I needed to transition from being a sideman to bandleader.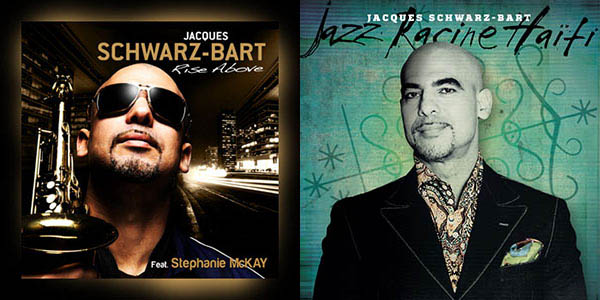 iRJ: Which of your albums or projects is being described as, where Minnie Riperton met John Coltrane?
JS: It was the album I wrote in 2010, the Rise Above album, that featured my wife, Stephanie Mckay, the great singer. The new project called, Jazz Racine Haiti is really rooted in ritual voodoo music and traces as a modern jazz project. I have taken the energy of those voodoo chants and written original music based on them. I also have inserted several of those compositions of those voodoo chants with jazz arrangements. For this project, I gathered two voodoo priests, a singer and a percussionist Gaston Bonga and five of the baddest cats from New York: Etienne Charles, Obed Calvaire, Luqies Cutis, and Milan Milanovix. The reason for doing this was to create a sound where you could not distinguish the voodoo parts from the jazz parts.
iRJ: What's next for you in your career?
JS: What's next for me is deciding which of the many projects in my drawer I am going to pull out next. It's a blessing and a curse. I constantly create concepts and within those concepts, I write music and I find myself with much material and a bunch of concepts. I love them all. To be honest, it's hard to decide whether to go further into the voodoo jazz vain. I could go several ways with it. I could go with a trio, with just the voodoo priests' voices and the voodoo drummer. This is because we already have played a lot of gigs together and continue the repertoire from Jazz Racine Haiti. The concept is to create and develop harmonies between the two voices; the vocal voices and the saxophone voice; counterpoints and interacting and supporting the parts that I play sometimes in the background to her lead singing and vice versa over those voodoo rhythms. The other avenue, I could take is opening up more to other voodoo traditions in the Americas like the Cuban Santeria. I've been talking with Omar Sosa about doing a project together. It's the most recent and promising project favoring in our direction. Another project is the exploration of the beautiful Jewish rituals and how I could look at them through the filter of modern jazz music.
As the Sphinx of the music genre, Jazz is ever evolving. Jacques has combined the Gwoka voodoo chant music with Jazz. Just as mystical and powerful as his latest project The Jazz Racine Haiti is, we eagerly await the fusion of the next project, the fusion of Jazz and Cuban Santeria music. Jacques is touring Europe this year with this project, including concerts in Germany, France, and Morocco.
by Sharlene F. Bymun