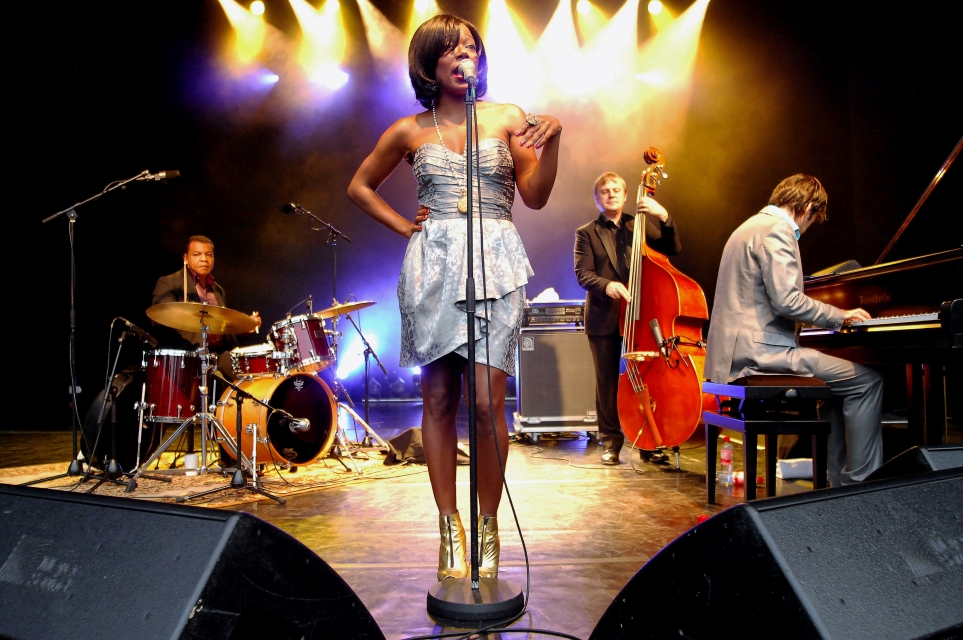 China Moses, daughter of Dee Dee Bridgewater and Director Gilbert Moses, has been entrenched in music and theatre since she was a child. Moses released her first single Time at the age of 15, along with her first video.  This success was followed by three albums, "China," "On Toure en Rond," and "Good Lovin.'" Moses created, "Gardenias For Dinah," which was a tribute to her idol Dinah Washington and the inspiration for her album, "This One's for Dinah."
iRJ:  What was it like growing up in the Bridgewater household?
CM:  I did not grow up in the Bridgewater household; that's what was fun. I spent most of the time going back and forth between different households. I grew up sometimes in the Bridgewater household, sometimes the Durante household, and Moses household.  Then, it was the Bridgewater, the woman who was on stage, and then there was Mom, who is a whole other person. I spent a lot of time extremely alone, which isn't a good thing.  That was really cool. I got to develop my imaginary world. I spent a lot of time on the road with my Mom, then time alone with my Stepfather. T also spent time at home with my Father. I was the lucky one. My parents were divorced when I was five. They loved me very much and they wanted me to be happy and made it possible for me to be at either of their houses. That's what it was like growing up. Like all the children in my family, our parents encouraged us to be creative, to do what we wanted and that's exactly what we did, all of us.
iRJ:  How would you describe yourself during adolescence?
CM:  It depends on which year and where I was. As an adolescent I guess I was… I don't know. I've always been outgoing, strong-minded, out spoken, and opinionated. I've always liked strange haircuts and rock music and hip-hop. I've always been pretty productive, like writing. You really would have to ask my family. I'm not really good at like, looking back, or describing myself. I don't really have that outer view.
iRJ:  In our last interview, you mentioned that you did not graduate from High School and later obtained your GED. What happened that did not allow you to finish High School?
CM:  I got signed! I signed my first recording contract when I was fifteen. That made it clear that my life was going to be different. My life became kind of complicated. I found out that my father had cancer. My grades started dropping. My Mom thought it would be nice for me to concentrate on music as an outlet for my emotions. That led me to a record deal. My life was between me living in the Suburbs and traveling to Paris. I've always lived that split life during childhood and I still have that split life now. I was split between adulthood and childhood. I lived that as a child because I was on the road with my Mom so much. I really don't remember much. So much of life,.I really don't have a great memory. I can remember how I felt. I had a pretty cool childhood where I could do anything I wanted. I was encouraged to without being crazy, of course.
iRJ:  If you had to go back, would you recommend people sign a record deal as young as you did?
CM:  I don't know, it depends on the child. My brother didn't have the same path and neither did my sister, although, we're all musically inclined. I guess my Mom saw that in me. It would depend on the child and what you believe the child is capable of doing. You need a certain type of mentality to enter the adult world as a teenager. I guess she saw that type of personality.
iRJ: If you had children would you encourage them at 16 to follow their musical dreams or encourage them to finish High School at a minimum?
CM: I don't have children, so, I don't really know what I would feel about it. I don't see myself as being the opposite, the opposite way that my parents raised me. To conduct business you don't need a degree you just need the aptitude to understand the world that you're in and have a good family around you that keeps you straight and that's what I have. I'm the lucky one in that sense. My Mom thought that I could handle it. I made my own mistakes, I lived my own life, and every child has its own path.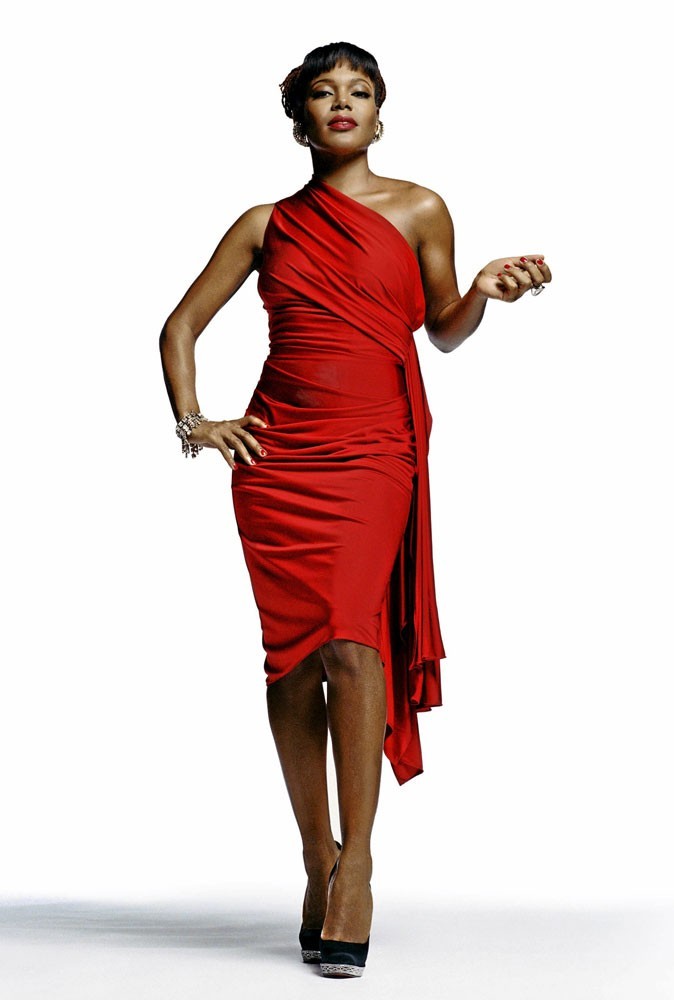 iRJ:  Tell me a little bit about some of your earlier collaborations?
CM:  I was obsessed with recording with Guru when I was sixteen. I wanted to work with Gang Starr and feature DJ Premier. One summer, I went to stay with my father. I went to their Management Label and sat in the lobby in the reception area for hours until their manager came out. Neale Easterby, I think he worked at PayDay Entertainment, or something like that. It was some office down on Broadway not too far from my apartment and I just sat there. When he came out he said, "What do you want?"  "I want to record with Gang Starr." Easterby replied, "Premier doesn't do tracks for singers." "I don't care."
That was before he started doing remixes for Nina Cherry and stuff like that. He thought I was so blunt and a little nuts. He listened to some of my demos and introduced me to Guru. A year after that, I ended up with Guru and BND Studios. I don't think that place exists anymore, but that used to be the place if you liked hip-hop from 1995 to 1996. It was all happening in that place. I was in heaven. All these great artists surrounded me. There was Guru, Nas, and Busta Rhymes. Pink, would come through the day I was recording and Guru had just started getting into production. I actually wrote two songs with Guru, one that did not make it on the label, the one I preferred. We actually stayed in touch. We stayed in touch every time I would come to New York. He would tell me where to go. We would have a cup of tea or something. He was always really nice to me. It was really cool to work with someone like him. He is a legion. He is a hip-hop legion, a great writer. He always made it a point to have the correct pronunciation. He rapped in full sentences. That was his particularity and that was so cool. But, I lost track of him a couple of years before his passing.
iRJ:  What's the music scene like in Paris, particularly the Jazz scene?
CM: It depends on what genre you're doing. It's multi-cultural. It's, everywhere. I grew up in the Jazz scene because my Mom worked in it and my Stepfather used to program for a Jazz Club in Paris called The Sunset. Other than that, I never really lived in the Jazz World. What I remember from my childhood was a lot of cool jazz musicians hanging out at the bar. Some of them were alcoholics, some of them not. Some of them funny, some of them depressed. But, no matter the situation, they were always there to play and always there to jam no matter what hour it was. How I see it now, I know it's there. There are more and more club openings. We have three new Jazz Clubs opening on top of the eight clubs that actually exist.  We're talking about in the city of Paris, which is kind of small. So, it's thriving, But I don't live in it, or actually see it. I spend more time outside of Paris and outside of France.
iRJ:  Tell me about your love affair with Billie Holiday and Dinah Washington and why they have inspired, or influenced you?  
CM: Dinah, I've always liked her voice. It started off as something as simple as that. It also had to do with me liking the fact she always added blues flavor to every Jazz note she sung, which was odd. When you think of Jazz you always think of Ella Fitzgerald, Sarah Vaughn, and Billie Holiday. Although Billy Holiday had quite a particular way of singing songs, Dinah always made it fun, and even a sad song always sounded kind of quirky. with her attitude and the delivery of her own. For me, the Jazz song and the way she was singing marked the path for popular R&B. Her vocal tone kind of created that. Her career was fascinating. Some of the songs she recorded are pretty fascinating because there is no genre at all for them. It was like she sang whatever she wanted to sing and she had this big dream of being a Jazz singer, but she was always considered an R&B singer. And she kind of passed away with that in mind. She only got recognized as a Jazz singer when she recorded, "What a Diff'rence a Day Makes," which is a Pop song.
Then what happened after, when preparing for the album, I knew Dinah was kind of fun and crazy; but some musicians told me about her and her life; about being this larger than life persona. Then I read about her in a book, "The Queen." It's probably the most well-known and well written biographies about Dinah Washington. When you get through with that book, you're tired, like whew…What a life and only, in 39 years, whoa, what a story, what a whirl wind. That made me fall in love with her more. Then reading other books about other musicians who played with her, she had a knack of getting them young. Whether she chose to turn them into lovers is another story but…she played with a lot of greats when they were young. You can read what they thought about her. She was the musician singer but she did not scat. All the guys loved her, not all singers get that kind of respect. She is an icon in the United States.
iRJ: What was the best advice your Mom gave you?
  CM: To this day, my Mom told me something when I was little, do the best you can with what you have. That stayed with me, and it will always stay with me, even when I'm in a moment of doubt. I have always kept that to heart. Moses says of herself, "I love to tell stories, I see myself as a jazz story teller and I like to make sure that people smile in between songs."
Words by: Sharlene F. Bymun