Talk to any Atlantan of a certain age and they inevitably wax nostalgic about the mid-to-late 1990s – with good reason.  The city was simmering with soulful possibilities, creative verve overflowed and iconoclasts seemed to dwell on every block.   Jason Orr tapped into this energy and created the preeminent showcase of Black arts, FunkJazz Kafe Arts and Music Festival.
Mr. Orr describes the energy of Atlanta in those halcyon days:  "[In Atlanta], on one side of town you had people booty shaking; on another side of town, you had Mother's Finest or Cameo."  Outkast was contemporaneous to this movement, representing a mere sample stylish originality found in Atlanta at the time.  This groundswell of creativity, robust as it was, had no major outlet at the time.  Thankfully, Atlanta had an abundance of non-commercial radio in those days – Georgia State, Georgia Tech, WRFG, Clark Atlanta most notable among them.
"FunkJazz Kafé: DIARY OF A DECADE" [Extended Movie Trailer] from FunkJazz Kafé®/Life Arts Films on Vimeo.
However, pop culture was becoming increasingly corporate and, as Orr puts it, "co-opted."  The combination of unbridled creativity and lack of commercial outlets led the autodidactic Orr to commit himself to the cause of an arts community that would reflect the vibrant state of Black arts in Atlanta.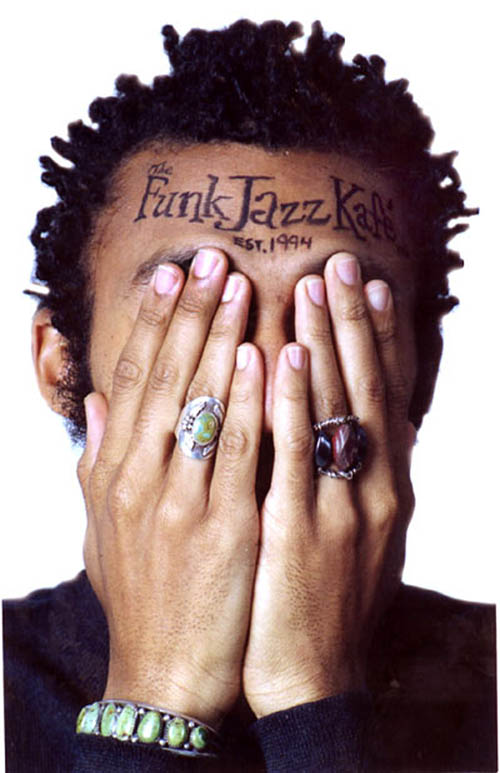 Applying skills he picked up along the way – set design, lighting, audio, daisy and props learned at North Side High School; money management gleaned from his time as a tax manager for the City of Atlanta; marketing and branding savvy as manager for Vinnie Bernard – Orr brought to life his vision of an artist community.
In 1994, he presented the first FunkJazz Kafe Art and Music Festival.  FunkJazz Kafe was notable for its multidisciplinary approach to presenting Black arts.  With Vinnie Bernard and acclaimed drummer "Lil" John Roberts (Boney James, George Duke, Rachelle Ferrell, Ledisi) as the nucleus, Orr brought in artists of all kind to present their wares.  The result was nothing short of magic – the term Mr. Orr uses to describe all 48 editions of FunkJazz Kafe, in fact.
Orr deployed the element of surprise to create the magic that makes FunkJazz Kafe legendary:  he doesn't announce the lineup of talent at any given Kafe.  The fact is particularly striking in this risk-averse era where promoters and audiences alike seek certainty.  "I knew that once you got [to a FunkJazz Kafe event], the music was going to be good and the environment was going to be new and interesting."  He hit upon a sweet spot demographic of older Blacks who were hungry for a resurgence of the golden era of Black music symbolized by legendary groups like Earth Wind & Fire and the Temptations.  Meanwhile, younger generations sought something they couldn't quite put a finger on.  FunkJazz Kafe delivered to both audiences.
 The daring calculation worked, so well in fact that even he couldn't initially process his popularity.  Or recounts a moment in a grocery store when his impact on the community became clear:  "dude is looking me in my mouth and I was like, 'what's up, you tryin' to kiss me, [expletive]?'  Bravado, macho, you know, the black male thing.  And he goes 'naw man, when is the next FunkJazz Kafe?'"   The FunkJazz Kafe transcended its Atlanta origins, acquiring a rarefied cultural status as the Holy Grail for Funk, Soul, R&B and Jazz, or in Jason's succinct words, "black black music."
After an impressive run, Orr took a hiatus from the series for several reasons in 2005.  Practically speaking, he attributes the break to the debilitating "long tail" effect the 9/11 tragedy had on marketing funds for Black programming.  On a more conceptual level, he wanted people to miss it; for the consuming public to make plain their demand for such a robust presentation of Black art.  What's more, he felt he had reached a plateau.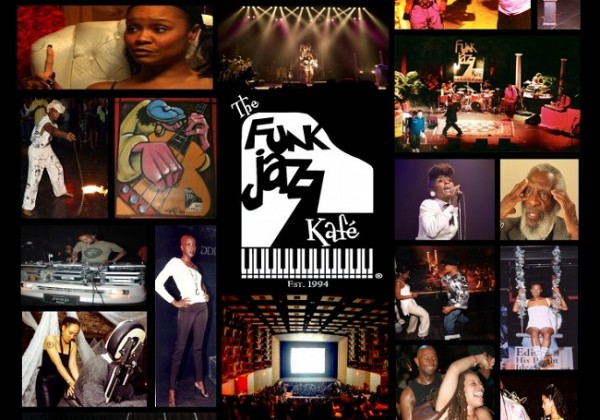 The two-year break in FunkJazz Kafe events allowed the Black creative class time to process just how significant a cultural phenomenon it had become.  The success of the Kafe had corporate America looking to capitalize on the zeitgeist Orr had uncovered.  Tanqueray Soul Suite, Levi's Self-Engineered Tour, and the Heineken Red Star series all deployed aspects of FunkJazz Kafe's business model.
Apart from the blatant ripoffs – copycats attempting to create customer confusion with obvious variations on the "FunkJazz Kafe" name – Orr embraces the movement his successful series has spawned:  "The quest is to change arts and music culture around the world by showing them something that already existed and is being innovated upon currently." His only caveat to those using his model is to do it well, wherever they may be.
The FunkJazz Kafe phenomenon is so significant to the contemporary Black music scene today that it is the subject of an acclaimed documentary, "FunkJazz Kafe: Diary of A Decade – The Story of A Movement."  The film, narrated by Chuck D and featuring commentary from luminaries like Jill Scott, Erykah Badu, Atlanta DJ Jamal Ahmad, Kevin Powell and more, documents the influence FunkJazz Kafe had in nurturing a millennial renaissance of Black artistic expression.  The film has screened at major festivals and other major art institutions such as Lincoln Center, Brooklyn Academy of Music and Charles A. Wright Museum of African American History in Detroit.
Far from being a cultural relic, Black music aficionados can still experience the spontaneous magic of the FunkJazz Kafe; the most recent edition of the event took place in Atlanta in July and Orr has plans to continue the series, highlighting the ongoing vibrant state of Black music typified by one-of-a-kind independent artists like Eric Roberson, Julie Dexter, Foreign Exchange, Thundercat, Hiatus Coyote, Flying Lotus and more.  He is confident that the magic can be recaptured.  "Where we [black people] are, there is something that can invigorate your community."
Jason Orr's ever-evolving nature prevents him from resting on his laurels.  He is working on another film project, "Stepping Into Tomorrow," that will deal with the global fusion of Afrobeat, samba, meringue and hip hop as well as traditional jazz and R&B.  He is continuing his mission of catalyzing Black culture on all levels; providing authentic alternatives to soulseekers all over the world, wherever they may be.
Words by Tanisha Jackson