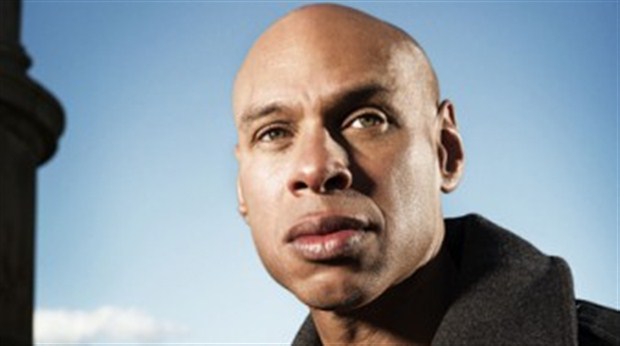 Joshua Redman is one of today's most prolific saxophone players. For those who don't already know, this California based saxophonist has played with the likes of Elvin Jones, Milt Jackson, Clark Terry, Paul Motion, and Charlie Haden just to name a few. Since his emergence on the jazz scene during the 90s, Redman has produced 16 albums and has received several Grammy nominations for those releases. Never resting upon his laurels, Redman continues to explore genres and styles of music that push and challenge him. With his latest release Walking Shadows, Redman has created a beautiful orchestral album reminiscent of Charlie Parker's string recordings or Gil Evans' large ensemble.
The core group of players on Walking Shadows includes pianist Brad Mehldau, bassist Larry Grenadier, and drummer Brian Blade. With each player at the top of their respective field, Joshua Redman has surrounded himself with a serious group of musicians. Serving also as an orchestrator, Brad Mehldau contributes his composition to a collection of new tunes by composers Patrick Zimmerli, Dan Coleman, and the man himself, Joshua Redman. From humble, honest presentations of original compositions to fresh new takes on classics like "Let It Be" (The Beatles), Joshua Redman's quartet shows their versatility, and endless creativity.
Walking Shadows is the second highly anticipated orchestral jazz production of 2013, the first being Wayne Shorter's Without A Net. This orchestral infused jazz has a sound that is dynamic in its range of emotion. The strings create beautiful contrapuntal lines that sometimes compliment and other times contrast with the interplay of the jazz combo. Walking Shadows dances between the emotional potency of opera and the more subtle sentiment of jazz. Very different from Wayne Shorter's album; Redman's, at times, sounds like a tribute to Charlie Parker's string recordings. In the tune, "The Folks Who Live on the Hill", the orchestra creates a rich harmonic center behind Redman's tender melodic lines. With Brian Blade supporting the song structure with beautiful rhythmic textures, the tune flows easy and smooth. Other times however, Walking Shadows takes on a more contemporary, experimental feel. A jazz standard presents a unique challenge to a musician; to create something new which has been continually interpreted for decades. Redman embraces this challenge with surprisingly modern takes on old standards like "Stardust" and "Lush Life". In his version of the tune "Lush Life", Redman's take on the melody emerges from a beautifully classic, almost regal sounding string introduction reminiscent of Johnny Hartman. As the tune progresses, Redman's quartet takes center stage. With a gentle, straight eighth note feel, Blade, Grenadier, and Mehldau lay down a deep groove under Redman. The once elegant melody slowly turns edgy and dissonant, sending the tune into an entirely unexpected direction. In a rendition that feels both improvisational and highly orchestrated, Redman presents an arrangement that feels honest and true.
Joshua Redman has yet again presented a beautiful collection of work that is fresh, and new. In an album ripe with beautiful arrangements and thought provoking solos, this saxophone virtuoso has created a listening experience worth any listeners while.
By Zeb Stern