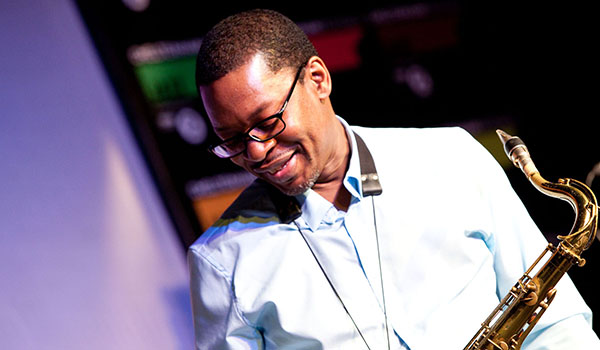 Ravi Coltrane photo by John Watson
Bearing the last name Coltrane and the genes of John and Alice, Ravi Coltrane seemed destined to a career in jazz . However, he hasn't relied on his bloodlines and developed his own voice to carve out a niche of his own. He's stood on the shoulders of giants to gain a greater perspective and set the template for the next generation of musicians to be mentioned along the likes of his father, Miles Davis and the cats who laid the foundation for years to come.
iRock Jazz recently had the chance to chat with Ravi about growing up Coltrane, finding a voice and what he's working on next.
iRJ: Is being a Coltrane and a musician a blessing and a curse?
RC: (laughs) If you can perceive the blessing and the curse to be polar opposites, it's probably somewhere in the middle. It's all good. I'm very fortunate and proud to come from the lineage that I come from. My parents worked very hard to be themselves; the most authentic and creative people they could be. Again, I feel honored to come from them. At the same time, we all have to get up and do our thing. If my last name was Smith or Jones, I'd still have to pick up the horn and do the work. How people regard what I do…maybe that's it, the blessing and the curse is more of an external thing. People may have some precepts and ideas about who I am or what I try to do. That may be a hindrance or help me get to the things I'm trying to get to.
iRJ: If Miles Davis had a son and he played the trumpet and you were able to see him perform, would you have some of the same ideas or judgments as people have with you?
RC: It's funny that you made that analogy, because it's one that I've made myself. I definitely understand the curiosity about the whole thing. You see the offspring of a well-known artist essentially following into the same craft and you get all kinds of ideas in your head. I would have the same ideas if I saw Miles' son get on stage with a trumpet.
Of course there's going to be all kinds of judgments: good, negative, all kinds. It's understood that people will have those types of responses. It's natural; I would do the same thing. At the end of the day, we're still artists and supposed to be reaching for our truest selves and stepping forward with our most authentic voice. The lineage is a beautiful part of where we all come from, but again, we all have to get up and do the work.
iRJ: You were two-years-old when your father passed, so you didn't get to witness much firsthand his creativity and his love of authenticity in music, etc. Do you think that lack of early connection has allowed you to maintain your own identity, or do you think if you experienced a deeper relationship with your father, you may have become a different musician?
RC Of course my life would have been radically different if he lived longer or if I was born earlier. We are who we are and our experiences shape up to become the people that we become. Fortunately, I was raised by an incredible mother who guided us in the right directions and showed us what it meant to be out here in this world and contributing something meaningful.
Like everyone else, we're so very fortunate that John Coltrane was as prolific as he was a recording artist, to have his entire professional career from 1950 to his passing in '67. That whole period is very well documented and this is how we've come to know this person, through the sounds of his saxophone. I feel a closeness and proximity to him that's sustained me. Growing up with him would have been beautiful, but fortunately, the music has been like sustenance. It carries you on.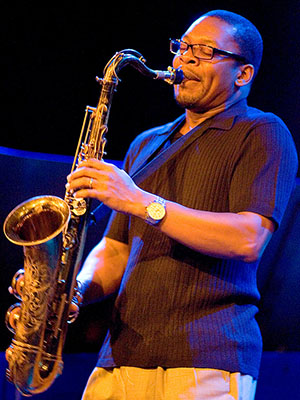 iRJ How do you go about finding your authentic voice?
RC: Time. Time, patience and experience. Miles Davis said once it takes a lot of time to find your voice and Gil Evans said you don't just walk up to a tree and pick a style like it's an apple. The tree is this thing that's growing inside of you and time can reveal things that no amount of practice or study can reveal on its own. Through the simple act of surviving and aging and growing, you begin to identify and ultimately embrace who you are. When we start off in this music, you're very concerned with how you sound, who you sound like.
You have your heroes and peers and you're dipping into those reservoirs as much as possible. You know, I love John Coltrane and I love Sonny Stitt. I love Sonny Rollins, I love Joe Henderson, I love Wayne Shorter, I love George Coleman and I want to play like these guys. You study their recordings and you transcribe their solos and you have a self-consciousness of who you sound like and what you're trying to sound like.
At some point, all of that self-awareness of what you sound like starts to fade and you settle into who you are as a musician. You begin to accept your strengths over your weaknesses and begin to accept that we can't be our heroes. We can be something better; we can be ourselves, because essentially, that's what our heroes did. They became great musicians, because they were themselves.
We don't revere Miles Davis because he was a Fats Navarro clone or a Dizzy Gillespie clone; we admire him because he was Miles. For any young musician to say I'm going to be this guy, because that's what I want to do or that's how I learned to play, by imitating this guy. Our heroes didn't imitate, they created. Sometimes, they had to give their lives for that. It's a serious commitment to pursue an authentic voice.
iRJ: Growing up, you had the influences of both parents musically and various other styles and influences. If you can look at your music today, which genre has been your greatest influence?
RC: I was born in '65 and grew up in the 70's, when music was so eclectic. It was always very difficult for me to hear music in genres. At the same time we were listening to Stevie Wonder and Earth, Wind, & Fire, we were listening to The Beatles, Debussy and Stravinsky.  For me, it was just music. I'm affected by all of it, everything that moved me as a young person. That music is still very near and dear to me. I've always been moved by symphonic music, I've always been moved by funk music, it's all one thing for me.
iRJ: What's the disposition currently with the Coltrane estate? I know you all were trying to raise money to help restore it. Can you update us?
RC: The home at Dix Hills is a historic landmark, and the last several years it has been under restoration with the idea that the home will be used for a greater purpose, like a museum, like what's been done with Louis Armstrong's house in Queens. A kind of artistic retreat, a place that will store and hold the archives of John and Alice Coltrane. We're still raising money to get the structure up to code. We're raising awareness of the Coltrane agenda, so to speak. It's an ongoing project; everyone involved is volunteering, so things are going a little slow. We had great fundraising events last year and have a few more things planned for this year.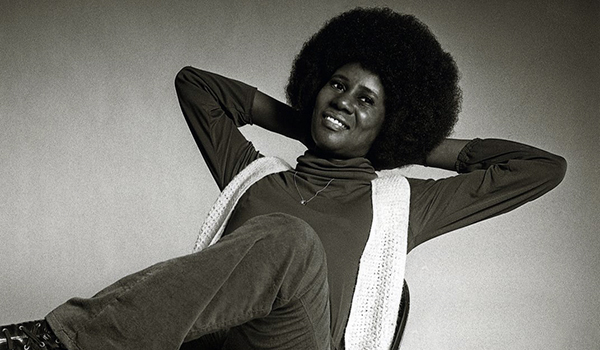 Alice Coltrane
iRJ: You've been in the studio reworking some of you mother's old songs. Can you tell us about your new project?
RC: Well, we're preparing some music she was working on before she passed away in 2007. We're preparing some of these for release. My mother's archives are quite vast. We hope at some point to really feature a lot of the work she was doing. She left the commercial music business in 1979, 1980 and she spent the rest of her life focusing on her spiritual work. Music was a huge part of that focus; she recorded constantly, but none of those were originally made for commercial purpose.
We're looking at everything and found some things that people have been asking for. She made plenty of spiritual music for her students; she had a spiritual center in Agoura Hills, California for 25 years, so a lot of these recordings were made for her students. We've travelled around the world and people have been asking about them, so we're looking for opportunities to find a way to release this music.
Words by Al-Lateef Farmer