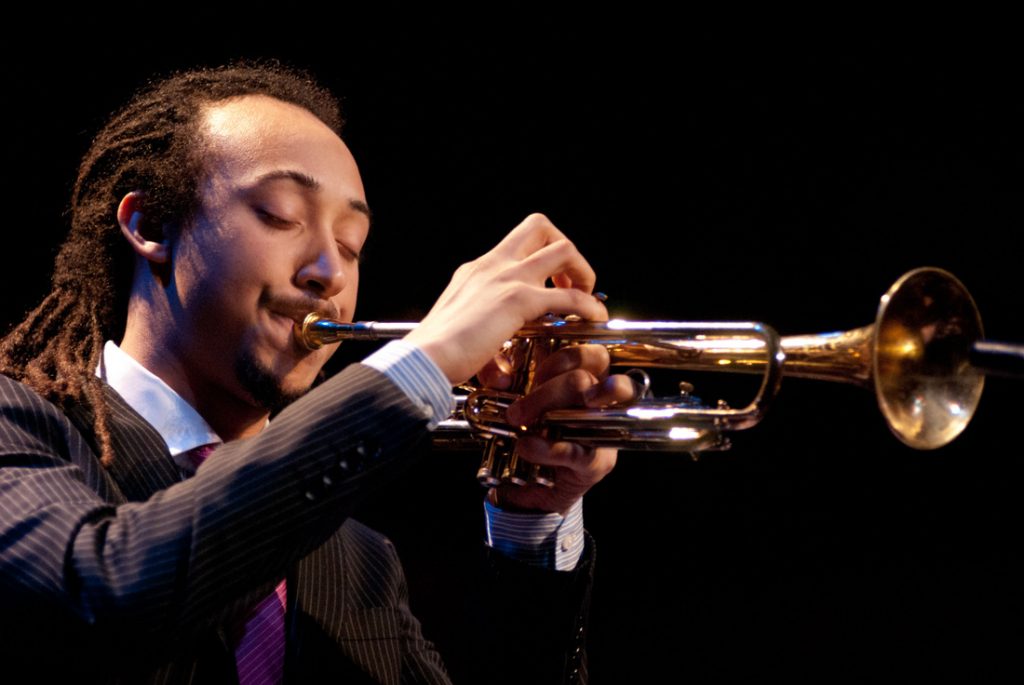 Theo Croker is casually positioning himself to be the next important musician on the scene. If you're not yet familiar with the twenty-something trumpeter/vocalist, don't worry, because you've absolutely heard of his grandfather, the Grammy Award-winning trumpeter, Doc Cheatham. But don't think the young talent will be riding his prestigious lineage to greatness. Croker has forged his own path, studying not only at Oberlin Conservatory, but under legends such as Billy Hart, Gary Bartz, and the late Donald Byrd.
A progressive musical mind, Croker has established himself amongst these individuals and countless others, as one of the most innovative young minds in music today.
 Recently, iRockJazz sat down with Theo Croker to discuss his distinct approach and his latest album, "Afro Physicist."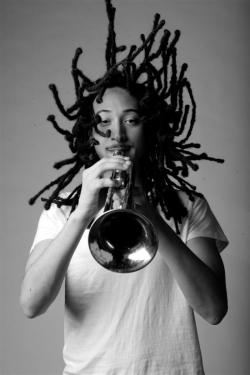 iRJ: How would you describe your sound and music?
TC: Well, I like to call my music "Dvrk Funk." To me, that's a culmination of all the African-American experience music, all the American music, and everything else that I'm into personally, kind of put together in a bottle, mixed up, and squirted out into the air.
iRJ: Do you think that heritage of music and culture is the new sound of jazz today?
TC: Yes. It's the new sound of music. Jazz is a historic name that people relate to, but it's moved beyond category now. Jazz musicians are known for being the cats that explore all kinds of music and all kinds of culture. It's just what we do.
iRJ: On your website, there's a quote from Shakespeare, "Some are born great, some achieve greatness, and some have greatness thrust upon them." Where do you fall?
TC: [laughs]. That's a good question. I feel like I'm all three. I come from Doc Cheatham's legacy. I can't escape that or deny that. My personality and my upbringing were to strive for greatness, no matter the circumstances or the outcome, and that's what I've been doing.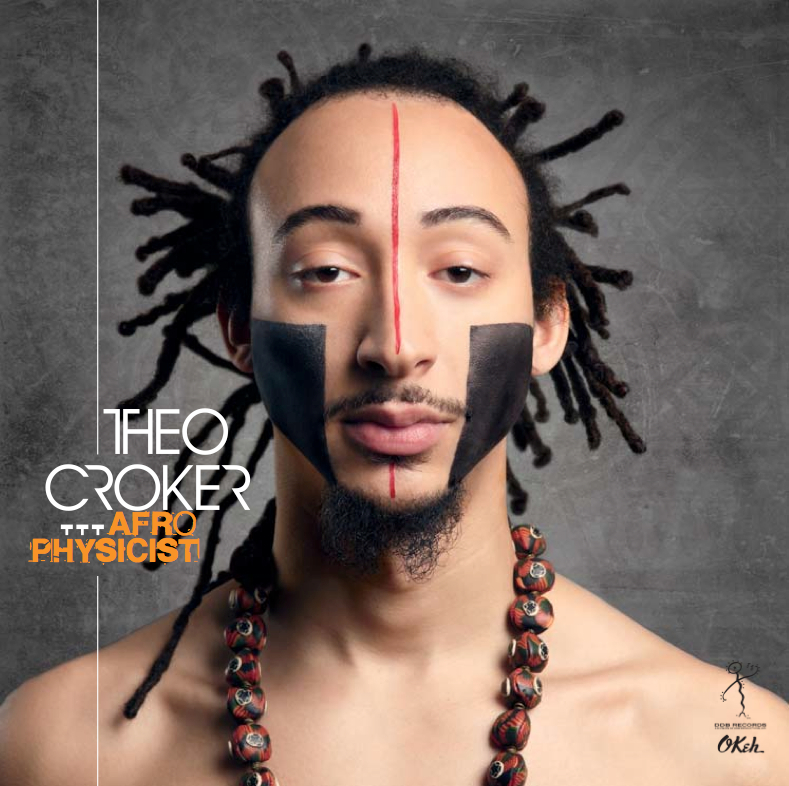 iRJ: What you do artistically, with your sound or the face paint pictorial from your album cover—what does that all really mean? How does it connect musically and culturally?
TC: Culturally, my background is predominately African-American and American Indian, both from South American what is now the United States. So, that, combined with the title of "Afro Physicist" and the genre of "dvrk funk" that we're creating, gave way to the idea of tribal face paint. It represents where I'm coming from. I believe very strongly in knowing the history and knowing the lineage of music in order to move forward. To me, that's the presentation of having the tribal paint on my face: to represent my tribal ancestry and kind of like my involvement in the music tribes coming out of the jazz worlds and the funk worlds.
iRJ: Where do the elders stand on your music? Have you received a lot of flak, perhaps saying that what you're playing isn't jazz, or are have they embraced your unique style?
TC: A lot of the elders that I'm fortune enough to have been around and in contact with and have been influenced by are very forward-thinking people, and they always have been. So I've gotten a lot of support from Billy Hart or Gary Bartz. I mean, Gary Bartz has been trying to do away with the word jazz and the "gentrification" of jazz for his whole career. I find a lot of support from these people and a lot of push, because I don't think a true artist is concerned with genre and defining the meaning of their art to be definite. It's an expression. It's a movement. It's a period of time. Then you move forward. I haven't received any flak from anybody directly, and I probably wouldn't acknowledge it beyond acknowledging them and their history and their legacy, respectfully. But I'm just not interested in having somebody tell me that they don't like it or they don't think it represents something. If it doesn't, that's fine. It represents me and dvrk funk and moving forward. And I'm sure that my contemporaries feel the same way.
iRJ: As a young African-American musician, do you feel a sense of danger when you travel different places across the world?
TC: Yes. I feel the sense of danger as an American, as a minority, and as a musician. Musicians and artists in general, we're the carriers of the truth a lot of time. That frightens people and that frightens institutions. Coming from America, the way America is being perceived and a lot of what our government is doing that is inappropriate or not exactly peaceful, that's not taken well in a lot of places in the world. There can be a lot of tension that I can feel traveling certain places. There's also a lot of curiosity. People look at me not as Trayvon Martin, but that I could have been that young man. It seems to be getting tense in one sense but in another sense, we are musicians and we do come in peace. So the tension subsides once we do what we do and interact with people. And of course the more you travel, you learn how to be absorb people's culture and become a part of it. I realized that the more open that I am when I arrive someplace else, the more open they are to me. It's better for me to absorb their culture and they approach me in a much friendlier manner.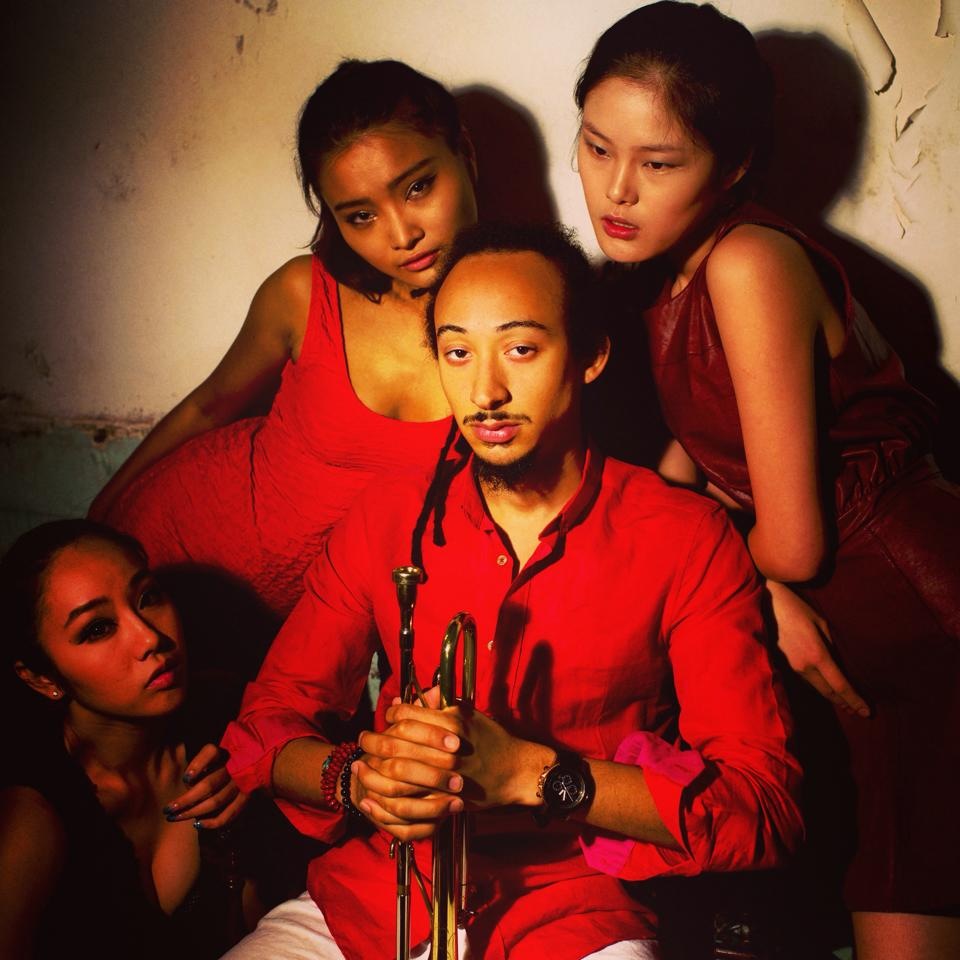 iRJ: As a musician, you're making art based off of your life and times. How does your music relate to today?
TC: Personally, I've always been quite stubborn and I'm quite the individual as far as which way I want to go and which path I want to take. I'm not one to follow the crowd or join cliques or crews or even be interested if it's received well. This has kind of led me on my own path it's been a lot of traveling around the world for music and also on my own accord. It's been a lot of figuring things out through friends, personal relationships, and I don't want to say women, but I don't know the word to use other than that [laughs]. So a lot of my learning has come really through living my life. For me as an artist, I feel it's important to be able to express. Anything or everything I express or write about or play about comes from something I've experience or something I've lived. For me, they're one in the same. My expression as an artist and my music is me. It's just my heart on a sleeve. It's more in-depth than anybody could probably get out of me, more than talking to me or knowing me. But that is me. It's the only way to live for me.
iRJ: Why does your music matter?
TC: That's a heavy question [laughs]. My music matters because I'm here. I'm real. I'm present. I've always have been present—mysterious or not, known or not. The people who cook your food in the kitchen at a restaurant still exist, even if you don't know they exist. That's how you're fed. The farmer still grows food even if you don't realize that. You just buy your food and eat. But those come from farms. It comes from people. It comes from labor. So I've dedicated my life to exploring the world and absorbing culture and relationships and people and expressing it in order to help people deal with their lives. I don't make art for people to admire. I make music for people to include in their life to help them deal with their hardships, to deal with their loves and their emotions. That's the job I've been blessed with. To me, that's what makes it relevant. It's not for me. It's coming out of me and spreading into the world. That's why it matters.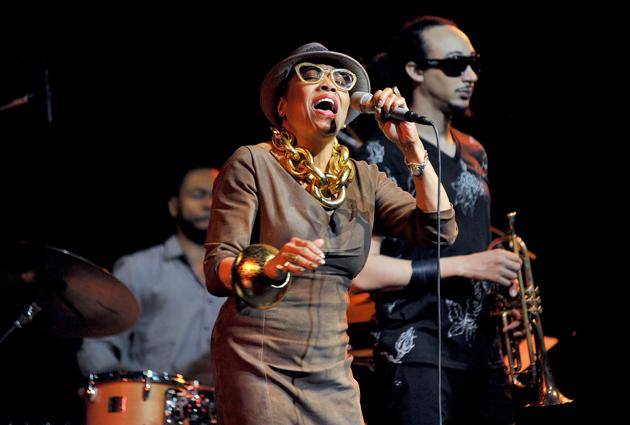 iRJ: You've been lucky enough to be embraced by musical icon, Dee Dee Bridgewater. How did that relationship begin?
TC: I first met Dee Dee in Shanghai in 2008 or 2009. I was hired locally to be in a big band to back her up. We met at rehearsal and then we went out to lunch and that kind of started our friendship. After the concert, she came down to my gig and she sat in for hours. We must have played for 2-3 hours straight. And we really got along, and we stayed in touch. I met up with her in Europe, and we talked more. She came to Shanghai one more time with Herbie Hancock on like a State Department tour and invited me to lunch and offered me a record deal through her label. I think the reason why was because before she left, I had given her an iPod with everything I had done on it professionally or even just iPhone records of live shows, and I think she had the time to digest it. That was the beginning of our relationship.
iRJ: What are your concerns going into your first album? Putting so much out there, how vulnerable does that make you as an artist?
TC: As an artist, you're always vulnerable if your art is real. If you're not vulnerable, it's not really art in my opinion. It's like the pop stuff you see in commercials trying to get you to buy things. That's not what I'm doing. I don't have fears per se, but things I do think about and hope for is mainly that the music reaches the people. Nowadays, with all the technology and all the social media, and all the laptops and home recording equipment, everybody has an album and everybody is portraying themselves as a musician or an artist. So, I guess my main concern as somebody who has lived and studied and been put on this Earth to put out music for people that it actually gets to the right people and gets to the people that it can help and influence. That's my only fear. It may get swallowed up in the vast ocean of everybody else's project.
iRJ: A lot of young musicians are choosing to be independent because it allows them the freedom of choice and direction. When you sign to a label, even with an iconic artist like Dee Dee, do you ever feel like you're losing that creative control?
TC: My situation is kind of unique with Dee Dee. Spiritually, we're connected. Musically, we influence each other and we're connected. This project wasn't "what can we do that's hot or popular." It was purely just "this is me" and she really put a lot of emphasis on making sure that we were doing what's me. And that's how she lives. She doesn't do things that she doesn't like. She doesn't do things that she doesn't believe in. She's shown me the way to survive in the industry and maintain who you are and what you are. It will never for me come to a point where I'm doing things that aren't me or I don't agree with. I'll never lose independence in that way. That's why she signed me, for that reason. I knew who I was and what I wanted to do, and she supported that. As far as with Sony Masterworks, they simply picked the project up for distribution. They don't have a lot of say in creatively what we do. We're more working on getting the product to the people. So I feel like I'm still, in a way, together with Dee Dee independently.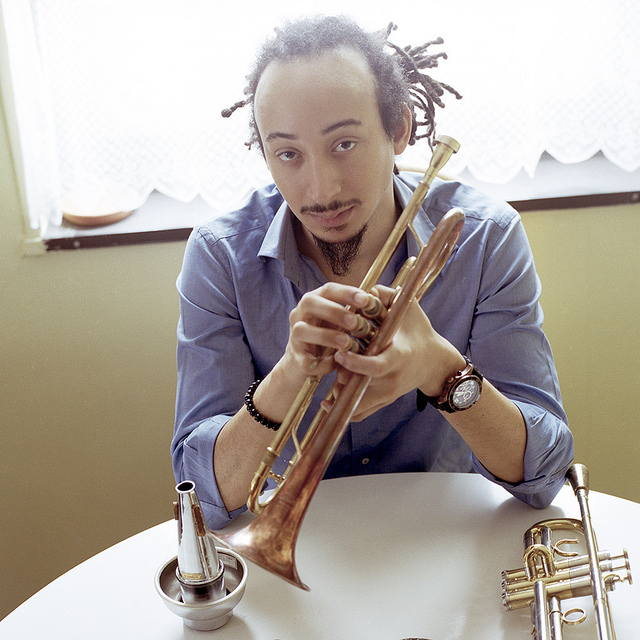 iRJ: You've worked and come in contact with a lot of iconic musicians, what is the greatest lesson that you've learned from these individuals?
TC: Just be yourself. Develop who you are. This is the most important thing from my grandfather to Donald Byrd to Gary Bartz to Marcus Belgrave to Billy Hart to Dee Dee to even Roy Hargrove. They've all inspired and influenced me and made sure that I know who I am and stick with that. I think that's the biggest disconnect between a lot of musicians or artists getting into the music. They're always trying to follow a trend or an idea or a movement. It's really about knowing who you are and displaying who you are. Miles [Davis] knew who he was. Dee Dee knows who she is. So it's clear. It's not an act. It's organic. It connects with the other thing we talked about with being independent. You want to be organic. You don't want to be like anyone else. You want to be yourself. That's what gives me the ability to just put tribal paint on my face and call my record "Afro Physicist" and call my music dvrk funk, because that's what it is for me. It's not something we cooked up as an idea. It represents who I am and what I'm like as a person. It's just being true to yourself and developing that. It's important to develop yourself as a person. This is what all of them have bestowed upon me, as well as music things, but more importantly this thing of being yourself.
iRJ: As a young musician who chooses to embrace a socially conscious mindset, how dangerous is that for you to do this early in your career?
TC: It's very risky. It's very risky to even talk about. It's an interesting day that we live. Everybody has access to everything, including your deepest darkest conversations. I think activism is in my horizon. I share a birthday with Bill Cosby and Nelson Mandela, and I feel that same kind of drive and urge to be a part of change and a movement. But I believe those things have to be done correctly, and they have to be done intelligently or they fizzle out. My music has very strong messages and meanings, but it's in the music. I'm not a "stand on a soapbox" kind of person. I'm more like if you hear what the message is and you feel what the message is then come join us, otherwise you're not ready. Those things will come in time more and more as I evolve as a person and as I grow into adulthood. Those things will come.
Theo Croker is an artist in the purest sense. His process is internal, the product an extension of the man, himself. And this is why he will succeed. There are many talented musicians creating across the aggressively expansive landscape, but few are doing it in the same vein as Croker. When you hear his work, you believe it, because you know it's true. That's what sets him apart from the rest. Honesty in sound—it's the noblest approach to musical creation, and Theo Croker gets it.
 Words by Paul Pennington