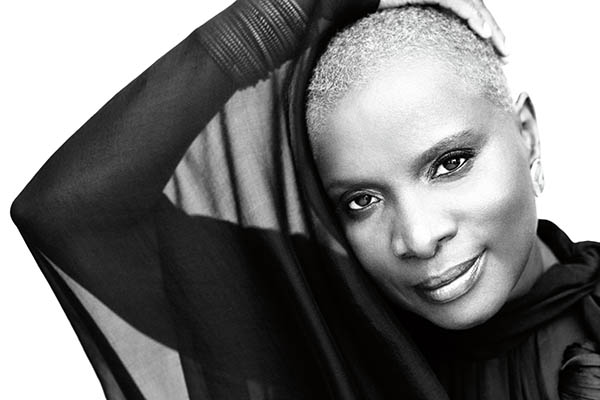 The daughter of an actress, dancer, and theatrical producer Kidjo was born in Quidah, a coastal city in the West Africa country of Benin. Inheriting her mother's love of performing, she made her stage debut with her mother's theatrical troupe. She was singing professionally by her 20th birthday. Afro-funk, Reggae, Samba, Salsa, Gospel, Jazz, Zairean Rhumba, Zouk, and Makossa inspired the music of the soulful Paris-based vocalist. Kidjo's latest album "Eve" represents a fresh start. "Eve" is an upbeat, celebratory set. It's a collection of songs dedicated to the power of African womanhood, and in the particular to those women she grew up with in her native Benin. It is rich with melody and rhythm. "Eve," explains Kidjo, is an album "of remembrance of African women I grew up with and a testament to the pride and strength that hide behind the smile that masks everyday troubles."
iRJ: What was it like growing up in Africa and what was the music scene there?
AK: I grew up in a household where not only did we have music, there was sports, theatre, movies; we could explore what we wanted to do, there wasn't a set structure of activities. We could do what we wanted. My first exposure to music was my aunts singing to me when I was a baby. My father would say, I could sing before I could talk. My aunts sang at every occasion. When I would cry as a baby, they would sing and I would instantly stop crying, looking for the person singing or where the song was coming from. That's how I grew up, having a love and passion for music. In the middle of the '60s, my brother started a band. I grew up with them covering Jimi Hendricks, Carlos Santana, James Brown, Wilson Pickett and a lot of main stage names. There was the Motown sound, The Rolling Stones, the Beatles, and the artist, Prince. At the time I was too young to have any connection with the band, but I listened to them, jumping around dancing, and truly engrossed in the music. I told my mother when I grew up I was going to be James Brown.   She said "no" you cannot become James Brown, but I insisted that I would become James Brown.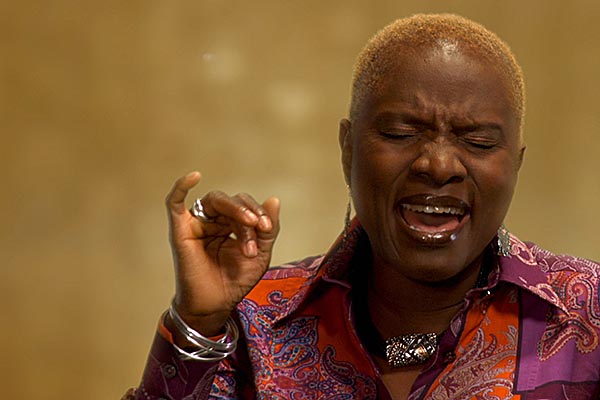 iRJ: Would you consider yourself a Jazz musician or a World musician?
AK: I consider myself as a musician, period. Jazz comes from Africa. Does this World musician mean that all the music in the world that people listen to and enjoy, originates from Africa or does it mean, that because we are from what they refer to as the Third World, our music is referred to as, World music? Where does Blues come from? Where does Rock n Roll come from? There is African music in some classical music, you just have to listen to it. As humans we like to divide things into classes and categories. I always say that the legacy we share as humans is the music that comes from Africa. This music penetrated through to the slave owners and vice versa. As an enslaved people, their classical music and genres influenced us as we listened to the music of the Masters. They convinced themselves that music meant nothing. African music was impacting them as well. To me as a musician, it means accepting all those parts as part of my history. We are on the same Planet, thus, it has an impact on all of us, who listen to music. To me, music is the best way to embrace it, talk about it, and then  move on.
iRJ: A lot of musicians have taken a philanthropic or political stand using their form of artistry to talk about an injustice or things happening in the world. How much of that is a risk to an artist?  
AK: "You have to stand for something, less you fall for everything." As an artist you play for people, (but) if you witness something and you don't talk about it, what does that say about you as an artist? When you cry for help, nobody is going to help you because you didn't help other people. I'm a story teller, from my tradition and my ancestors; our history has never been written, it has always been oral. So, I come from that background. Thus, I have been denouncing when people don't respect human rights, when they don't respect freedom of speech, when people are jailed because they sing differently than other people. So, I've always been involved and if I have to pay a price for it then I will. When I reached out to many artists and published in the New York Times about the war in Iraq being wrong, my record company started to panic, saying that my career would be over. So be it, the war on Iraq is wrong and I wasn't going to sit there and not say anything in fear of saving my career. We are the memory of our time and we speak for our people. The music that we play is talking about our time. We cannot pretend that by not talking about the issues, that everything is going to be okay; it's not going to be okay.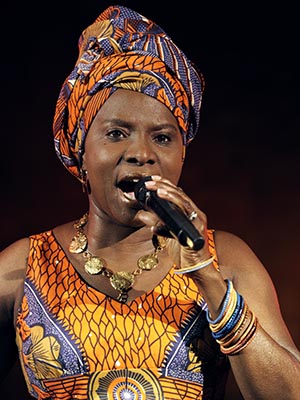 iRJ: You've been touted as being Africa's Diva.  Is Diva a positive or negative term in your eyes?  
AK: It depends on what you want to do with it and your mindset around it. If you get swept into the glamorous part or image of a Diva, then you're going to dig your own grave. Humility is part of your job as a musician; you must be humble. Being a Diva, what does that mean? It means, what I  am doing people like; as long as I  am doing what I  like and I love it, then I'll continue doing it. It doesn't matter what name you call me. For me it is the center part of my life.  
iRJ: You've performed with musicians from other genres. Did that help broaden your music audience or help in augmenting your music creativity?  
AK: It has impacted my way of writing music, broadened my way of singing and my voice has matured and expanded. Every time I  work with  different  artists, I  try to go beyond  what  I  believe  I  have in me because  I   am questioning and curious about my abilities. I   love what  I hear in the different  artists, taking from them, looking for what  I   can  incorporate  into  my own  life and musical  career. Doing collaboration with an artist is giving and taking.  It's sharing. If you don't have that, it doesn't mean anything.  I   don't  do collaboration  thinking  about the  marketing  or profitability; both  the other artist  and  I   are at the service  of the song. iRJ: Why "Eve"? What were your thoughts about "Eve"?
AK: The name, Eve is the middle name of my mother. For me, women have been a part of my life, just as my dad has played a huge part of my life. My father was my champion; he had a huge impact on my brothers and sisters. He nurtured in us the ability to think, to speak out, and to do what we wanted to do. My mother and grandmother, taught us –  the three girls in our family – how to be ladies; how to conduct ourselves; how to enrich ourselves; how not to let any man in the world degrade our bodies or our minds.  We were taught that we are one, our bodies are our sanctuaries, and you have to take care of it. We were taught if a man said I love you but did not respect you, just take that love and walk away. Women have been the key of my being. No one wants to see, show or talk about the beauty and resilience of the African woman. We  are the first to wake in the morning and the last to bed at night, proceeding through the day with grace and love, constant love, even in the face of abuse, rape, everything. The world just wants to view them a victims. Africa is the place where people just want to drop their misery, the representative of misery and woe and everything bad. No one talks about the wealth of Africa, which has been extricated by the rich countries. Africa built the economy of America; the cream of Europe, we work, we died in World War II for freedom, for democracy. The democracy which did not give us an opportunity to better our lives. The women are the center of that.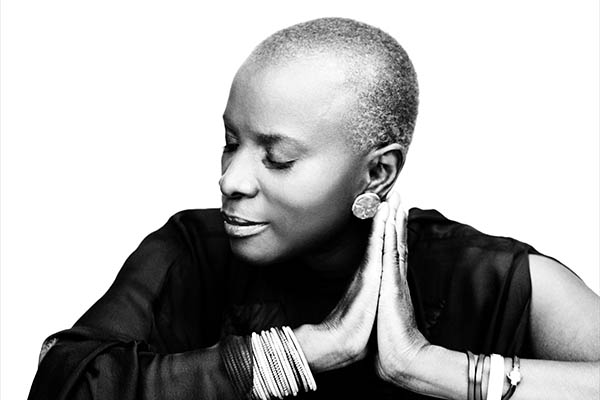 They love and welcome everybody; I want people to see that with "Eve". Eve was the first woman, who has defined all of us as women. This story has been told by men. Eve tempted Adam, so the story goes. Are you going to tell me that when Adam took the apple from Eve, that he couldn't think for himself? He could not think or reason that was something that wasn't wise to do because he had fun doing what he was doing? We just accept this … to say a man cannot be happy without his wife being happy. That's why this album is dedicated to African women. iRJ: Please share with us, your reflection on Nelson Mandela and what he stood for and what is your commitment in maintaining that mantra of what he stood for? AK: Hugh Masekela and I went to South Africa and were the first artists to perform at the concert after his funeral. I was lucky enough to get close to him and to know him. His words of empowerment will stay with me forever. If you don't forgive, you're not free, that's what we have to remember. You must forgive in order to move on. You must have purpose in life; you have to focus on it and do right for other people. To take the position that serves the people and not those that serve only your personal position. That's what I learned from Nelson Mandela. For Kidjo, 2014 is shaping as a particularly big year. The Grammy-winning artist is planning a tour of the United States and she will promote the release of her upcoming autobiography, "Spirit Rising: My Life, My Music."
Words by: Sharlene F. Bymun