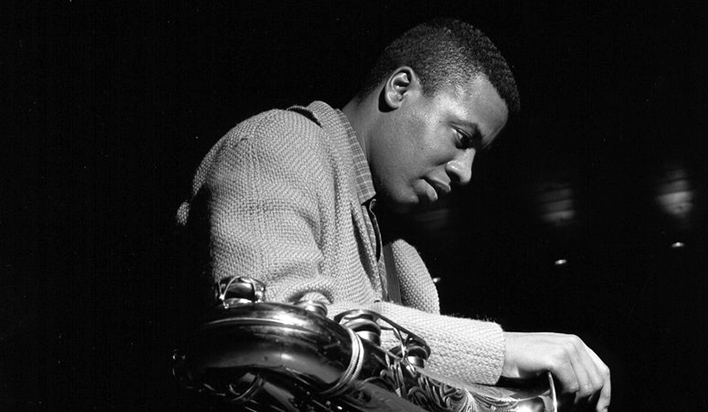 Wayne Shorter photo by Francis Wolff
Wayne Shorter is a multiple Grammy-Award winning saxophonist and composer. Making his presence known for over five decades, Shorter has played with some of the strongest ensembles in music history – including Art Blakey and the Jazz Messengers, Miles Davis' 2nd great quintet, as well as the groundbreaking band Weather Report. Individually, he is known for not only his technical savvy, but also an uncanny compositional grace. His most recent effort, Without A Net was released on Blue Note Records in February 2013.
Attempting to confine Wayne Shorter to any particular label is an exercise in futility. He is fluidity personified. When we expected him to go right, he went left of center and started reporting the weather. This is Wayne Shorter. He is the thoughtful narrator whose pen gave us an entire book of standards. He is the enigmatic free spirit that denied outwardly-imposed boundaries on his sound. He is the contemplative thinker whose philosophies are exhibited in his every move. Encompassing it all, he is simply Wayne Shorter.
iRock Jazz recently sat down to talk with Wayne Shorter about his perspective on life and how it defines his music.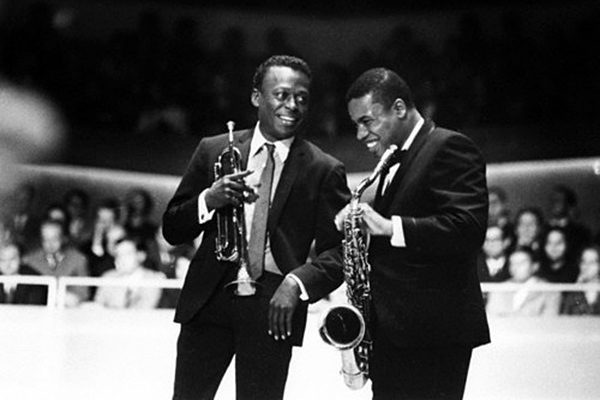 Miles Davis and Wayne Shorter Perform in Berlin
iRJ: You joined Miles Davis' band after John Coltrane departed. What was that like entering into a band after someone like Coltrane? What sort of pressure does that place on you?
WS: I was with Trane when he decided that he was going to leave. I was at his house and he said that he was going to leave Miles amicably and all that stuff, you know. He told me that I could have the gig if I wanted it. Miles actually called me about three times [to join the band] too. Around that same time, I got the offer to play with Art Blakey and the Jazz Messengers. Then Miles called. He even called when we were rehearsing one time with Art. Lee Morgan picked up the phone and he said real loud, 'Wayne… It's Miles!' [laughs] But it was a good feeling going in after Trane had left. It's like you know what you're supposed to do. It's like someone plays Hamlet very well and then you're to go do Hamlet. You have to know yourself. I was about 30-31 maybe and when you're about that age, you kinda know what you're aiming at. It's like you know what you're doing.
iRJ: How did that 2nd great quartet distinguish itself musically from the first? 
WS: The distance happened through just everyone kind of being themselves. Herbie [Hancock] didn't try to be like Bud Powell or Art Tatum or Oscar Peterson or Red Garland or whoever the last person to play with Miles. Herbie didn't try to be someone else. Ron Carter didn't try to be like Paul Chambers. And, of course, Tony Williams didn't try to be like Philly Joe Jones or Jimmy Cobb. We all recognized that we had to do what we could do in the most truthful kind of way. When you enter into a new arena, you will deliberately try and distance yourself to show that you are different. The false identity still activates when you make a change in life.
iRJ: Herbie said that during your tenure with the group, you would compose music and Miles never changed it. Was that a surprise to you?
WS: Not really. When we started working together he would ask me what I had. So, I'd bring certain music and he'd say, 'Ok. Let's try it'. As we were doing it, he would say something like, 'It's already done.' or 'It's all there.' Over the years, he would say to me, 'You're like Charlie Parker when you write'. Not the sound, but the 'story', as he would say.
iRJ: Weather Report was such a change in sound for you. Was that the purpose of the band? What space was it really supposed to dominate?
WS: We were trying to do music that was not going to be characterized as fusion and not characterized as straight ahead and not characterized as pop or anything like that. People would always ask what kind of music this was and we would say, 'Folk music of the future'. [laughs] I remember we were meeting with Clive Davis after we signed with Columbia. The office was packed with people as we're trying to figure out a name for this group. And he said, 'How are we going to market this? What are we going to call it'? Someone said, 'The News! Call the band The News'. And I said, 'Everyone is interested in the weather. Everyone is interested in weather reports'. And all of a sudden everyone said, 'Yeah! That's it!' See, the weather is never really the same for all people. It's different. So, the music would be like that – different. Totally different to everyone.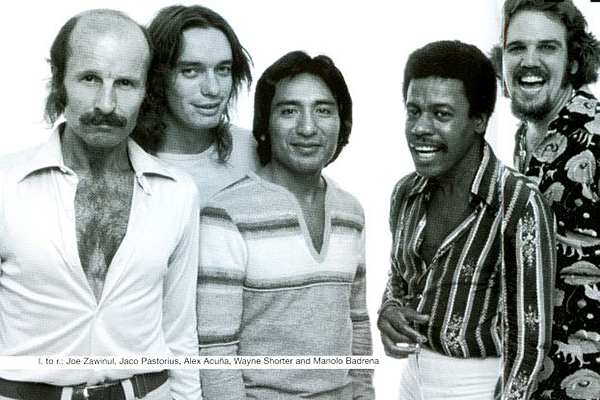 Weather Report
iRJ: Jazz was once popular. Since that point it has lost something. What has changed from then to now?
WS: I tell you something. Almost 3,000 years ago, all of India was practicing Buddhism after Sakyamuni – the first historically known person who became enlightened. He knew that it would not fizzle out, but that it would decline. That people, not Buddhism, but people would go into a place of decline. He knew that it would appear again in this time, in this time of confusion. We call it the time of Mappō, a time of stupidity, discord, greed, and arrogance. Many things have not fizzled out, but declined. The dialogue of a certain era that overrides everything and what people embrace is not always valuable. So when they say jazz declined or when anything declines or goes away it's like something that's valuable that's tossed in a trash can. You don't realize the value you of it. Things like this happen all the time. Not just jazz, but a lot of things. It will appear again when people have the capacity to recognize that value.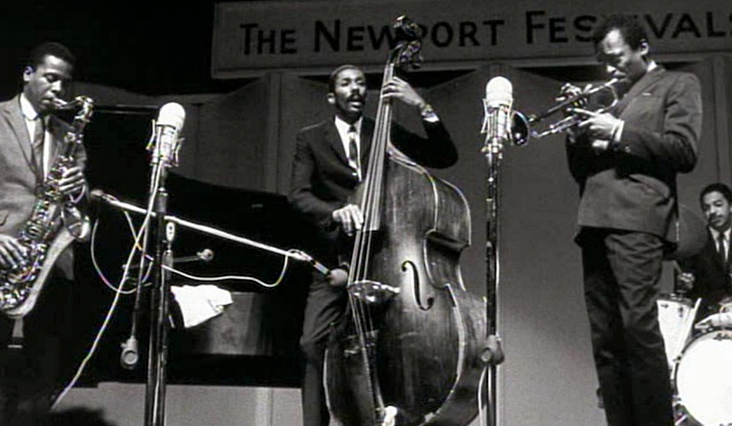 (l-r) Wayne Shorter, Ron Carter, Miles Davis, Tony Williams
iRJ: There's a back and forth about the word jazz and people wanting to avoid that label. What's your position on that topic?
WS: I don't really have a position. I just have my own definition. Jazz doesn't have a fixed definition. I like the word probe. [laughs] Certain classical musicians have the idea to go where no one goes. They had that. So to me right now for people jazz is a way of saying, 'I dare you'. Not just about music, but about everything. I dare you. I dare you to go beyond your own boundaries. A lot of traditional jazz musicians should take that dare.
iRJ: What is it like coming back over to Blue Note after all this time and receiving critical acclaim for the new album, Without A Net?
WS: It's just like you said, 'After all this time'. [laughs] The words like "should've" don't come to me – like 'This thing should've happened to me years ago'. It's like Trane and ["My Favorite Things"] from The Sound of Music. It usually happens with a song or something that clicks. That's the way that the conditioning has been since the advent of radio. You condition the audience. In an interview, Sonny Rollins was asked why he played bebop. And he said, 'We're not playing to show off how we've mastered an instrument or show off our virtuosity or to make money. We show off this modern music to be human'. It's like doing what you do without being told what to do. The feeling I have is more than 'At last, they're noticing this'! I'm not going to fall into that trap of self-glorification. This is an incremental measure of where we could go. And I would say the longest way to achieve something is the shortest way. It takes a steady spirit.
The musical pursuits of Wayne Shorter deserve our respect if for nothing else than giving us quality sound for over fifty years and counting. On a technical level, he embodied the virtuosic undertakings of bebop sensibility. Compositionally, he is one of the most respected artists of all-time. However, his most indelible feature, that which sets him apart from the others, is the trajectory that his career took. It simply defies conventional wisdom. They say, "If it ain't broke, don't fix it," and yet Shorter walked away from Art Blakey. He walked away from Miles Davis. He walked away from bebop. Before you walk away from today's conversation, understand this: There is nothing static about Wayne Shorter. He is in constant motion. To watch his career is to hear progression in its most natural form, because the man himself is doing the same each and every day. For as long as he is making music, we can expect a continued growth. This is the evolution of Wayne Shorter. You can get more information from his website www.wayneshorter.com
By Paul Pennington