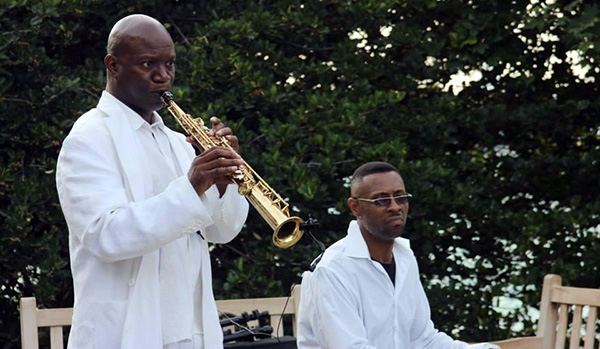 iRockJazz proudly welcomes Audley Reid to our 2015 iRockJazz Music Festival in Buffalo, MI!
Mr. Reid has been a part of the Jazz music scene for over 20 years. He has performed with numerous stars and has performed in venues around the world. Although his charismatic style is identifiable as Smooth Jazz, Audley plays a wide range of music, including R & B and the Blues.
iRockJazz spoke with Audley about his music, his buoyancy as a Smooth Jazz artist, and what musical treats he has in store for our festival audience.
iRJ: Audely, you are a product of the Chicago music scene and have been playing jazz for quite a long time. Tell us how you got started in music.
AR: Well I accidently started off when I was in high school. I wanted to join the choir because I didn't want to be a band geek. But I got over to the choir room and I sang a note and she sent me next door to the band room. So I guess that ended my singing career. So from there, I joined the band at South Shore High School and played clarinet as my principle instrument, and started playing saxophone right around my junior year. And even after high school and college, I just continued to play. The interesting thing is that I wasn't a music major, but I always loved performing. I was a business major in school; and that is what my degree is in. But I just love playing music. If someone would have asked me 20 years ago, would I be playing music for a living, I would have said 'nah, not really'. But life gives us many changes. So here I am. I've been playing music for a living maybe for the last 18-19 years.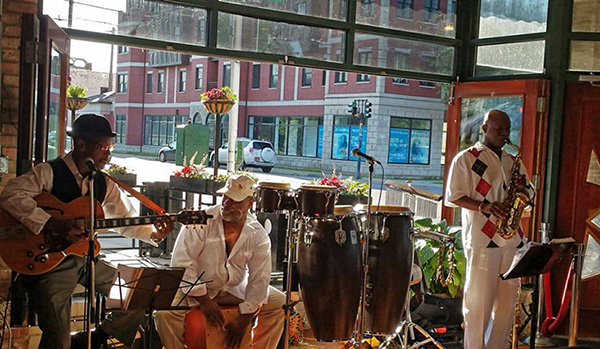 iRJ: Do you consider yourself to be self taught?
AR: You know, I would say that I am self taught. But I've been a little bit lucky. I've been around some fantastic musicians. Everybody from Earth Wind and Fire's band to Bobby Blue Bland's group, and have had a lot to do with the AACM (Associate for the Advancement of Creative Musicians) group that is here in Chicago of course, and they are celebrating their 50th anniversary this year. So I've been very fortunate to have been in the presence of some amazing musicians over my career.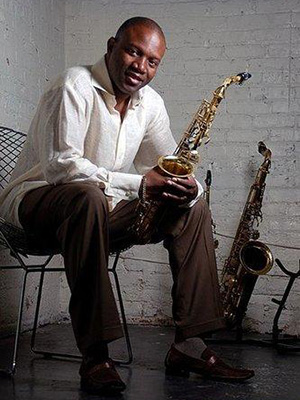 iRJ: How have you managed to stay afloat composing smooth jazz, in a time in which the genre has seemingly died out?
AR: Well you know, just like anything else, I am a smooth jazz recording artist. But if you check back into my discography, I've also recorded a few straight ahead jazz albums, a couple of R & B albums, with various people around the country. So I think one of the biggest things for a musician, if you want to survive in today's market, you've got to be flexible. Smooth jazz is not as popular as it was a few years ago, but it is still a genre of music that people come out to see. But then you still have to feed that other musical world out there that wants you to do other things. And I've been pretty fortunate in the sense that I've been able to dab a little bit into r & b and dab a little in the straight ahead jazz world and all across the board. But if you talk to most people who have known me for a long time, they know me as a jazz player-not so much the smooth jazz stuff. If you look at my dad for instance, he won't come to a show where I'm doing the smooth jazz , but he'll be in the front row for the straight ahead stuff. So I get it up close and personal.
iRJ: How would you rate yourself as an artist? Would you say that you are a better musician or a better entertainer?
AR: It all depends upon how my knees feel that day, to be truthful. Entertaining is a huge part of the entertainment business, but the music business is also a huge part of understanding the business of music. So I would say that depending upon the day, that I am probably a better musician than I am a performer. But if my knees are not bothering me, I think that I am a decent performer, but still a better musician.
iRJ: You are one of the main stage acts at the iRock Jazz Music Festival in Lion's Park. What can the audience expect from Audley Reid musically?
AR: A lot of energy, a lot of spontaneity within the songs that we play, a lot of deep groove pockets that you would probably associate with R & B, but we will be keeping it within the jazz flavor; and a little bit of the old with the new.  Everything will be interwoven through to make for an exciting show. And also I've got some great players with me– Will Howard on bass, Seth Black on keyboards, and keeping the time we have the "Fat Time Keeper" Derrick Henderson on drums. They are all very unique guys, and everybody will be pleased to hear them stretch out a little bit.
Audley Reid will be performing at Lion's Beachfront Park, in conjunction with the iRockJazz Music Festival, on Saturday May 30th at 4:00PM.
Words by Steen Burke