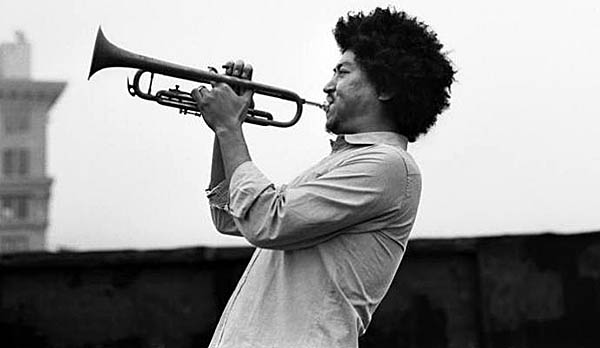 Since the 1950's, Japan has been a major fan base for American jazz. This interest led to a number of Japanese musicians to migrate to the States for the express purpose of learning and performing the music. Trumpeter Teramasu Hino and alto sax player Sadao Watanabe are two Japanese artists who have made a name for themselves in American jazz circles by establishing musical credibility among their contemporaries and fans alike. The latest Japanese entrant into the New York jazz scene is trumpeter Takuya Kuroda. After participating in a five-week workshop at Berklee School of Music, he promptly dove right into the New York jazz universe, where he has been earning his musical stripes.
Kuroda's trumpet skills not only gained him entry into a very competitive environment, but he also caught the attention of noted neo-soul/jazz vocalist Jose James, who promptly put Kuroda into his group. However, James is also the producer of Kuroda's debut recording on Blue Note, Rising Son. Even though Kuroda studied classical jazz idioms, he developed an affinity for more contemporary sounds, including the soul-jazz, which was played in the 1970's by individuals like Freddie Hubbard, Stanley Turrentine, and Grover Washington. There was also groove-based music, which he developed while working with Afro-Beat groups around New York.
Kuroda's musical leanings are apparent throughout Rising Son. The title tune itself has the lyrical serenity, which is accented by Kuroda's melodic style. "Afro-Blues," which is perhaps the most interesting tune on this date, reflects Kuroda's Afro-beat leanings. Not only are the melodies and rhythms addictive, but the tune also features a hypnotic solo by famed African Guitarist Lionel Loueke. Kuroda also pays homage to Roy Ayers with a sultry rendition of "Everybody Loves The Sunshine," which features Jose James adding his vocal touch. In addition to the eclectic musical choices, Kuroda has an interesting choice of instruments. He uses the trombone in his charts that give the music a strong punchy feeling. Even though this is not typically straight-ahead jazz, Kuroda's musicianship is prevalent in such a way that the tunes rise above the typical smooth jazz clichés. If you are a fan of groove-laden music or the CTI recordings from the 1970's, you will like Rising Son.
Tracks: Rising Sun; Afro Blues; Piri Piri; Mala; Everybody Loves the Sunshine; Green and Gold; Sometime, Somewhere; Call
Personnel: Takuya Kuroda: trumpet; Corey King: trombone; Kris Bowers; Fender Rhodes piano; Solomon Dorsey: bass; Nate Smith: drums; Lionel Loueke: guitar, (Track 2) Jose James: vocals, (Track 5)
by Steve Bryant