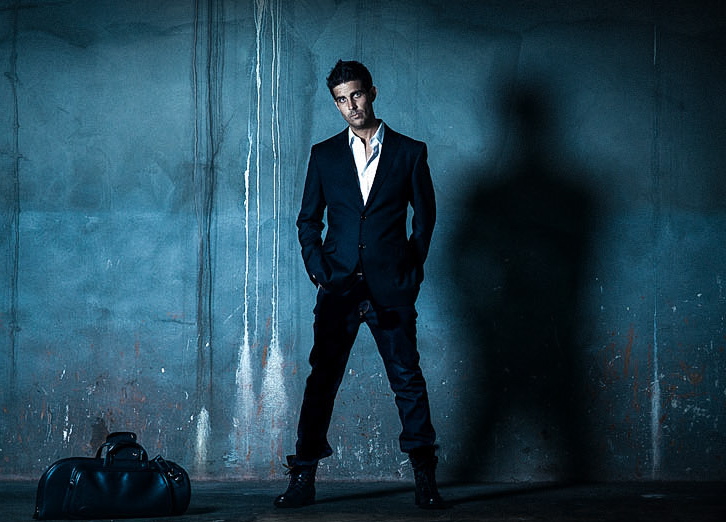 Gabriel Johnson
Beginnings and the evolution of many things earth-bound remain fascinating. Miles Davis, one of the most influential musical legends, left his impact on this forever-evolving world and is currently seen and heard in many musicians today. Credited with leading the innovative and stylistic changes in Jazz during his 50 year career span, it's no surprise many consider him an inspiration on their craft. One such individual is Jazz trumpeter Gabriel Johnson, who was born in Santa Clara, California in 1980.
While growing up in the city of Salinas, his grandmother preached to him about the importance of the arts, especially Jazz and encouraged him to attend performances by Dizzy Gillespie, Freddie Hubbard and other greats. At that point, a new trumpeter was born and the musician spent his teen years practicing before attending Boston's prestigious New England Conservatory of Music, where he studied under the tutelage of several Jazz greats. As a Los Angeles resident, Gabriel remains very active in the studio scene, played or recorded with a wide variety of musicians and bands that include Gladys Knight, Jill Scott, Diddy, Faith Evans, Johnny Mathis and Andrea Bocelli. For the young artist, he says he isn't simply working with superstars (although that is an honor), he is working with individuals who have a common goal of making something really good. His melodic creativity, beautiful trumpet sound and infectious compositions are sure to catch listeners' ears.
Gabriel released his freshman project, Introducing Gabriel Johnson, in late September and is now on tour. His late grandmother would find delight in knowing Erin Davis, the son of Miles Davis, is now managing the little boy she preached to all those years ago. Gabriel and Erin took time out of their day to talk to iRock Jazz about this project, working together and a little bit about Miles Davis.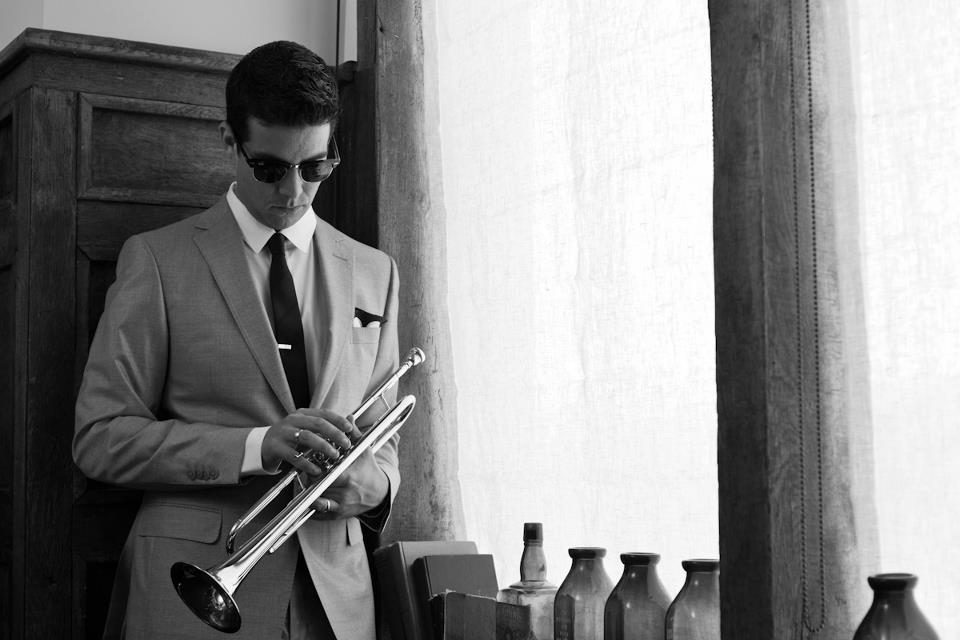 Gabriel Johnson
Excitement and relief washed over Gabriel upon the album's completion when he could finally venture out to see his fans' reaction to his performances. Along his path of artistic evolution, and in the making of this album, he says he began to appreciate the simplicity in ways that he had not before.
"The things I learned about overplaying and over-programming [accentuates] the delicate balance of adding [the right amount] of content and still having impact," he adds. "In my opinion, it's much easier to simply add more content to sort of hide a lack of depth or substance than to make the decision to cut stuff out which Miles was so great at … or other fantastic artists who have a knack for making things simple. Now, I think about simplifying stuff and I think that has been the biggest evolution for me during this
23 Photos

32 Photos
process."
Intent on continually stretching himself through collaborative work with extraordinary artists shortly after this album's release, the musician shared The Tonight Show with Jay Leno stage with world-renowned, 11-time Grammy Award Winning artist Placido Domingo, one of The Three Tenors.
"I got to be honest, I was a little nervous," Gabriel admits. "The idea of playing for eight million people with a legend on national TV can be a bit intimidating. But by the time the show [date] came, I couldn't have been more relaxed and I owe that all to Placido."
Of this experience, he says the King of Opera was quite gracious in sharing the spotlight as Gabriel effortlessly showcased his brass skills especially during his solo. "It was just an amazing experience overall… It's a pretty cool thing."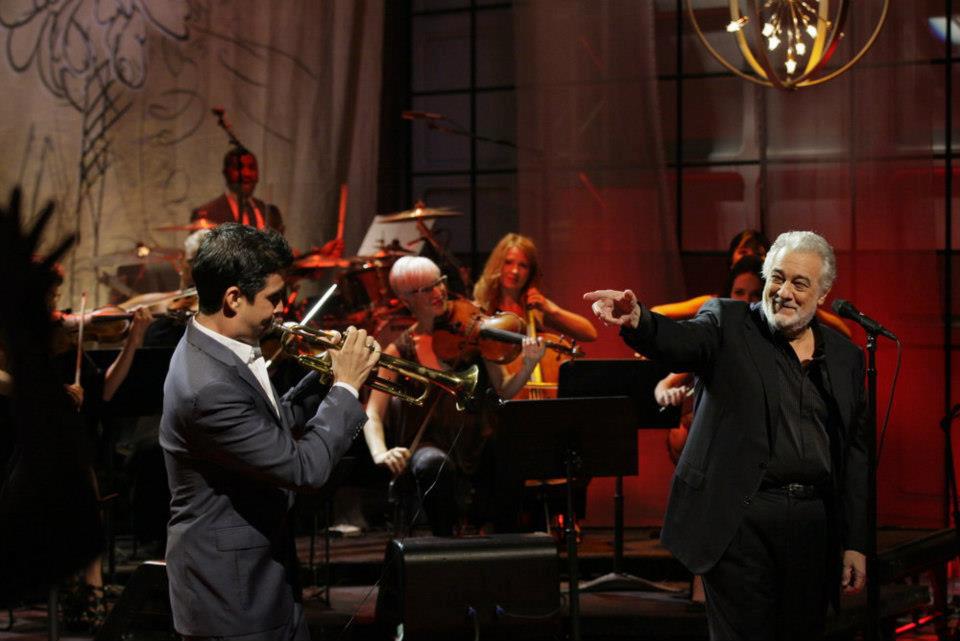 Gabriel Johnson with Placido Domingo on the Tonight Show
With over 20 years of dedicated trumpet training, it's no wonder artists gladly join forces with him and it shows on his recent release. Introducing Gabriel Johnson is comprised of 10 original compositions and three covers. The album's first track, "Wait a Minute", stretched the young musician.
"I took the plunge, and coming from the background that I came from by playing straight ahead Jazz and having a background playing classical music and film scores, I always call it being the dummy and the ventriloquist.," Gabriel says. "When you're [wearing the hat of] producer, artist and doing all that stuff…, taking that plunge is the biggest step that one can take, but from that point on it all happened pretty fast as Erin can attest to."
This track served as the catalyst for the rest of the album which includes songs like "Wait a Minute", a very simple melody. Gabriel shows his fresh take on the Gershwin classic "Summertime", the quirky "Jazz Cats" and gives a raw Hip Hop infused tribute to Miles Davis in "The Chief". The latter came about from a conversation with his manager about his dad and the legend's influence on Gabriel. "This tribute was twenty-two years in the making," he comments.
To Gabriel, Erin is more than Miles Davis' son. "He is the guy I call one of my very best friends," Gabriel adds. "Certainly, he has an insight into music that he got from a very young age, but more than anything else, I appreciate his friendship and outlook on music. We had that instant connection on what we [both] like about music. He has a brilliant idea of simplicity and stands on his own."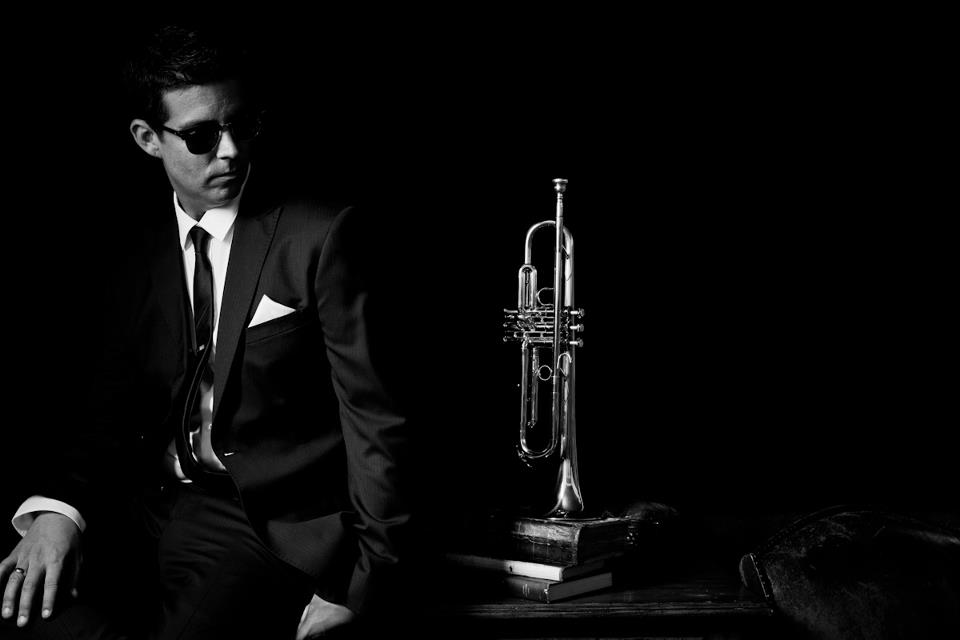 Gabriel Johnson
Their genuine friendship is hard to miss. They met when Gabriel and Clint Eastwood, who was in his directorial role, were working on the score for the 2008 drama, Changeling, starring Angelina Jolie. Very impressed with Gabriel's tones and tasteful note placement, Erin kept in touch with him and over the years, kept up with Gabe's (as he likes to call him) work. Evolution played its card again as the production quality of Gabriel's material had the friends talking about possible next steps. Erin says he is pleased with Gabriel because he does everything that he says he will do and says it's very liberating. Gabriel's working with Eastwood seems natural as the actor and director also takes a simple approach to story-telling.
Both Gabriel and Erin possess knowledge from previous generators of quality music, but are very ready to embrace today's evolving sounds and various sprouts. Gabriel compares music creation techniques to sushi.
"When you go to a really great sushi restaurant and have a piece of Sashimi that blows your mind, it may seem like just a piece of fish," he says. "But it's the way that it's prepared and there's something to be said for that. In this age, we are inundated with so much and how much of that has had an impact? My goal with music is to slow things down and give people a break."
As an artist, Gabriel remains on the go as he continues to make music. There are more songs in the vault, and he is already making more, including a holiday season EP. He would love to play the piano, but admits that his skill-level requires that he plays it only for himself. Erin admits he would love to see him play with The Roots on the Jimmy Fallon Show. Gabriel would love to play with John Mayer and more classical artists. He desires for his legacy to develop into someone who explored space in innovative ways and made the most out of his songs. Both Gabriel and Erin agree on one word to describe the album – 'engaging'.
"It puts you in a vibe where you can be put in a cool state of mind," Gabriel adds. "I would like to thank people out there for taking out a moment in their lives to check out my music and hope to see them at a show sometime."
Gabriel Johnson can be found on www.gabrieljohnsonmusic.com and www.facebook.com/gabrieljohnsonmusic. The Introduction to Gabriel Johnson can be found on iTunes and Amazon.
by Lisa George
Sponsored by Coco Key Water Resort