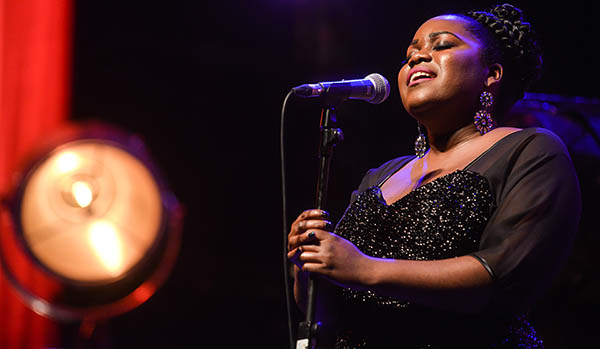 Zara McFarlane performs at Queen Elizabeth Hall Photo by Andy Sheppard
British vocalist Zara McFarlane is part of the new-jazz/soul movement which became prominent in the UK during the 90's. However, while her peers followed in the steps of such Brit soul/jazz groups as Brand New Heavies and Incognito, McFarlane chose a more divergent path, creating and performing music which is based more on the work of Nina Simone and interestingly enough,  Pharoah Sanders. Whatever her influences, McFarlane has created music which has transcended genres and bridges cultural and generational divides.
On If You Knew Her, (Brownswood, 2014) which is her second recording, McFarlane uses the language of jazz without limiting herself to the constructs of the music itself. This is apparent in the choice of musicians who come out of the British jazz scene. McFarlane starts off the set with her composition "Open Heart," an evocative tune which immediately calls to mind the work of Cassandra Wilson. On the next tune, "Her Eyes," McFarlane accent her vocals with some tasty piano work on her part.
McFarlane also makes some very interesting choices with the lineup of musicians she uses. For instance, she works with a harpist, Rachel Gladwin, and trumpeter Leron Thomas on "Angie La-La." The most intriguing piece is "Woman In The Olive Groves," whose hypnotic melodic delivery which channels the Mongo Santamaria classic "Afro-Blue." Also of note is McFarlane's cover of the Junior Murvin reggae tune "Police & Thieves," which she takes out the Rasta-island vibe and makes it into something Roberta Flack would have done in her earlier days. If You Knew Her is some very original work by a very talented young lady.
Tracks: Open Heart; Her Eyes; Move; You'll Get Me In Trouble; Police & Thieves; Spinning Wheel; Plain Gold Ring; Angie La La; The Games We Played; Woman In The Olive Groves; Love.
Personnel: Zara McFarlane: vocals, piano, guitar; Peter Edwards: piano, Gavin Barras; Max Luther: bass; Moses Boyd, Andy Chapman, Taz Modi: drums; Binker Golding: tenor saxophone, Leron Thomas: trumpet; Rachel Gladwin: harp
by Steve Bryant