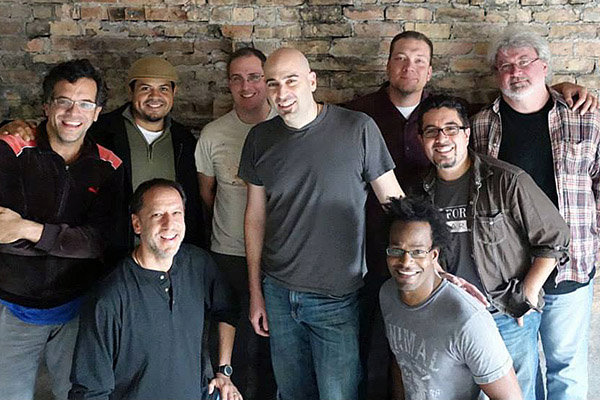 Ryan Cohan is the recipient of the prestigious Guggenheim Fellowship. This pianist and composer began his journey in music as a child and was able to read sheet music at the age of five. Cohan's mother was a music teacher and introduced him to music. This Chicago native released his debut album. Real World. In 1997 and this past July his fifth album, The River, was released. This album was inspired by his travels to Africa. Cohan is also an educator and he continues to teach in the U.S. And abroad. He has worked with renowned artists such as Freddie Hubbard, Regina Carter, Victor Lewis, and Otis Clay, to name a few.
Ryan Cohan has taken the time to sit down with iRock Jazz to tell us about his music and career.
iRJ: Tell us about the Guggenheim Fellowship you received.
RC: It was an honor to receive the fellowship. I spent months studying orchestral music. I took lessons with Vince Mendoza. I took a lesson with John Clayton as well. I went to scoring sessions and build my knowledge with and apply it to something moving forward. Fortunately, at the end of the term, just  by chance, I was commissioned to work on a project with Joe Locke who was working with an orchestra in Lincoln, Nebraska. I ended up writing three orchestral arrangements for that record project. The study period and the opportunity to write formulated more of an orchestral direction I want to go in. The fellowship provided me the opportunity to study as best I could.
iRJ: What was it like to work with Freddie Hubbard?
RC: Just knowing what a giant he was, it was really exciting to play with him. He was very cool with me. There was one tune that I played some changes he didn't like. He showed me the changes and what he wanted to hear on the gig. It was very humbling and I learned them. It was a remarkable thing to have played with him.
iRJ: What was it like working with Ramsey Lewis and composing music for his national television show, The Legends of Jazz?
RC: It was really a great experience working with Ramsey and he was always a gentleman too. At the time he was getting my music out to a much bigger audience. It was a great challenge because not only was it composing music he like, I worked with him closely for six years. I always liked the challenge because it was not just my composing melodies and harmonies, it was tailoring it to what he wanted to do and getting an innate understanding of what that was.
iRJ: When did you get your big break?
RC: It seems like it's always about getting out there and working more. With each project it builds more opportunities, but the experience with Ramsey Lewis really placed me in an arena of higher profile. Over the years it's been with my own music; playing with great musicians around Chicago. I played a long time with Orbert Davis. Also, making the connections in New York with Jazz Lincoln Center. It's all been building a process with opportunity after opportunity. The first record contract I got in 2001 with Sirocco Jazz in the UK broke a lot of ground. That record helped me to get touring regionally and in Canada. Getting signed to Motema in 2007 was important too. It helped get my music out.
iRJ: What is Real World Music?
RC: At the time that record was self released. It was the name of a company I made up just to put that out. In the sentiment of the music it was being connected to what I was doing with the music in a genuine way.
iRJ: Can a musician live in Chicago and survive as a world class musician?
RC: Yes, I think it's difficult because the industry is in New York. The industry, nationally and internationally is in New York and Los Angeles. Wherever you live you have to be connected to what's going on outside of your region. I've been very fortunate in doing that over the years. I've been connected to tours launching out of New York, writing commissions, and a record label that's in New York. I perform with and write for musician there. Over the years I've played in Los Angeles. As a composer it's about building a body of work. I was able to do that in Chicago and connect that work outside of Chicago. If you are able to get something going on, particularly in New York with jazz, it's going to be national and international. You can get something going on here, but it's very localized.
iRJ: What exist in New York that does not exist in Chicago?
RC: I think the main thing is the industry, the record labels, the clubs. The major record labels are in New York. It's connected more nationally and internationally. There are incredible clubs in New York and a lot of things are starting there. In Chicago there is an international connection, but it's not at the same level in terms of the elements of the industry; the labels and clubs. There are more industry things happening in New York.
iRJ: Africa inspired your music. What was you first experience like going to Africa?
RC: It was an amazing experience. Each stop was remarkable. One thing that was exciting, from my perspective, was going there I hadn't any idea of what to expect. We landed in Rwanda first and all I knew about was the genocide. I knew nothing about know the rich history of the country and the people. I turned off any idea of what I might be expecting and I had nothing to compare it too so I didn't even try. Once we started playing with the musicians and connecting with the people it was remarkable to experience the people and their music. When we played everybody was so hungry to connect with each other. Sometimes you couldn't speak the same language, but it was a connection through the music. In all the stops we had it was similar. It was a very warm experience it was genuine.
iRJ: What did you take from them and what did they get from you?
RC: In some of the places there were musicians who were interested in jazz, but they did not have any resources. They had a natural ability to play music and the music they played was incredible. When we would show them something or give them musical materials or equipment it was like we were giving then giant sacks of money. Their appreciation was something we never experienced. After I came back I sent equipment to musicians. There were musicians that wanted to travel outside of their country so I tried to help them coordinate what they needed and it was very difficult. I considered starting a small foundation to build personal grants, but I found it was very difficult to navigate the transcript issues of what they needed in their countries to qualify for some of the universities. After a few years I found the best thing for me to do was to send them materials and teach them myself. It inspired me to do more of these tours to reach out and to share what I could.
iRJ: The River represents your overall experience. What does The River mean and what do you want people to take away from it?
RC: The tour and music was about connection and awareness of  being connected to the people who have gone through horrific situations. We are connected, although we may not see it in our daily life. That is what inspired me from the tour. I want that message in my music and for the music to reach you. I'm not trying to tell anyone else story. I can give my impression, but I want the music to connect, resonate, and create its own story for whoever is listening to the music. I want to create an awareness and be a part of the connection. That is what I brought home and that's what I can give to someone else. It's not just mine or theirs, but it becomes their own experience and their own motivation to be connected.
Words by By Shonna Hillard