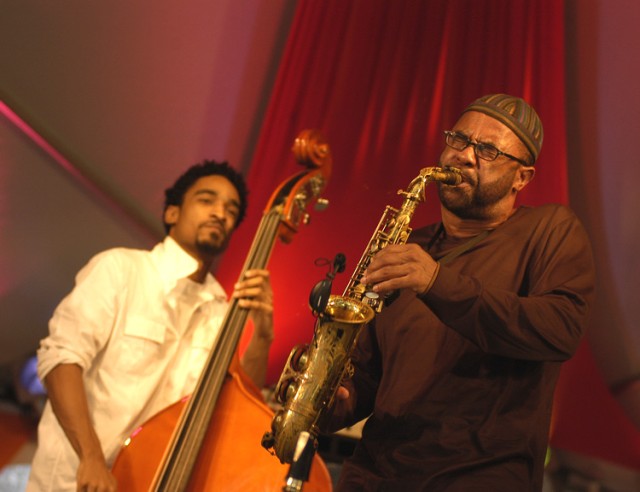 In a career spanning three decades, Kenny Garrett has attained such a renowned status that he is now considered the most innovative and influential alto player of his generation. Garrett, who started his career playing with the Duke Ellington Orchestra and was Miles Davis's last reedman, has developed a playing style that is melodically adventurous. However, he still continues to maintain  his Detroit musical roots.  His last CD, Seeds from The Underground, was such a critical and commercial success, it would be difficult to create a follow-up that contains the same level of artistry.
However, Garrett has not missed a beat with the release of Pushing The World Away (Mack Avenue Records, 2013) in which he continues the musical vision he conveyed previously..On this recording date, which is comprised of mainly original music, Garrett crosses musical and cultural genres while giving shout-outs to those master musicians who have influenced him over the years. He also uses the same line-up that was on Seeds, which includes his current working group of Venezuelan Benito Gonzales on piano, and Rudy Bird on percussion.
Garrett starts the set with the high-octane "A Side Order of Hijiki," (seaweed), This is sometimes reffered to as  a post Coltrane swing-fest, which allows Garrett to show he is arguably the best altoist since Bird, Coleman, and McLean. The next tunes, "Hey Chick," and "Chucho's Mambo," pay homage to piano masters Chick Corea and Chucho Valdes.
The Corea piece is based on Corea's predilection for Spanish music and allows Garrett and pianist Gonzalez to engage in a playful exchange of musical skills. The Valdes tune is a straight-up Afro-Cuban mambo, which reveals Garrett's fluency in a variety of musical dialects. It also places Gonzalez in a category with great Venezuelan pianists such as Luis Perdomo and Ed Simon.
After showing Sonny Rollins some Island Love on the playful "J'ouvert," Garrett ventures into deep spiritual territory on the title cut, which includes Eastern-inflected soloing on the soprano and even some Buddhist-chanting based on the Nichiren Shoshu branch. Garrett places his singular touch on the only cover tune on the date. "I Say a Little Prayer," reveals some of that Westside Soul he cultivated growing up in Detroit.  He even displays some not-so-shabby piano skills on "Brother Brown," a love-card to the great post-bop pianist Donald Brown.
Garrett proves, and it shows in his work repeatedly that he is a master improviser. His masterpieces are brimming with many musical ideas. Also, it's considered remarkable that he can put them out in a linear fashion. Garrett jumps from blues/swing to Afro-Cuban, to Eastern melodies within one measure of a tune, while trying to make musical sense by returning to the main theme. What enhances Garrett's music is the high-level musicality of his sidemen who display an empathic understanding of his direction. All this makes Pushing The World Away another jewel in Garrett's already brimming crown.
Tracks: A Side Order of Hijiki: Hey Chick; Chucho's Mambo; Lincoln Center; J'overt (Homage To Sonny Rollins); That's It;  I Say A Little Prayer; Pushing The World Away; Homma San; Brother Brown; Alpha Man; Rotation
Personnel: Kenny Garrett: alto and soprano saxophone, piano; Benito Gonzales: piano (1-3,5-7, 9,12);  Corcoran Holt: bass,  Marcus Baylor: drums; (1-3,5-6, 9,12) Rudy Bird:  percussion, (3,5-7, 9);  Ravi Best: trumpet, (3);  Vernell Brown:  piano, (4,8,,11-12); McClenty Hunter: drums, (4,7,10,12): Mark Whitfield: drums, (8, 11-12);  Jean Baylor: vocal; Carolin Pook: violin; Brian Sanders: cello.  Jen Herman: viola
Words by Steve Bryant