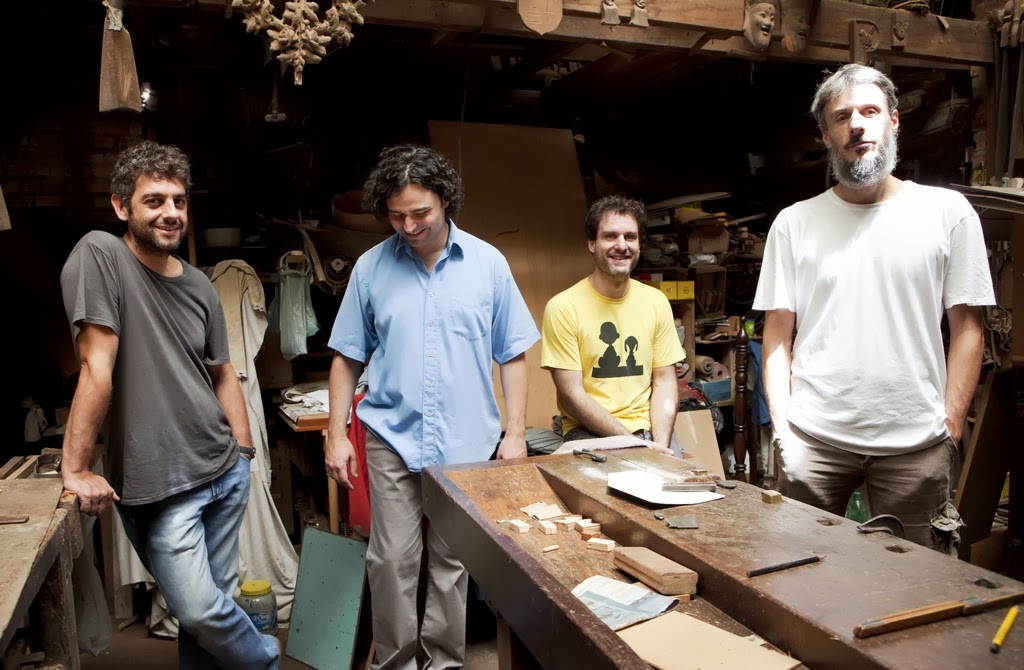 "Occasionally I hear the wind blow, And I find that just hearing the wind blow makes it worth having been born ."
The quotation of the Fernando Pessoa's poem can illustrate what is to be adrift, listening to the wind, not necessarily in silence, but to be in an introspective moment that starts the beginning of a huge journey. Better when these ways are built about music, configured by melodies, rhythms and free improvisation, guided by emotions and feelings that happen in the moment of the interpretation.
Quarteto à Deriva is a group based in São Paulo, Brazil. Its new album, Móbile, the fourth of its discography, shows that frontiers do not exist when the subject is music. We can just let the most beautiful feelings flow into ourselves and create a movement of sound waves.
The group is formed by Beto Sporleder on sax and flute, Daniel Muller on piano and accordion, Rui Barossi on acoustic bass and Guilherme Marques on drums. These amazing musicians have been playing together for 9 years, offering a clear indication of how Brazilian jazz keeps itself live and creative.
The new album is an original work and reflects the search for new paths, with emphasis on free improvisation and interaction among the musicians. This is the way that the group defines its music, as indicated in the beautiful booklet that summarizes the CD, illustrated with a photographic essay of the artist Mariana Chama.
Móbile was recorded live at the Comep Studios, São Paulo, on analog tape, which gave it a warmer sound. All percussive instruments used in this record were made of material recovered from the trash, with sound possibilities that were of interest to the group. Its music is not made with the intention to sound like traditional instruments. The main goal was a search for a "noise" of the group, about a musical way, an organic feeling. Flutes and accordion were also important elements that made part of the search for different paths. The tone of these instruments works well for this kind of music.
The album opens with the theme "Carvoeiro," like a fractal guided by soprano sax from Sporleder. It then rests at Muller's piano with "Reminiscências," a beautiful ballad that leaves room for melodic improvisation from Barossi's bass.
In a crescent flow, using percussive instruments and flutes, the quartet shows the contemporary texture of "Il Cane Vuk," played in a European style conducted by bass and sax to developing the melody. "5 Haicais" dresses itself as a tango, with dark atmospherics from Muller's accordion.
Another beautiful ballad, "Bom Retiro," offers a true sound journey, illustrated by rhythmic pacing from Marques's drum and a beautiful improvisation from Muller. In this piece, Sporleder's sax realizes traces from a primitive Wayne Shorter; it's a high point of the album.
"De Areia" is like a poem, introduced by Muller's solo piano. "Atras da Corda vem o Boi" is a taste of blue, spontaneous, with no forms or labels; and the album closes with the sound of gongs in "Onde o Silêncio faz Eco," to reverberate the group's themes to the infinite.
By definition, Móbile is a mobile sculpture composed of suspended elements, perfectly balanced, that move with the passage of air or motor action, creating a visual experience of dimensions and shapes. The album is a true sound experience.
Words by Gustavo Cunha
Check out Quarteto a Deriva's website: http://www.musicaaderiva.com.br