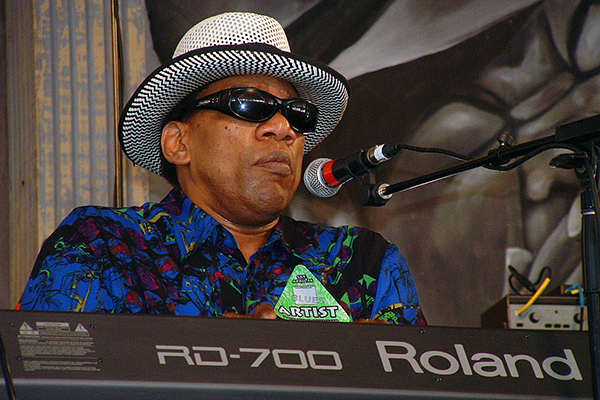 iRock Jazz writer, Willow Neilson, speaks with New Orleans pianist and vocalist Henry Butler, an accomplished musician as well as a celebrated photographer not having "sight." Butler is lauded as one of the greatest living proponents of classic New Orleans piano styles. However, our conversation with him reveals his unique perspectives on the world beyond just mere music.
iRock Jazz: Do you think being blind gives you an advantage in creating music?
Henry Butler: Let me just say my life is most about perceiving. It's about perception, about using the senses that I have; the feeling, the smelling, tasting, and especially, hearing. But because I probably internalize more than most people who see, or at least quicker than most people who see, I probably come up with perceptions that are quite different than most of my sighted friends, and probably quicker. I don't see it as [being] a disadvantage. And I don't know if it is an advantage. Life gives every one of us advantages; regardless of who we are, and regardless of where we come from. Sometimes, we think we have disadvantages, but it is more about learning the lessons we need to learn so that we can become stronger; and give something of greater meaning, and greater value, to humanity. We are all trying to do this. We are constantly developing; constantly growing, trying to share more. Everybody is trying to do this same thing. And, in some ways, it is kind of a competition — especially in a business sense. I am happy with what I have, and with what I am developing; and, hopefully, with what I will share with the world in the next five to ten years.
iRJ: How did you get started with playing the piano?  
HB: I went to the Louisiana State School for the Blind in Baton Rouge. I started at the school when I was five. It was a boarding school. And they had a great and very strong music program. It was a very small school. They had about 125 students, which turned out to be advantageous; as the classes were small, and the teachers could take time with the students to help them develop individually. I was in third grade and the piano teacher, for the elementary division, called me out of class and asked me if I knew the meaning of the word volunteer. I said, "I think so." She asked, "Do you know the military meaning of the word? It means I am volunteering you to take piano lessons. I am doing it because you are the loudest voice in the auditorium. Every time we have the assembly sing songs, like the National Anthem, you are the loudest voice in the school, and your voice isn't bad." I didn't like taking piano lessons. So I would lose my book purposely, but someone would always find them. It took me a while to get out of [doing] that, and two years later, I decided I liked it. The thing that made me consider [learning] music more closely was how the girls approached me after each performance. I started to think," Man! I might be able to make a life out of [doing] this."
iRJ: There has been a lot of debate over the word "jazz" and whether it is an appropriate label. Do you think jazz is a "bad" word?  
HB: I don't think that jazz is a bad word. The truth is that some African-Americans have a problem with it because they didn't create the word. They didn't create any of the labels that are currently, and have been used, over the past century plus. In my opinion, they should think about "rhythm and blues" — they didn't create that [genre]. My feeling is that it should be "Rhythm in Blues" or "Rhythmic Blues." Obviously, in my opinion, somebody out of the culture created that because when African-Americans play the blues, the rhythm is integrated into anything that is played; it's not separate. Only someone outside of the culture would create a name like that [one]. All music is rhythmic, but some music has more syncopation. If you want to look at all the labels, it's not such a bad idea. Somebody within the African-American community could look at all of those labels now, and start altering them. We are at a place now where African-Americans are more literate, and more schooled, in the kinds of things that we're doing musically. Maybe we should start putting our own jazz history books out, and not relying on the Euro-American's perception of what jazz is.
iRJ: How did you get into doing photography? And how does someone who can't see capture that moment on film?
HB: At first, I thought I had gotten into photography by accident, But, philosophically [speaking] I don't believe there are "accidents" or coincidences in the world. I had to rethink why I did this. I was partnering with this woman, who was an artist, and we were living in Los Angeles in 1994. Partly, because of her, we were going to lots of exhibits. And I was hearing about painting and lots of different photography styles. I came to the conclusion that I wasn't getting a lot out of this emotionally. I was getting a lot intellectually, but I wanted to get more emotionally involved in the visual arts. And I thought the best way to do it is to become an exponent. I decided that I would actually take up photography. I decided that photography was the quickest way I could get into realizing visual art. And I surmised that I could use intuition as a photographer. I announced to some artist friends that I would take up photography. My screenwriter friend asked, "How do you think people are going to take that; people don't accept just random shots?" I knew that he didn't quite understand what he was saying. And I have also learned, in the years since I started, people don't know whether a shot is random or not. They are seeing an image. And the image is transporting their consciousness back to the time when that image was taken. They don't know, and they don't care, if a shot is random unless someone decides to say that it was. And [knowing] that can affect your wanting to accept that image but it doesn't have to.
"Big Ol Kiss" photo by Henry Butler
I went out after announcing that I would become a photographer, and bought a Kodak Instamatic camera. And I started playing around with that for two weeks. I started asking people about the shots I had taken and for me that immediate stimulus feedback was just wonderful. Most of the shots, strangely enough, people thought were good. I didn't think much at that time of composition but once I got the 35mm camera, my first one was a Vivitar, I started to pay more attention to what the composition could be like. Over the years as I have done a number of workshops and symposiums with photographers, musicians and other visual artists we have talked about what melody or rhythm means to a photographer or form or texture, and so on. I have learned a lot from talking to photographers.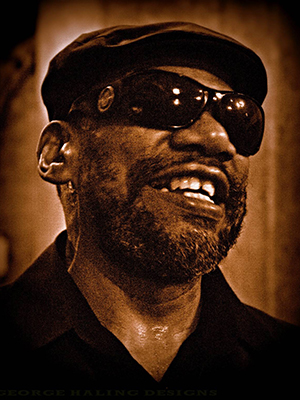 As a matter of fact, photographers have been my main support group. I got to meet Herman Leonard. He was the guy who suggested that I move to using digital cameras in the late 90's, which was a great boon to me. I could use SD cards, and not have to re-load film every half-hour or so. It's been a great learning tool for me. When I first started, I used intuition in the sense that I could wait until I first got an urge to take a picture of someone or of some moving item. And, then I realized maybe [doing] that wasn't the best thing to do, because sometimes it was hard to hear that still, small voice within. But I got to a point where I could feel certain things, and I could feel, sometimes, people's facial expressions. And I could perceive when somebody was doing something unusual. Sometimes I just told them, "I just want to take your picture." And their expressions, and their personalities, would change because in many cases this was the first time a blind person ever had taken their picture. So, it brought out something different in their personality.
Henry Butler will be performing at the Cape May ExitO Jazz Festival, Sunday, November 10th on the Cabanas/Exit Zero Magazine Stage at 3:00 pm & 5:00 pm
Charlie Haden commented that Henry Butler has taken the best photo of him on record. He is a testament to the possibilities which can be achieved on the piano. He also serves an example of accomplishing artistic achievements within realms many would have thought would be impossible. Speaking with him has been an honor, enabling us to gain some insight into. 
Words by Willow Neilson