Emily Bear is like any other 11-year-old girl, aside from the fact that she is an accomplished pianist, expressive composer and, if that wasn't impressive, she also possesses something very few children her age have – the Quincy Jones stamp of approval. The 27-time Grammy-Award winning producer/arranger/composer and all-around legend has proven time and time again that when you get a call from him, you must be pretty special, and Bear is special, indeed. Jones not only produced her debut LP Diversity, but he became her manager as well, and introduced her to an eager New York City audience at Le Poisson Rouge to showcase material from that record.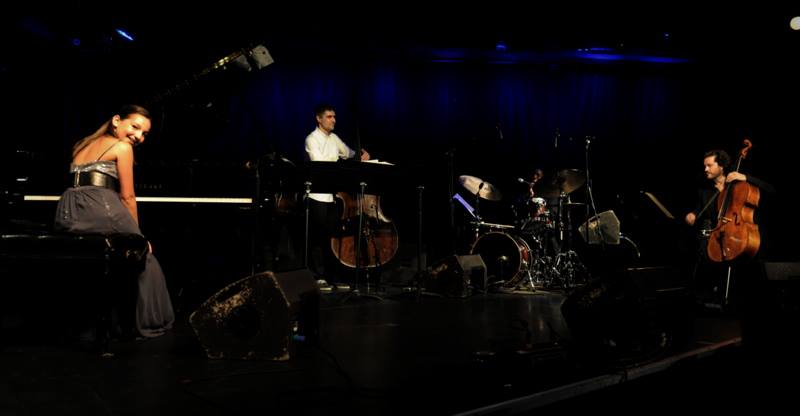 Emily Bear photo by Ernest Gregory
Accompanied by her studio trio, bassist Peter Sloval and drummer Francisco Mela, Bear, dressed in a lovely blue evening gown, stepped on stage, hugging Jones after he gave her a rousing introduction. Flashing her cherubic smile, she sat at the grand piano and proceeded to play "Jazz Angel," a lively jaunt that perfectly kicked off the evening. Most pre-pubescent musicians still exude some nervousness when playing to a live audience (especially in New York City). Bear was the epitome of poise. It was evident in songs like the bluesy "Blue Note" that she was the bandleader, in control of everything happening on that stage.
Bear showcased her instantly likable charm while prefixing many of the songs with short anecdotal back stories their respective inspirations, further indication of her uncanny ability to capture emotions in song. "Jessie's Song" was written about her five-year-old cousin when she asked Bear to write a song about her; it shined with jubilance and the wild brightness of the innocence of a child. Bear's rapid dexterity coupled with finger-popping swing via Mela on the Latin-tinged "Hot Peppers", vividly depicted the ode to her grandmother's love for peppers, which is so strong she carries them around in her purse! On "Northern Lights," Bear uses fast arpeggios to depict the mysterious aurora borealis that illuminates Alaskan midnight skies. The presence of guest cellist Zeal Bailey's sweeping strings was a sublime compliment to the trio, emoting the icy breezes of the Arctic. One could almost see the lights mystically floating across the stratosphere. Mela's gentle brush caress on the hi-hat were like snowflakes descending on your shoulders.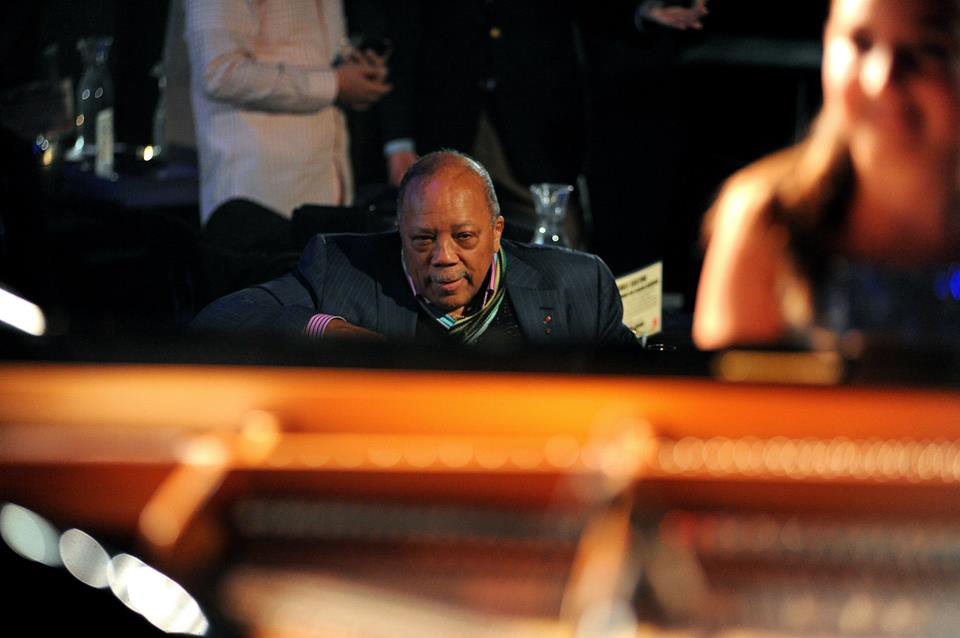 Quincy Jones
"Paralato" was the centerpiece of the 15 song set, a composition in three dynamic movements, each written at different ages (6, 7, 10). Her interpretation of classical piano is downright impeccable. She finds a way to walk the paper thin line of freshness and maturity. This and the entire show is not just a showcase for a brilliant, young talent, but a window into the future. If Emily Bear can do all this now, there's no telling what she'll accomplish in the years to come. In the meantime, she'll have top flight adult musicians and composers saying they want to be like her when they grow up.
By Matthew Allen