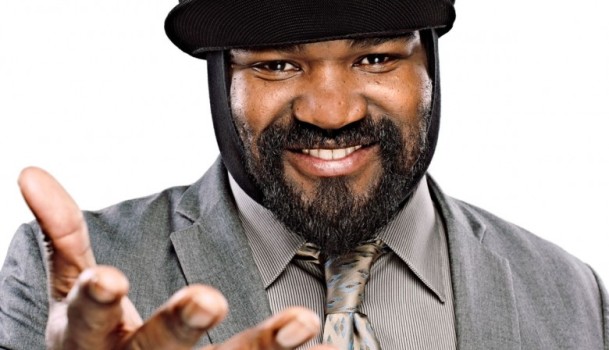 Jazz is timeless, ageless, and limitless, yet there is a box people try to put the music, its musicians and singers in. Gregory Porter is like jazz, timeless and limitless however, his voice transcends what we hear today. It's a classic – like Nat King Cole or Billy Eckstine. There is a familiarity, a knowing, a feeling, and Porter has only been on the "scene" for little over three years now.
His debut album, Water was nominated for a Grammy-Award for Best Jazz Vocal album in 2011. He was also nominated for Best Traditional R&B Performance for his single, "Real Good Hands" from his sophomore album, Be Good in 2013. Named, "The brilliant new voice of jazz" by the Huffington Post and "A major jazz talent" by Downbeat, Gregory Porter is flying high these days. Not because of the accolades and the nominations per se, but because he is living his art, each song represent his feelings – a gift to the world.
iRock Jazz spoke with Porter about his third album Liquid Spirit set to be released in September 2013, being a male vocalist in jazz, touring across the world and his musical journey.
iRJ: Your new album Liquid Spirit is set for release on September 17th – tell us how did you come up with that name and what is the spirit behind it.
GP: In a way the energy from that particular song is coming from – actually something that happened in Chicago and Detroit and Atlanta. I've been spending a lot of my time overseas in Europe but the energy that some audiences have after a performance is like, 'Where have you been? Where can I find more music like this'? or 'Why did it take so long…'? That kind of energy; like they had been waiting for something. I'm not saying just me – it could be the genre of music or a group or feelings that they've been waiting for and so that energy is the source behind the song. The lyrics, 'Un-reroute the river let the dam water be – there are some people down the way who are thirsty so let the liquid spirit free. The people are thirsty 'cause of man's unnatural hand watch what happens when the people catch wind of water hitting the banks, that hard dry land'. It's like people are waiting and wanting a soulful deeply rooted grounded and culturally based expression. A musical expression – so that's the energy behind Liquid Spirit. The album and the titles coming from it – I had the same approach as Water and Be Good. I opened my arms, my brain and my heart and listening to my experiences; just be open and try to write about the things that I see and feel.
iRJ: You are branding yourself as "soul-singer Gregory Porter" and not jazz or anything else. Why soul-singer?
GP: I have to be honest; I don't get involved with the titling of what I do. Most times I think it says jazz soul-singer Gregory Porter. I'm a jazz singer influenced by and informed by gospel, soul and blues music. No, I don't run away from the title – any of the titles. They all apply I think and they're all close cousins – so the basis of me and what I feel like; internally what I'm doing and inside musically even when I'm gospel, I feel like a jazz singer because I pick and choose the notes that deviate from whatever the stated melody is. I feel like there are other soul singers who are actually singing jazz [laughs].
iRJ: On the new album you have a couple of throwbacks, "The In Crowd" (Ramsey Lewis) and "Lonesome Lover" (Abbey Lincoln), why did you choose these two – to perform?
GP: "Lonesome Lover" because of Abbey Lincoln. She's been an inspiration to me as a songwriter and just her boldness and her interesting and angular look on the world. Even it's something she said that is completely her political idea; her own political statement. She says it in such a beautiful melody and such conviction that you're like, 'Ok, even if I don't agree with it, I like it'. She was even an inspiration for the song, "When Love Was King" on the new record. Even though it's nothing from her melodies nothing from her, just the inspirations of singing how you feel about the world. How the world should be. How you think – just laying down your basic politics in a song. I took that queue from Abbey Lincoln. And "The In Crowd" that's one song I chose after I knew it was a Blue Note record actually just playing with something in my own head am I in the "in-crowd"? Quite frankly I've always felt like the outside looking in. That's it in a nutshell. I'm just being playful in a way [laughs].
iRJ: You're definitely in the in crowd. Popularizing male vocalists – do you sense that there is a new resurgence of singers in jazz?
GP: I think so. Well, in a way – if I'm saying, 'Reroute the river let the dam water be', if there was something there that was missing that is now on its way or that there's a longing for it, I'm sensing a resurgence of some type of energy. I just worked with Kenny Washington who works and lives on the west coast and I want to see him get a record. I really love his voice. José James is doing well. I do feel like maybe there is a resurgence because if music is based in culture as well, there has to be some storytellers and the horn player can be a storyteller but there is something that has the immediacy that automatically gears will connect to and that's the human voice. And so in order to connect to the stories of culture or the things that are happening currently on the streets we can't always borrow from the repertoire that is – we have to write some new things and say some new things that's happening currently.
iRJ: A lot of musicians in the past wrote songs of their time and many of those times intersect with segregation as well as racism and violence – you write about love and you really separate yourself from that which puts you in a unique space because that is something everyone can embrace; was this a deliberate path to follow?
GP: I think I've pressed the full spectrum of the human condition in a short three albums (the new album coming out) I do sing about love but I think I also deal with this confused love as well. I think even if it's in a covert way. One of the lyrics I was talking about, "When Love Was King" the short line in the lyric is about not caring about the man's skin or his clan. Color is not an issue – even the lyric, 'Beside him stood his mighty queen an equal force wise and keen…' There's gender equality there, 'A hungry children he thinks to pull their lives from the brink…' now we've dealt with ending child hunger and poverty. So I think I'm wide open in terms of the subject matter that I sing and talk about. There is another "1960 What?" in me. There is another "…Way to Harlem", in a way a political song doesn't have to sound like a political song but "Real Good Hands" is a conversation; subtly about seventy percent of black kids being born out of wedlock. So I'm going to continue doing what I do and kind of feeling what I feel and I think if I stay organic in that way hopefully, the success will continue.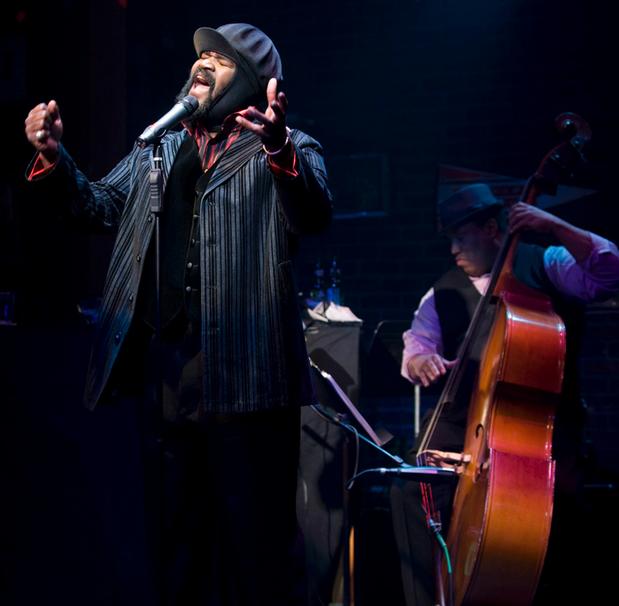 iRJ: Has playing abroad, for instance in Europe, influenced your music differently had you only toured in the U.S.?
GP: Yes, I think it can. I did most of my writing on the train in France and Holland, so inevitably you'll see some things and you'll reference some things based on what you're seeing around you. [Laughing], I remember, I was like, 'Why do I have this; writing about castles and kings and queens', and that's directed from every city that I go to. My every city that I go to probably the first or second thing that I do is visit the castles or the museum. Another aspect of that in a way that doesn't seem like it could be true but the conversation primarily from the media; jazz media when I'm overseas is the history of jazz and the history of black people and the history of singers. So in a way, many times I may be dealing with the history of my country in a more profound way in France. They want to deal with that – let's first talk about history and then let's deal with the music. In their interest in almost defining you, in everything that you do as coming out of some experience that you've had in your life which is mostly true for myself but it's really interesting. 'Like the way you bend that note, that's straight out of the gospel church. That's straight out of the black church'. Sometimes they'll tell you what's happening with you and I have to say ninety-nine point nine percent of the time they're getting it right. In a way, you can think more about your culture because they're asking you to.
iRJ: How do you resonate with an audience in another country when you don't speak the same language?
GP: I used to worry about that before I started touring. The first countries I was touring in were Russia and Ukraine and I had a particular promoter that was like, 'Let's go to the deepest part', in cities nobody was talking about and who definitely ain't speaking no English. I used to worry about them not getting what was happening but they completely got it as well as just enjoying the music and the vibe. There is an energy to the music that people can pick up on and without completely understanding every word they know when I'm singing about my mother – it's a deep love song. They know when it's a love song, they know a protest song. You understand what I'm saying? I remember this 85-year old woman – I was in Tyumen, Siberia and through an interpreter she said, 'I don't speak English to understand everything but I fell in love, I was angry, I was happy, I was horny' [laughs]. And this came from an 85-year old woman who didn't speak a lick of English, so the music can be translated in a way and that's a deep thing that I've come to realize, singing in front of audiences that don't speak my language.
Gregory Porter is universal as is music. It's not just about the words and lyrics, but the feeling and understanding of the music. Porter is the epitome of a Liquid Spirit.
By Keli Denise