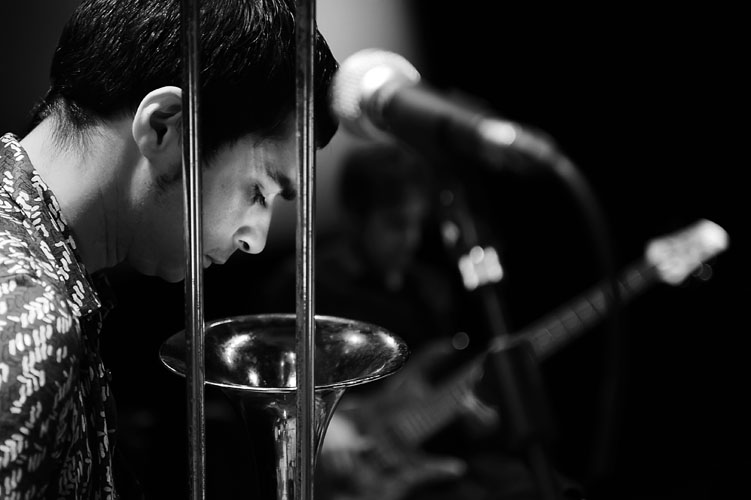 Considered internationally as one of the best young trombonists in jazz, Gianluca Petrella began playing music after his father gave him a trombone. Born in Bari, Italy, Petrella got his professional start playing with Roberto Ottaviano. His dynamic style, technical detail and use of electronic loops, puts him on the cutting edge of jazz music. Petrella has released a number of albums as bandleader. His latest album, Il bidone. Omaggio a Nino Rota (The Bin: A Tribute to Nino Rota) also pays homage to Academy-Award Winning screen writer and director, Italy's Federico Fellini.
iRock Jazz had the opportunity to speak to Gianluca Petrella about his beginnings as a musician, his musical influences and his latest projects.
iRJ: When did you start playing the trombone?
GP: I started playing when I was 10. I started playing young. My father is a trombone player too; a professional player of course. He brought the trombone to me and I was so young and I didn't realize what I was going to do with music and the trombone.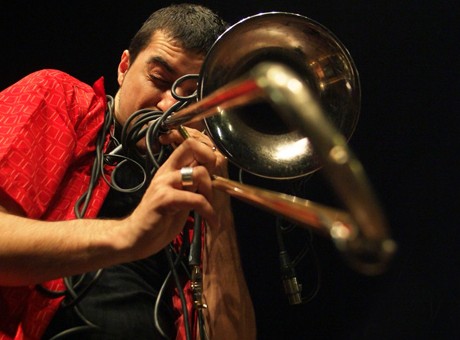 iRJ: Did you continue with the trombone because of your father or because that is your instrument of choice?
GP: You know it's difficult to explain because I don't know the reaction of other children when they are 10 and someone gives you a trombone. Of course I was not happy about that [being given an instrument at a young age], but at the same time I thought that maybe it was good to do something with it. It's not like a toy that you give to a child that is 10 [years old]. It's heavy, the weight, the physical activity to it takes to play; it's like a small car for children, you know [laughs].
iRJ: How difficult was it to play jazz in Italy?
GP: It wasn't really difficult because first of all I had no teacher. I started to listen to jazz music because my father had a good collection of vinyl when I was young and I started to listen to some jazz trombone players. And I listened to the sound of professional players. So it was easy for me to learn because I spent the time listening to jazz. Not only trombone players but also trumpet players, saxophone players – different kinds of styles of jazz. So it came natural for me to play jazz.
iRJ: How do you create jazz music that is popular for your generation?
GP: I have a lot of influences. First of all, it can be the place where I live, for example, that can influence me. Like the big city, it has a lot of traffic and a lot of sounds – these sounds can catch me; to create some music. Also I've got my own studio where, when I'm not playing around, I go there because I've got all my stuff there. I can do everything. I can create stuff with my trombone and record something just to see if it is possible to play. Or I can play the synthesizer that I've got – to play something or everything can go into my software that I use, that has all of my work, to create something. So, I go there and create. But I also like to listen to other music, not just jazz but everything from electronic music to classical music from the beginning of the century to any kind of sound from any kind of music. I'm always into the music.
iRJ: How much does American pop, R&B, jazz funk, and/or soul play into your music?
GP: A lot! I'm a big fan of old school hip-hop; I'm talking about the producers between 1990 and 1995. Artists like Redman, and Notorious B.I.G., Method Man and guys like that. At the same time, I like the Motown sounds and records. I like a lot of popular American artists that come more from the black side.
iRJ: Why do you think you connect more with black popular music?
GP: Because when I was younger, me and my friends grew up together outside of the city. We were influenced by black music by parties that we normally used to go to where there was a DJ and a lot of black music. This was when I was 15 or 16, around 1991, 1992 – we used to listen to hip-hop artists. And sometimes we didn't understand what they said in the lyrics or what the message was, but we were just captured by the sounds. And then we used to listen to what was before this guy [hip-hop artist]; which artist was the master of this new sound that came from the United States. And we discovered Motown music and other things.
iRJ: Do you still have the same feelings about black music today as you did the music then?
GP: I have a good feeling about black music but it stopped before 1996, 1997. I don't listen to the new black artists now because it's changing a lot. First of all, I like that hip-hop sound from the 1990's period; because it was something new for me when I was young. So it's still there and I still listen to some of those old records. I don't like to listen to the new artists because it's different now. It's a sound that's kind of bland and for commercial strategies. The music is almost the same, it's the sound that you have to use now to be famous or sell a lot of records. In the past it was more natural. There was something natural and came from talent. Now, there are a lot of artists that come from television formats; the talent shows or something like that. And it's the same thing in Italy where you can't really find a new singer with big talent or a new voice or something like that. It's always someone or something that comes from a kind of formatted program where there are a lot of guys who sing, and there are five months to get a winner, and he does a new record and blah, blah blah, blah. It's like that almost everywhere. So that is why I still like black music but I like black music from the 70's to the 90's.
iRJ: What new projects are you working on now?
GP: My next record will be released in a few days. It's a tribute to Nino Rota who was an important Italian composer in the last century. He wrote a lot of music for Federico Fellini, who was a famous Italian film maker. So I researched for a long time about this guy [Rota] because there is not only the music from the movies but there is a lot of music from the movies that go from popular songs to avant-garde pieces right to the orchestra. I did extensive research, I listened and then I concentrated my energy on rearranging some of the music from Fellini and the movies; not the most famous movies, but from something unknown or less famous than the others. And I did this record with the band and three guests, or super guests I will say. Enrico Rava – he represents Italian jazz musicians all over the world. And another piece of history, this guy is called Dino Piana. He's one of the first jazz trombone players in Italy. He's now 84-years old and he plays like he did 50 years ago. And the third guest is my father, because like I explained in the early part of the interview, he gave me the instrument and of course he is part of my life. We don't live in the same city, so we don't see each other often. So I said to him, 'Come on and stay with me and we will play a little bit in the studio and do something'. So he is a guest and we were very happy. And another thing that I'm working on is a soundtrack that I'm doing totally alone. I'm arranging the music for this short movie. The movie is an experiment and the music is all electronics. This will be released next year. Of course there will be a live show for this.
By Steen Burke