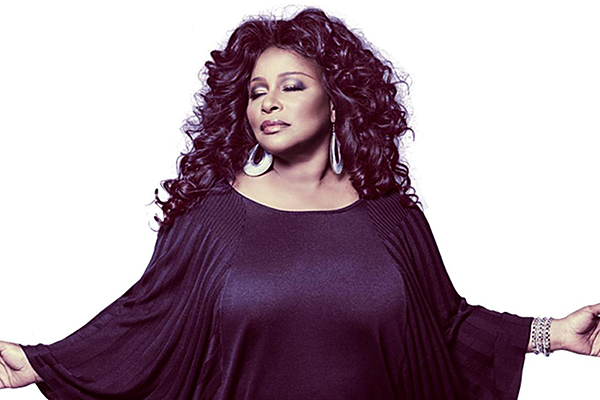 In a career that includes ten Grammy-Awards, multiple platinum albums, and an influence immeasurable in scope, all I can think about is "Be Bop Medley." It seems strange, I know. Here we are celebrating four decades of Chaka Khan and for whatever reason my mind is fixated on this solitary composition.
I, of course, have a healthy respect for the classics: "Tell Me Something Good," "I Feel For You," "Sweet Thing," etc., however, "Be Bop Medley" is just different. What we're talking about is a song constructed with the building blocks of jazz – its players, the architects of an entire musical tradition. This isn't "some singer" singing over "some jazz songs." This is Dizzy Gillespie, Thelonious Monk, Charlie Parker and layered within this historical mélange are the vocals of Chaka Khan.
That's bold in every sense of the word.
iRock Jazz recently sat down with Chaka Khan to discuss her audacious journey through life and music.
iRJ: Chicago is known for its rich cultural traditions and more recently the violence currently sweeping the city. What was it like growing up on the South Side?
CK: When I grew up, it wasn't as violent. Well, it was violent in another way. There was the Civil Rights Movement going on there that brought on quite a bit of violence, but children weren't shooting children at that time. There's a different kind of violence going on there now that is truly disheartening. But it's always been a tumultuous city with the racial element that's going on, as it is in almost every city in America. But it's also a culturally rich environment. I took a lot from that. I can truly say that I am proud to be from that city.
iRJ: Many artists, particularly those that are African-American, talk about growing up in the Pentecostal or Baptist tradition. You however, were raised as a Roman Catholic. How did that influence your music?
CK: In my church we sang a lot of Gregorian chants. And those are beautiful, beautiful pieces of music. But at home, I had a very wide and rich set of genres of music that I was into. I listened to a lot of jazz and a lot of opera and classical music. So I had a very diverse experience with music. The strongest I'd have to say was jazz. So it's not that the Catholic Church influenced me that profoundly musically, it just opened my ear to another level or another sort of place, adding to the whole experience.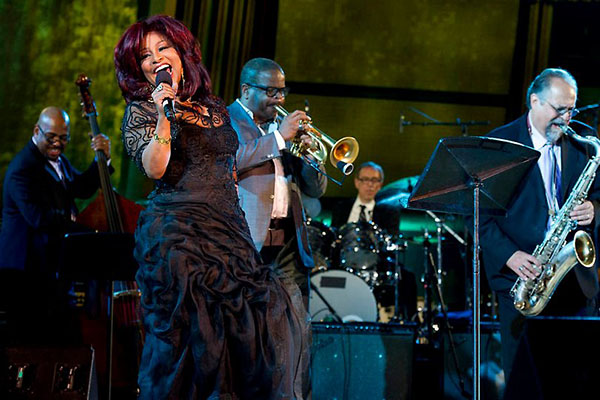 iRJ: A personal favorite of many is "Be Bop Medley," which you recorded in 1982. What influence has jazz played in your career?
CK: A profound one [laughs]. My dad was considered a beatnik or a bebopper. I was a daddy's girl and when I was very young, he used to take me out to The Point in Chicago – play congas, drink wine, smoke weed, you know. So I got a lot of rich and great stuff from him. In fact, my slave or Christian name, Yvette, comes from a Stan Getz song. So jazz played a very large role in my musical background.
iRJ: Who were some of your musical influences growing up?
CK: Sarah [Vaughan]. Ella [Fitzgerald]. Etta [James]. Billie [Holiday], of course. You know, the girls [laughs]. Many of the jazz singers. And a lot of horn players more so than singers. I loved Dizzy [Gillespie]. I loved Miles [Davis]. I loved Bird [Parker]. For me, working with Miles was like a nun working with Jesus Christ [laughs]. It's the only analogy I can think of. So I definitely think the horn players were my number one influence and then came the singers. Then there was Aretha [Franklin] and Gladys [Knight]. Those were my main influences.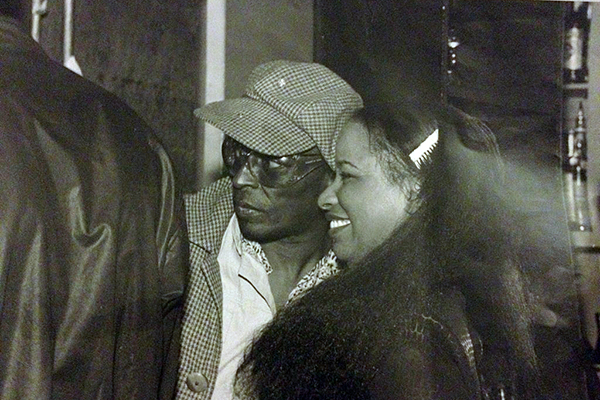 Chaka and Miles Davis
iRJ: You mention your name change? What are the origins of that?
CK: My name change was a spiritual thing. I was practicing the Yoruba culture and religion at that time. So Chaka is my Yoruba name, one of many. Chaka means "fire," "war," the color red, the planet Mars – all those things. Now Khan in India is just like Jones or Washington [laughs]. That came from my first husband's last name. He's half black and half Indian, born in New Delhi. So that's how my name came about.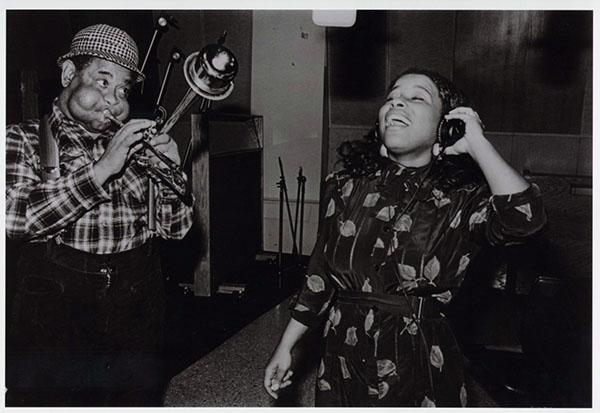 Dizzy Gillespie and Chaka
iRJ: During that time you were involved with Fred Hampton and the Black Panther Party. What was that experience like?
CK: I loved Fred Hampton to tears. I loved him deeply. I loved the party. I loved what they were about. I loved the whole ideology. I worked with the Breakfast for Children program. That was something that, as small as it may seem, was a big thing. It was something that I really could do and accomplish. I did at one time have a gun. I had to throw it away, because I was getting ulcers. Once you get a gun you have to use it. And that just wasn't my style…unless I was threatened, but that's a whole other thing [laughs]. But I had no reason to use it at that time. I don't even know if I could have. I came to the conclusion that there was another way to do this. I was meant to be of service to someone, to help somebody. So that's the road I took.
iRJ: Growing up in that Civil Rights period, what was your connection to the activism found in a lot of the art during that time?
CK: A lot of people are political-minded with their music. Personally, I see it as the language of the angels and as a tool for healing, more so than taking it from the activist point of view. That certainly has its place too. I have sung some stuff that has had some political overtones, but for the most part I want to heal. That is my main thing. To inspire and to empower, that's definitely where I'm coming from.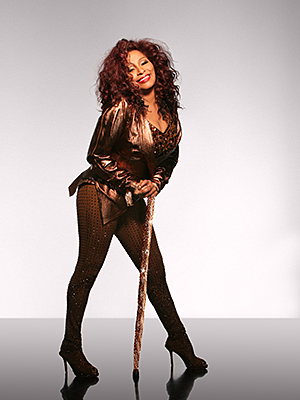 iRJ: You've made a lot of changes recently – most notably your diet and overall appearance, particularly a weight loss. How has this transformation affected you internally and with the public?
CK: I think it's sad that there's this kind of visual thing. I much rather see a sangin' gorilla than a non-singing Cinderella. You know what I mean? What we do is meant to be listened to. It's audio. It's audio-based. Now it's become a carnival. It's a circus. And that does bother me a little bit that people are so involved and so about what a person looks like. The beauty of a person is spirit and I just think that a lot of the focus is in the wrong area.
iRJ: Speaking of change, you're now raising your son's daughter. In making that commitment, how has that affected your career and personal life?
CK: I feel very blessed and lucky to practice a parenting skill that I did not possess when I was raising my own children. God and the universe has given me another chance to do a better job and so that's how I'm looking at it. I'm more present. My priorities have changed. And frankly, I was a different person back then. I was away from my children, because I had to be. With parenting, it's a thing that you learn. There's no book. I've gained some wisdom in that area that I did not have before. I did the best I could with what I had. And they're alive [laughs]. I can say that. But I think things maybe – would have turned out differently, for the better, if I had, had the wisdom I have now.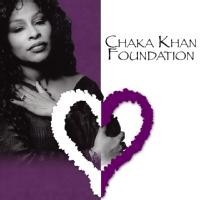 iRJ: Why did you start the Chaka Khan Foundation? And what's happening with that right now?
CK: Everybody wants to help somebody. Most people just don't know how to go about it. I have obtained a status in life where I can help many people at one time. It's just about being of service. That's important. If you can be of service to one person, it's just as big as being of service to 20 million, because the will pay it forward. It's all about paying it forward. And that's why we are here – to help one another. It's just one of our fundamental purposes. And that is why I do what I do, because there is a need for that.
iRJ: What is your advice and rising singers or musicians?
CK: Be sure that you have talent [laughs]. That's number one. Stay true to your calling. Also, stay humble and open to learning. Don't buy into the bullshit hype. Excuse my French. Because that's not what it's about. It ain't about that. It's so much more spiritual and beautiful than that. That's the best advice I can think of right now.
iRJ: You've been performing for such a long time now, looking back what do you want your legacy to be?
CK: That I actually leave a legacy [laughs]. That would be great. Achieving musical immortality – that would be wonderful.
The reason that I am drawn to "Be Bop Medley" is because it encompasses everything that we've grown to love about Chaka Khan. When we hear her sing within the measures of John Coltrane's "Giant Steps," we are not listening to simply a vocalist. I take issue with even calling her that. Vocalists sing words, Chaka Khan molds sound. She carries an instrument – just like "Diz", just like "Bird", just like "'Trane". And when she plays it, she does so with the virtuosity of those exact same geniuses. She is brazen, even in the company of giants. That's what separates Chaka Khan from the others and that is why we still revel in her work.
As we engage in "100 Days of Chaka," we do so acknowledging that this is far from a eulogy or even a final hurrah before riding off into the sunset. Chaka Khan is a living, breathing form, one that will continue to make timeless art for years to come. We celebrate her now because we can. Adulation is never premature for those that deserve it. And none deserve it more than Chaka Khan.
By Paul Pennington