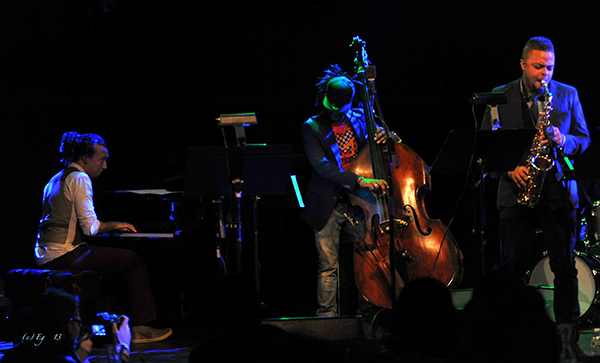 Gerald Clayton (piano), Ben Williams (bass), and Logan Richardson (alto sax) photo by Ernest Gregory
The track record of successful "super-groups" in music history is a checkered one. When individual giants of their craft come together to form a behemoth of a collaboration – whether by fate or design – from Blind Faith and Crosby, Still & Nash to LSG and Super Heavy, super-groups always carry a lot of hype but can be hit or miss when it comes to the final product. In the case of jazz, this has never applied. Since the 1940s, the cream of legendary instrumentalists were constantly collaborating and cross pollinating on records to the point that it was taken for granted that Freddie Hubbard, Herbie Hancock and Ron Carter performed together with regularity. Still, the super-group emerged in jazz with bands like The Head Hunters, Return to Forever and Weather Report. Now, that legacy lives on in NEXT Collective, an eight man crew of future hall-of-famers. Formed by producer Chris Dunn, NEXT Collective is Kris Bowers (Fender Rhodes), Gerald Clayton (piano), Logan Richardson (alto sax), Walter Smith III (tenor sax), Matthew Stevens (guitar), Ben Williams (bass), Jamire Williams (drums) and special guest Christian Scott (trumpet).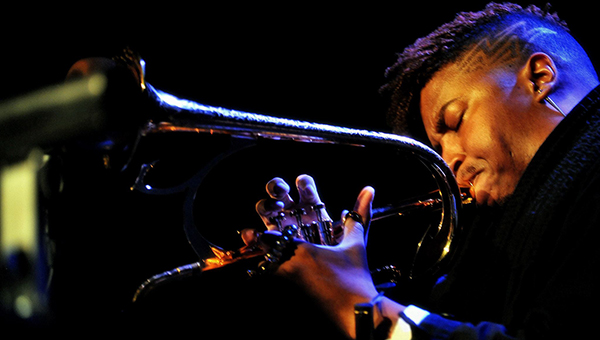 Christian Scott photo by Ernest Gregory
This record not only embraces the legacy of the supergroup, but also another time honored tradition in jazz – covering non-jazz tunes. Each member – with the exception of Bowers – contributed at least one arrangement of songs of their individual choosing, reflecting the eclectic nature of the project, re-imagining tunes from artists as diverse as Meshell Ndegeocello, Dido, Stereolab and Bon Iver. Steven's arrangement of Pearl Jam's "Oceans" is dynamic and powerful, thanks to Smith and Scott's reading of Eddie Vedder's haunting vocals. Logan Richardson was able to mold Little Dragon's "Twice" from a melancholy (but gorgeous) ballad into an adventurous exhibition of improvisation through a stoic filter. Bassist Williams brought a wily atmosphere to his arrangement of N.E.R.D.'s "Fly or Die" that would have made Pharrell Williams and Chad Hugo say, "Why didn't we think of that?" Gerald Clayton's arrangement of "Africa," the sublime album closer of D'Angelo's landmark Voodoo album was fairly faithful to the original version, which is why it touches the heart the way is does here. Smith and Richardson's sax partnership during the melody is enough to produce tears for the listener.
Touted as the "special guest," Scott exceeded the expectations of his singular designation, yet was still very much an equal component to NEXT Collective. His trumpet contributions to five tracks found a way to both stand out as well as harmonize well among his compatriots. However, his two arrangements were the highlights of the disc, for contrasting reasons. Much like "Africa," Scott's take of Drake's "Marvin's Room" was a somber tracing of the rapper/singer's woeful lament. On "No Church in the Wild," the Grammy-winning track from Jay-Z and Kanye West's Watch the Throne project, Williams' and Williams' drum/bass combo made the already brooding track all the more menacing with Scott's siren humanizing the affair for a dark, show-stopping moment. Despite the beautifully eclectic nature of the song selection, Cover Art's greatest attribute is the fact that these young leaders were able to exude a chemistry that takes years to develop. Having all played together in a several formulations, NEXT Collective will have fans wondering what, indeed, comes next?
By Matthew Allen