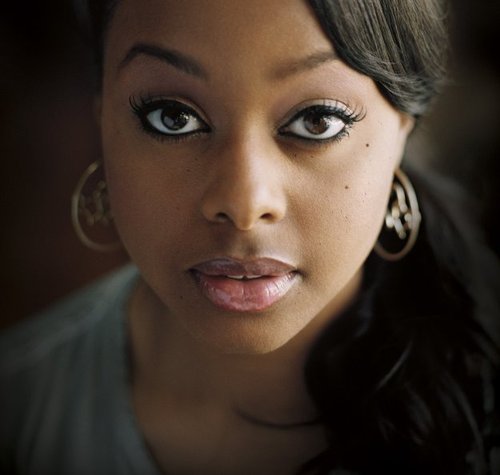 The path to self-discovery can last a lifetime, and Chrisette Michele trots that road through her career as she travels to worlds unknown in song and in self-expression. Since her major debut in 2007, the R&B and soul singer says she's learned to find her voice in the industry and continues to evolve.
"Working with all of these different artists gave me an opportunity to hear different sides of myself and it allows me to be free," Chrisette comments. "I've learned it's okay to sing about what I'm experiencing and to allow myself to be honest because people are affected by it."
As a former gospel choir director who was reared around music, the artist admits she aspired to do nothing else but sing. With her father as a deacon and her mother as a choir director, Chrisette says she was heavily influenced by gospel music from Hezekiah Walker and The Clark Sisters. She was also inspired by the prideful and powerful lyrics of Hip Hop artists such as Queen Latifah and the jazz legends Ella Fitzgerald, Billie Holiday and Sarah Vaughan.
"I never heard 'no' growing up," she says. "It wasn't a part of my experience growing up because whenever I said I was going to sing professionally, my mom would say okay and always asked me how I would get there. If someone tells me I can't do something, I question why he or she feels that way."
With determination and hard work, Chrisette not only got there, she earned a Grammy in 2009 for her hit, "Be OK". Despite her fame and the adoration she receives from many, the songwriter acknowledges there are some who aren't a fan.
"The hardest part is when someone says 'I don't like that' or 'I'm invaluable'," she comments. "Some people tend to look at you like you're just another album cover and not a real person."
On her path to self-discovery, Chrisette recently returned from a trip where she traveled to record Audrey Hepburn: The Audio Visual Experience. The free mix tape will be released on Dec. 8, and it chronicles her experiences in Paris, London, Amsterdam and Brussels as she followed the steps of Audrey Hepburn.
"I wanted to see how my life mirrors her cause," she adds. "It became an experience to look at my roots. It's amazing how cinema and art reveal to people who they are."
The second part of the soul singer's voyage traces the unknown, or less familiar, side of the iconic Dorothy Dandridge. She also connected with hip hop dancers from the Congo and people from Angola. On her personal and professional voyage, Chrisette says she embraced moments in time that may never happen again, which is how others should experience life and love.
"It's okay to experience things while they're there," she adds. "If I don't do something to experience this moment, it'll never happen again. While it's happening, I'm going to experience it. I'm a hopeful romantic and I met my soul mate a thousand times, but I haven't married him. I keep my Christian values, so that's what keeps my heart from being broken."
The artist wants everlasting love, but says she needs to complete her missions in life.
"I'm sold out to music and it's my husband right now," she comments. "Until I've done everything I need to do, I'm not going to stop committing to music and feeding hungry people."
by Iya Bakare