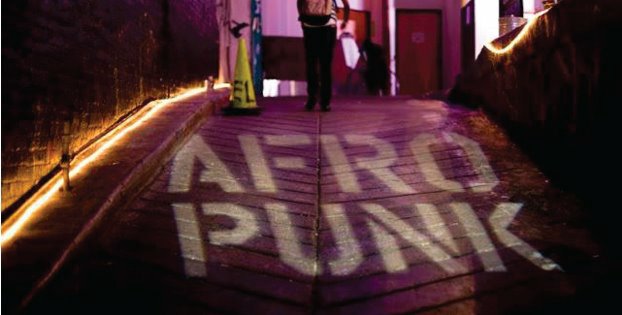 The Afro-Punk Festival sure has come a long way. What once started in a basement in Lower Manhattan, soon spilled over to the Brooklyn Academy of Music, until even BAM could no longer accommodate its increasing attendees. Now, after eight years, it's grown into a mammoth celebration of freedom. To say that Afro-Punk is an outlet for alternative music, eccentric fashion and provocative counterculture would be shortchanging its principles and its achievements. While strolling through the behemoth Commodore Barry Park – just blocks away from the Manhattan Bridge in Brooklyn's DUMBO section – and gaze upon the bevy of black beauties adorning nose studs and torn t-shirts, and brothers in their ripped jeans brandishing skateboards, it soon became apparent that this isn't some outlet for these folks' bottled-up inhibitions, contained by their pedestrian routines and pressures. Rap royalty Whodini once eloquently stated "In the day time the street were clear, you could find a good freak anywhere/You might know someone for all their life, but not know they're a freak unless you see them at night." Well, the Afro-Punk Fest was full of 24 hour "freaks," all comfortable in their own skin and layers; so comfortable, in fact, that many were unafraid to whip out their pipes and spark up.
The scent and amber of THC lingered throughout that first Saturday as the performers proved they were 24 hour "freaks" themselves. All through the day and evening, acts like electro-punk duo Das Racists and vocal powerhouse Alice Smith charged up the crowd between two stages, in anticipation for the headliner. Erykah Badu has been a long time ambassador of the spirit and ideals that make Afro-Punk the staple that it is. Whether rocking a head wrap or a unitard, an afro or shaved head, the Grammy winning singer has showcased that, like the festival contingency, she marches to her own drum…or MPC. Accompanied by her new band The Cannabinoids, a collection of musicians and DJs, Badu closed the first night out with quirky, electric re-workings of her platinum selling material, such as "On & On," "Didn't Cha Know," and "Love of My Life," which featured a surprise verse from beloved Brooklyn MC Yasiin Bey (F.K.A. Mos Def). With her new band and new sound, Badu challenged the audience as well as quenched her never ending thirst for growth and exploration. She capped off the night with "Believe in Yourself" the alluring ballad from The Wiz (originally sung in the film by both Badu's hero Diana Ross and another Brooklyn legend, Lena Horne), further clarifying her moniker as an "analog girl in a digital world."
The energy on Sunday was equally formidable. Afro-Punk Fest's reputation for artisans and food vendors is becoming definitive and vast. The lines for food tents from Bed-Stuy donut haunt Dough and Clinton Hill South African-Fusion restaurant Madiba were almost as dense as the crowds gathered for Toro Y Moi and Reggie Watts' performances. In between sets, the air was thick with an eclectic mix of songs from DJs Stack-Aly and E.Z. Mo Breezy. The curious juxstapotion of songs from A Tribe Called Quest, Nirvana, Big Sean and Earth Wind & Fire spoke to the open-minded nature of the festival's attendees. Although TV on the Radio closed the evening out with their signature brand of playing punk chords with funk feeling, the previous act turned out to be much livelier. Singer Janelle Monae, who cut her teeth at Afro-Punk four years before as a whirling dervish of soul, made her triumphant return, now as Grammy nominated Vogue Magazine cover girl. Oh, but fame has only hastened her willingness to stick to donning her now iconic pompadour, black and white tuxedo and suspenders. Monae and her Wondaland band ran through cuts from her critically acclaimed 2010 LP The ArchAndroid, like "Dance or Die," "Cold War" and "Locked Inside." She kept the audience on their toes with gorgeous covers of Jimi Hendrix's "Little Wing" and The Jackson 5's "I Want You Back," which put the crowd into a sing-a-long frenzy. Her encore exactly overlapped TV on the Radio's set, doing an extended run of "Come Alive," riding a driving bass that could reach all the way to Coney Island.
The aforementioned marijuana indulgence aside, everyone got high during Afro-Punk; the bands were high from the effervescent spirit of Brooklyn; the skaters and bikers got high from vigorously attacking the half-pipe ramps; the patrons got high from the overload of musical variety and execution. Afro-Punk Festival 2012 was one big invitation to dynamic cultural intoxication.
By Matthew Allen