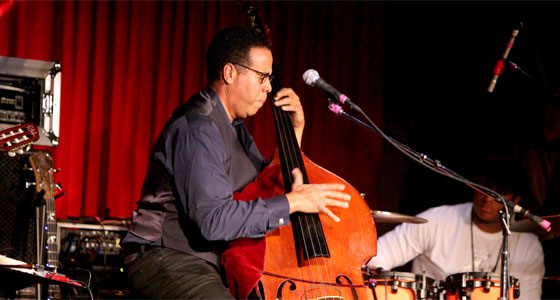 Question: What is left for a renown musician to do after more than 40 years in the jazz idiom winning every kind of music award imaginable; innovating a new technique on how to play the electric bass; becoming one of the best known film scorers of the 20th Century; and being one of the founders of a jazz style known as fusion?
If you're acoustic and electric jazz bassist virtuoso Stanley Clarke, the only thing left to do is continue looking forward while piling up the accolades and awards. And that's exactly how iRock Jazz found Clarke, 60, days after picking up yet another Grammy Award for his critically acclaimed Forever album as best instrumental jazz album of the year, along with longtime collaborators pianist Chick Corea and drummer Lenny White.
Clarke chuckles when given an off-the-cuff quiz on how many Grammys he's been awarded in his illustrious career.
"I think it has been five now," Clarke says. "I'm trying to catch up with Chick (Corea). He has 18 now. He's ten years older than me, so he had an early start."
Born out of the fusion of jazz, funk and avant-garde (first brought to light by Miles Davis), Clarke, Corea and White turned the jazz world on its ear in the '70s with the forward-thinking Return To Forever ensemble. Nearly 40 years later, the core trio decided to record again in an effort to rekindle the magic. What transpired was more Grammy gold.
"With this project – the Forever record – you can say it's kind of like everything that we do," Clarke says. "There's trio music on it; there is music like traditional Return To Forever music; and we love to play with singers that can hang with us – like Chaka Khan is a big fan of the band, and we're big fans of hers. With me, Lenny and Chick, we're sort of like a nuclear rhythm section, because there are so many different things we can do. I mean like really separate different genres of music that we can flip in and out of very comfortably. So that's really what that record is all about."
Clarke struck a positive chord with the jazz community barely out of his teens in the early '70s. Having such an advanced technique on the acoustic bass at such a young age, Clarke found himself in demand and called upon to play gigs with jazz royalty while other musicians were sent away to the "woodshed" because they simply weren't ready. Clarke received a masters education in jazz simply by being on stage and performing with such legends as Joe Henderson, Gil Evans, Pharaoh Sanders and Art Blakey, to name a few.
Playing with such heavyweights, however, proved not enough for the then hungry young bassist. He wanted to contribute something to the genre of jazz that most serious cats dream of offering to their beloved craft. He wanted to be an innovator.
Innovate he did. Clarke is considered by many in the idiom to be the main catalyst who spurred innovations of the electric bass in jazz during the '70s. Some would even argue that Clarke showed the way in allowing the electric bass to take its place among lead instruments in jazz.
"I am an acoustic bass player, that's what I am," Clarke explains. "I am a jazz acoustic bass player. And the electric bass is sort of a byproduct of that. I said to myself, 'Oh, this is a bass. That's interesting.' It sounded like a bass, and I played it that way, but I always had other ideas of doing other things with it – like melodies – because there were so many other possibilities because of electronics. So it is nice to see a lot of younger generation bass players coming out now who play both instruments. That's very encouraging."
If Clarke is asked to gauge it, the future of jazz is a bright one. But for jazz to maintain its shine and sizzle, it must continue to evolve, he believes. And one way for it to evolve is to be open to most – if not all – forms of music.
"I think that jazz will always be – to some degree – a fusion of a lot of different things," Clarke says. "You will have the traditionalists. Like one of the things I always liked when Wynton Marsalis came on the scene was that he was very vocal about it. He would have those guys (in his band) play just straight-ahead music, and of a certain period too. They weren't too adventurous with it. I mean they had it down to the dress, ties, and the suits. We use to crack up about it because those guys were taking it so serious and they (jazz journalists) were loving it so much. But a lot of older musicians, we were dying on the side and laughing our heads off. But you know what, that was fine, because what he did was bring jazz to a lot of younger people, and he stood up for the tradition.
"But after saying all of that, you know, that is all fine. But when you are trying to propel a type of music into the future, it is only going to go so far if it remains the same and doesn't change. The pure definition of having something go into the future means it has to change."
Clarke expects to see jazz meld more into hip hop as younger generations continue to push the boundaries of that genre.
"My son is a rapper and I'm always telling him that I am so surprised that I haven't seen any young guys come with a serious jazz trio, who can really play, with a guy who is standing out in front where his job is to convey the words," Clarke says. "I haven't seen that. When I do see them play live, the drummer seems to always be playing a light drum machine, and the other players seem to play in a way that they are keeping it in a box.
It's really up to the young players as to where this music is going to go. It always has been. I mean Miles was once in his early twenties, Coltrane, (and) we were. So there will be some new guys. Let's see what they do."
Regardless of pushing the music forward, Clarke is excited now about many of the younger jazz musicians on the scene, especially younger jazz bassists. Right now, bassists Ben Williams and Christian McBride are two musicians making him proud in continuing the jazz bassists' high standards set by legends such as Oscar Pettiford, Charles Mingus, Jimmy Garrison and Paul Chambers.
"I love them," Clarke says of younger bassists in the idiom. "I love them all. I don't know Ben (Williams) too well, but Christian (McBride) I know really well. He's a traditional Philadelphia bass player. There's a thing in jazz – kind of a little joke that we have – where we say all of the good bass players come from Philly. I mean in jazz there are quite a few (good) bass players who have 'it.'
"Christian is a great guy. I've heard Ben and he's a good bass player too; I just haven't heard enough of him. But there are a lot of good young jazz bass players out there. They are serious dudes! And I loved when Christian came up on the scene because he just kept the tradition going."
"I love the young jazz bass players who play acoustic and electric bass, you know," Clarke explains further. "Because I was hoping that I wasn't the last of guys who do that. There seems to have been a real explosion of those who play electric bass, probably because of me, Marcus (Miller) and Victor Wooten. Now so many guys play electric bass. There was a time when there was no place to really learn the electric bass."
Next for Clarke is a reunion and tour with his partner in jazz-funk crime, George Duke. As the Clarke/Duke Project, many funk bands in the early '80s were hard-pressed to beat these two virtuoso jazz talents playing straight up R&B and pop music. It culminated with the two cracking the Billboard Top 40 in 1981 with the power ballad "Sweet Baby."
"I just finished (scoring) a Robert DeNiro, 50 Cent, Forest Whitaker cop movie; I have my record company, so we're on the campaign with those artists (signed)," Clarke adds. "The really cool news is that the Clarke/Duke Project is coming back out. We are booking our tour now… The tour is called 'Clarke/Duke 4 (Bring It) Tour.'"
Clarke will also tour with various groups of different sizes – including doing some duet gigs with hot Japanese pianist Hiromi. After funking things up a bit with Duke, Clarke will hook up with The Police's drummer, Stewart Copeland, for some tours in July.
"I have a couple of albums coming out this year, so a lot of stuff," Clarke says. "So it's going to be fun."
By D.E. Malik Patterson