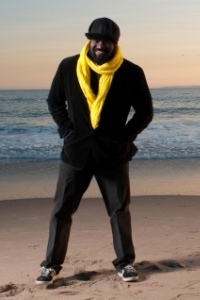 Grammy nominee Gregory Porter, a jazz vocalist, songwriter, and actor is undeniably a compelling man. Not only does he stand out physically, with his combination teddy bear/ football player physique in dress suits and ties, topped with a peculiar head covering, but his soulful voice and captivating ballads speaks to the heartfelt emotions of his listeners.
His first CD, Water, produced by Porter's best friend and mentor, saxophonist, pianist, and composer Kamau Kenyatta, was released in 2010 and earned him a Grammy Nomination for Best Jazz Vocal album. Music critics are proclaiming that his second album, Be Good, which was released in February of this last year, is also Grammy worthy. In the title track to this album, "Be Good (Lion's Song)", he uses the metaphor of the lion and its mane to describe how a man tries to tame his wild nature for the woman he loves. Porter was also cast in one of the leading roles in the musical, It Ain't Nothin' But The Blues, which eventually appeared on Broadway.
Porter attributes his start in singing to his love for Nat King Cole's music. When he was a boy, he'd listen to his mother's albums and often tried to emulate Cole's sound. At the age of five, he wrote a song called, "Once Upon A Time, I Had A Dreamboat," and recorded it onto a tape. When his mother heard it, she excitedly told him he had a sound like Nat King Cole. After that, Porter learned all he could about Cole and his music. He'd listen intently to the lyrics and imagined he was receiving fatherly advice from Cole. Porter's passion for music remains the same today, and his distinct style of soulful jazz is constantly earning him new fans.
A singing career wasn't Porter's goal in life. A college linebacker, his desire was to join the NFL, but a permanent shoulder injury while playing for San Diego State University changed all that. iRockJazz caught up with Porter prior to his international tour.
iRockJazz: Have you had any formal voice training?
Gregory Porter: I studied city planning in college and wish I'd studied music. My training included years of church (his mom was a pastor and piano teacher), musical directors, and my friends. My friends and I would have lunch meetings that would become jazz workshops. We were listening to music, studying music, going over music, and writing music. So, just University of life was my training.
Your songs seem to tell a story, where does the motivation for your lyrics come from?
It's interesting. Sometimes it would just be a phrase. Sometimes the whole musical idea will come to me, the rhythm, base line, and the melody. I can hear chorus in my head. I keep pencil, paper, voice recorder and my iPhone nearby at all times. I try and capture every idea that comes to me. For a long time when I was in college and high school, I'd hear a melody and let it pass, thinking another one would come along. But now I try and capture all my musical ideas.
For me it can happen when I'm moving, on a bus, train, or bike. I wrote "Be Good" when I was on my bike, riding home from a female friend's home. "On My Way to Harlem" was written on the subway from Brooklyn to Harlem. I write from personal experience, and "Lonely One" is for the women in my life, my mother and sister, and the issues they had to go through. It's the hero reflex that I have in me to be there as a shoulder to cry on, and let her know she is beautiful and she doesn't have to stay in the situation she's in. I write (the) strongest when it comes from a place of deep emotion…the ups and downs of relationships I've been in.
1960 What? I understand is a documentary and musical conversation about the absurdity of injustice. How did that come about?
It's a complex thing I'm about to say. Though I wasn't alive in the 60's, but when I go through the history of African American people, I see a pass down lineage of ancestral pain that I feel and I'm aware of it. I know my mother and I know my grandfather. I held their hand; I made food for them. My mother picked cotton when she was 13. I think about those things and it's not so far from me. Generally, the reviews have been positive, but I remember this one review that said, it was conjured up fake anger, and there is no need to conjure. There was a time of confused inequality. Any American should be concerned and thoughtful about that time.
There is a perception that jazz isn't as popular anymore and initiatives need to be taken to preserve it. What do you think about that? Do you agree?
Jazz has an image problem in a way that the music isn't as relevant to current life. Our society, particularly the African American culture in particular, loves to move on to the next. We can move forward and on to the next, but we also have to preserve the extraordinary thing we gave to the world. So, there is a belief that it's not the music of the young generation, but DJ's put on 1960 What?, The Lonely One, or Skylark, just speaking of my music and I hear these young kids walking by the DJ asking what is that music. My brother used to play music outside and kids would ask what it was. My brother would say that's jazz from that brother over there.
We just have to get it to the young generation's ears, present it to them properly, and let them know there is another way. When I'm on the dance floor, I want to dance to the latest dance music: I don't want to hear "Skylark", but If that's all you have, and all you're giving them is this sugar — this candy, and there is nothing soulful and cultural that you're getting, then there can be an imbalance. I think there is a musical imbalance because music forms American life; music is the story about American history. I think the history that is being written down now is a little confused.
What is the best advice given to you regarding your singing?
Hmmm, my mother used to tell me when I was around four or five years old, hold my arms straight to my side, hold my chest out, and lift my chin; look at the audience and sing proud. She also said sing with an understanding. I think I take that to heart because when I sing my lyrics I try, and embody the lyrics in a way I try to become that Harlemite in, "On My Way to Harlem". Singing with an understanding is the advice my mother gave me.
What is your earliest memory performing before a group of people?
There are a couple of things that I recall. My mother had friends over from church once. Singing in front of her friends, I think that was the most terrifying performance more so than singing in front of the church when I was with The Sunshine Band in Los Angeles. I do remember my first solo being, "Something Beautiful". I remember then, as a child the church, being so excited, and thinking about the power, not that I had, but that music had over people. The church was just sitting down moments before, and now they're up hollering and screaming.
What do you think about now when you sing on stage?
I don't mean to sound like a musical postcard, but when I sing I feel like it's something that comes through me and it's a gift I'm sharing. Some people don't feel it that way, but others have commented how it felt spiritual.
Is there anyone you'd like to team up with?
The vocalist I would love to work with Lalah Hathaway. I would love to sing a pretty slow song with her. Herbie Hancock wouldn't be bad to have as a piano player. Who knows what the future holds. I never expected the Grammy nomination when it came. I will keep on keeping on. I'm trying to be Gregory Porter and be acceptable. Hopefully it's successful to people's ears.
What's next for Porter? He's working on more music and would like to get to different places of the world he's never been. When he's not traveling, you can find Porter performing at Smoke Jazz Club in New York weekly. Learn more about when Porter is visiting your area at gregoryporter.com.
Interview and written by Tracye Dee. Edited by Marsha J. Eaglin