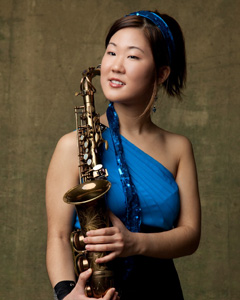 With over 500 plus performances, seven albums, numerous awards, recordings with music notables such as Esperanza Spalding, Kenny Barron, and Dave Brubeck, and a personal invitation by jazz ambassador, Wynton Marsalis, to play for the President, Grace Kelly has done more at age 19 that most have done in a lifetime. While most 19 year olds are studying for mid-terms, updating their Facebook pages with college party pictures, and tweeting about the latest Twilight movie, Grace is learning improvisation techniques and beginning a teaching residency at the famed Berklee College of Music, producing albums, and tweeting her next tour destination to many fans of all ages.
Recently, we caught up with the singer, songwriter, composer, and all around performer—with parental consent first, her father and manager, Bob Kelly, gave us the green light—to talk about music, leading a band, being a normal teenager, and her desire to perform well into her 90's. Her bubbly personality combined with wisdom and confidence beyond her years, Grace Kelly will win you over on stage and in conversation ever so gracefully.
iRJ: You've had a meteoric rise to your career. Seven albums in around 5 years and you have been performing since you were 12 years old. Due to your rapid success, some people may feel that you haven't had any challenges. What are some of the most difficult challenges you have faced of which people are not aware?
GK: There are challenges day to day. The most challenging is when people love my music, which is the highest compliment, and I'm so hard on myself. So, I think about things like "did I create any magical moments with the band?" It's a never ending process.
iRJ: You have had a great deal of success at a very young age and countless world renowned artists have given you accolades. How do you stay humbled and grounded?
GK: I'm very lucky to have an amazing support system. My father is my manager and road manager. We don't have the stereotypical child/manager relationship. We've learned that there is no room for ego's in art. We are all creating something together. I also surround myself with a lot of good friends, friends from middle school, Berklee, and my musician friends too.
iRJ: You have been leading your own band for some time. You are working mainly with older men nearly half your age. Tell me about your experiences as a bandleader?
GK: I've been leading my own band for about 7 years, since I was 12 years old. Starting at such an early age I had no idea what I was doing. I've learned so much over the years and now the band is so tight that we can workshop. It's a big role that I now definitely enjoy being the leader. I don't think about the whole band being male. There's always that surprise factor when audiences see me up there with all of them, so it's fun. You know I did not start doing music to create a career, but to document my creation and my love of Dizzy Gillespie and Stan Getz, which was encouraged by my middle school music teacher, Ken Berman.
iRJ: You have done a lot in life in such a short amount of time. Recently graduated college at 19 years old, 500+ shows, and more. Where does your drive come from?
GK: The passion of loving the music. From practicing to composing to singing–when you love what you do it's very easy to do more.
iRJ: When did you know this is what you wanted to do?
GK: My first performance was at 10 years old and I just knew that performing was what I wanted to do. We have a pretty artistic family. My aunt is a classically trained violinist. My parents told me and my sister to find what we love to do and they would support us. I could not picture myself as a doctor or teacher. I've always performed. I have been acting, singing, and dancing since I was 6. I love the stage. I love being a performer.
iRJ: You dropped out of high school, got your GED and received a full scholarship to Berklee College of Music at 16 and eventually graduated at 19. Why did you drop out of high school?
GK: Well, I auditioned for Berklee the summer prior to dropping out of high school and I was offered a scholarship. I was doing a lot of touring throughout high school so I was half in school and half on the road. My parents and I decided it was the best route to go, so I went straight to college. Starting college at 16 was a challenged and I was pushed. At Berklee I was accepted more than in high school and I grew tremendously. Yeah, I missed prom and missed walking for graduation… but I was doing so much… like touring around the world.
iRJ: One of your mentors, Phil Woods, is playing well into his 80's. Do you see yourself playing as long as Phil?
GK: I hope I'm still healthy and want to play well into my 80's or 90's. The amazing thing about jazz artists' is the success of their careers is really about longevity. It boggles my mind seeing all of these older jazz masters. The music definitely keeps these old guys young.
See video of the performance where legendary saxophonist, Phil Woods, gives Grace Kelly his hat, a rare gestured bestowed upon a great performance.
iRJ: Have you thought about starting a family one day?
GK: Yes, I want to get married and have a family eventually. Right now I focused on my career. When I do start a family it would have to be a time when I'm financially ready and ready to devote time and effort to raising a family.
iRJ: What do you do in your spare time—when you have spare time?
GK: I hang out with my friends. I'm very social. I love dancing. I'm learning yoga and I also love to read, but I need to read more. I've always been into creative writing. I still hang out with a lot of my friends from Berklee and middle school, but it's kind of funny that I do hang out with a lot of the older jazz musicians like my mentors, Lee Konitz and Phil Woods.
iRJ: Lee Konitz, Phil Woods, and other great musicians are your mentors. What is the best advice they have given you?
GK: A lot of recent advice has been given to me while on stage playing next to Phil Woods. Studying with Lee Konitz and just observing his spontaneity, creativity and being able to appreciate the process. Lee is a master. He's so spontaneous not only in his music, but in life even down to deciding what to eat and what to wear. I remember a time when Lee and I were going to perform and I asked him what he was going to wear so that I could match him. That's just not Lee. He just decided at the last minute. I also got a lot of great advice from Frank Morgan, who was a jazz prodigy and mentored by Charlie Parker. He told me that you just got to have fun. He took me on the road with him during the last 6 months of his life and he told me, "If I can have one person cry during one of my ballads, I've done my job."
iRJ: How much do you practice? People may thing that because of the amount of success you've had that things come easy to you. Are they wrong?
GK: Every time that I'm not traveling I'm working day and night on my music. It's not really practicing for me. My parents didn't have to tell me to practice, it was something I wanted to do. They had to tell me to go to sleep because I would be up to 2am working on my sound. Practicing is a constant process.
iRJ: I recently read an article that was quite critical of you and said you still had much to learn. How do you handle criticism?
GK: You know I recently submitted some music as part of a competition that was subject to reviews and it got some criticism. You know it's hard not to take it personal. I received some really good advice from Wynton Marsalis. He said, "You can't listen to all of that stuff. You can't judge yourself based upon criticism." I've had some people trash me and then I've also gotten good reviews. It's a blessing to perform for my audience. They are my critics.
iRJ: Tell me about performing at the Kennedy Center's Eisenhower Theater in Washington, D.C. for President Barack Obama's Inauguration Celebration. Was that one of your career highlights?
GK: The whole entire city was buzzing. There was a huge cast of musicians there. Wynton Marsalis actually invited me, which was another honor. It was amazing. Another highlight of my career was when I was 14 I wrote an original piece for the the Boston Pops Orchestra. They invited me to be a guest performer and I told them I would like to write a piece for the entire orchestra. So, I wrote a 40 page score! It was stressful because the rehearsal was the day of the performance and I am hearing the entire orchestra play my piece for the first time. But it got done and everyone loved it.
iRJ: Your most recent album, Grace, had a more spiritual approach and it was labeled a gospel jazz album. What inspired you to go in this direction?
GK: This was a very special project. In 2010 I was invited to play for about 2000 ministers from all over the world at the Festival of Homiletics, in Nashville. David Howell, who created the festival heard my music and invited me to play. So from there I decided to create a recording. For the album I picked my favorite hymns and the people have just loved it. I get this incredible feeling playing this music. It was arranged by renowned gospel pianist, George Russell, Jr. and it wasn't difficult to do. I'm a Christian, so the music is already inside of me.
iRJ: Who would you like to record or perform with in the future?
GK: I just adore Brian Blade's music! He's such an amazing drummer. I also love Roy Haynes. I've played with a lot of people, but I haven't played with Wayne Shorter or Sonny Rollins. If Stan Getz were alive that would be a dream. I'd love to play with Paul McCartney, Sting, Stevie Wonder, John Clayton, and Dianna Krall.
iRJ: What's currently playing in Grace Kelly's iPod?
Allot of good music! Ray Brown, my voice teacher, Jill Lowry, who is currently touring with Sting, and Maceo Parker, he's such a great performer. I'm also listening to Yo Yo Ma, A Tribe Called Quest, Janelle Monae, John Mayer and some traditional African drumming.
iRJ: Pazz Productions is the name of the label you release your music. Are you planning to add other artists? What would you look for in an artist?
GK: Yes, our production company is called Pazz Productions, and Pazz stands for Peace and Jazz. It's a company that my parents and I founded. At some point we may look into other artists, but right now there's more than enough work with just me. If we did work with other artists, we would be interested in artists who are very versatile and share common interests.
Be on the lookout for more great music from Grace Kelly including a live performance CD/DVD set at Skully's Jazz Club in Boston, MA. Visit Grace Kelly at gracekellymusic.com to find out if she will be performing near you.
By Johnathan Eaglin