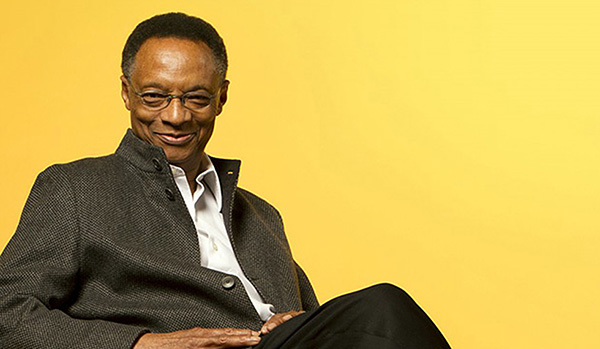 Ramsey Lewis has enjoyed an incredible career of more than 50 years in jazz. From his early days, he has maintained strong ties with the people and culture of Chicago. In this recent exclusive interview with iRock Jazz, Ramsey Lewis looks back on his early days as a musician and shares the secrets behind some of his greatest successes. He also reflects on the artists who influenced him, how he achieved his great popularity, the changes in jazz over the years, and where he hopes his career will take him in the future.
 iRock Jazz: How was the Ramsey Lewis Trio formed?
Ramsey Lewis: We sort of grew into the Ramsey Lewis Trio. Eldee Young, Redd Holt, Wallace Burton, and others had a seven-piece band, and their piano player left to go with Sarah Vaughn. That tells you how good he was—and how good the band was. She chose him. They would perform around the west side of Chicago, the south side of Chicago – primarily dances, fashion shows. They were pretty busy, playing two, three or more days a week. Wallace Burton, the leader, went to the same church I did. He heard me play classical music and gospel music at Zion Hill Missionary Baptist Church in Englewood.I must have been in my teens. My dad was the gospel choir director. So Wallace, after church one Sunday, said, "Why don't you come play with our band?" I said, "Great, I'd love to do that."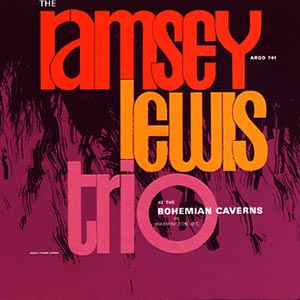 He'd never heard me play jazz. He said they were playing at Union Park Temple – or was it Union Park Fieldhouse? I was to show up at seven o'clock. There'd be a dance from eight to ten. He said we'd see how it goes from there. I was going to Chicago Musical College at the time. I got out of school around five-thirty, and then I went out there. I was doing some homework when they showed up. So we talked for a bit. Then, come seven o'clock, he said, "Well, let's take the bandstand."
Wallace said, "Okay, Ramsey, you kick us off. Let's play some blues in B flat." Well, I didn't know anything about the blues in B flat. My dad had brought home an LP by Meade "Lux" Lewis called Boogie and the Blues, and it was the boogie-woogie. So, I started out playing that. And he said, "No, no, no! Not the boogie-woogie. Let's play some standards. Hey, Ramsey, start us off." I think he said to play "I'm in the Mood for Love" or "These Foolish Things." He called out "Body and Soul," he called out a few standards. I didn't know those either. I knew classical music – Bach, Beethoven, Chopin – and I knew gospel – Thomas A. Dorsey. So this is the crux: He said, "Okay, Ramsey, why don't you go sit out, do some homework or something. I promised your parents I'd take you home after the gig." He also played piano. After the gig, he said, "Alright, come on, I'll drive you home." On the way home, Wallace Burton says, "You wanna learn this music? You come over to my house tomorrow, and I'll show you a few things." He could have said it wasn't working out or wasn't what he thought, but he didn't. So, I went over to his house. That was the beginning of when I learned what a standard was and what the Great American Songbook is about, how the blues is different from rhythm and blues, et cetera. He told me how to solo, who to listen to, and mentioned a couple books to buy. I got to play with the band and that went on for several years until the Korean War.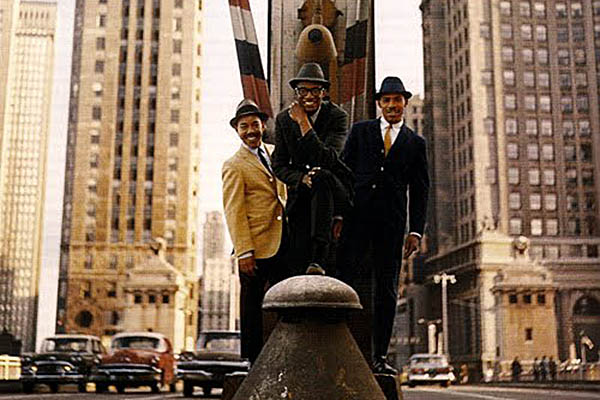 When the war broke out, Redd got drafted. He had to go, and it broke up the band. Wallace and a couple other guys had to go too. That left the rhythm section. Redd went last, because he, Eldee, and I were left, and we were still gigging around Chicago, playing here and there. First, we called ourselves the Cleffs. But we thought that didn't make sense because people remembered the Cleffs as being a seven-piece band. Lake Meadows Housing Development had a shopping mall – they still do – and they had a restaurant, bar, coffee shop complex, and they asked us to play. We got that gig and we played there for many weeks.
One night, Holmes "Daddy-O" Daylie, who used to come in there all the time and would always stop and say hi to us, says, "You guys ever make a record?" "No, we never made a record." We thought he was putting us on. Many people would say stuff like that. But he says, "Okay, let me see what I can do." A couple weeks later, Daddy-O came back, and he says, "I got you guys an audition." He told us to show up at this address, a stationery store on 47th and Cottage Grove, on Saturday afternoon to audition for Phil and Leonard Chess.
So we did. Leonard Chess was not there, but Phil Chess was there. We played three or four tunes. Phil was constantly smoking his pipe, going, "Yeah, yeah, yeah.  Mmm hmm." And he called Sonny, one of the guys working in the shipping room, to come check us out. We played another tune or two and Sonny said we were good. So Phil says, "Yeah, you guys are pretty good. I'll talk to Daddy-O about it." So we went home and then sure enough they said, "Yeah, we want you guys to record for us."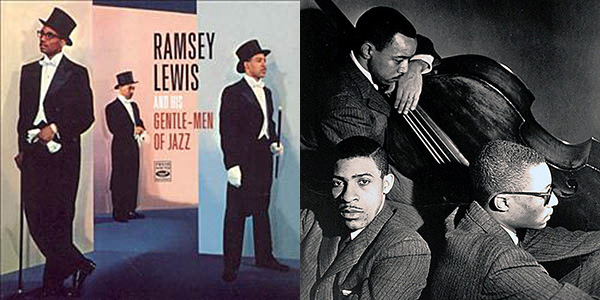 Well, we didn't have a name. We would just show up and play at a gig. But Daddy-O said we had to have a name to put this record out. So we thought of names like the Treetops, the Birds, or the Seven Flats. But, none of them really rang a bell. Daddy-O said, "Listen, it's a piano trio. The piano takes most of the leads, most of the solos, so call it the Ramsey Lewis Trio." We were a partnership. Everything was split three ways. And that's how the Ramsey Lewis Trio was born.
iRJ: What was it like starting at Chess? Was Minnie Riperton working there as a receptionist when you started?
RL: I don't think she was the receptionist then. Chess' people first had all the blues groups, then they slowly started going into jazz, then slowly into R&B vocalists. Minnie did some backing vocals. Then when Marshall Chess got involved – that was Leonard's son – he talked them into doing some more pop stuff. So Marshall talked his dad into recording a group called the Rotary Connection. In the Rotary Connection was a singer called Minnie Riperton. They put a couple albums out and they did alright. After that, the group broke up. I think Minnie and one other person stayed on as part of the production team at Chess. And if they needed some backing vocals behind somebody, Minnie and others would do just that. But, all along, Marshall Chess was planning a solo album for Minnie Riperton. It did come to pass, and once that happened – as they say – the rest was history.
iRJ: You've switched your ensemble several times, playing with Maurice White and Felton Crews. You've created different sounds with different ensembles. As a leader, when you make those changes, is it to create new music and new sounds or is it to just switch it up to meet the needs of new changes in the music community?
RL: Generally, once I get a group, as long as we like each other on the stand – in other words, we like what the other guys are playing and his contribution to the whole – and we like each other off the stage, then I'll keep a group together for a long time. What generally changes groups for me is when one of the group members is ready to move on and do his or her own thing. That's what happened when Eldee Young and Redd Holt left. Then Maurice White got with the trio, when Eldee and Redd left. And that's what happened when Maurice left to form Earth, Wind & Fire. Then it became a quintet. So, I didn't change up looking for a sound. I changed because somebody left the group. I hired somebody who brought what he or she had to the group To me, their contribution was quite valid, and I loved it.
iRJ: You had three gold albums early on that had a huge non-jazz following selling over a million copies. Did you expect such a response from the non-jazz audience for "Wade in the Water," "Hang on Sloopy," and "The In Crowd"?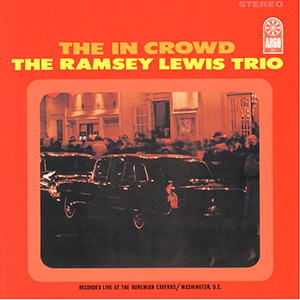 RL: Pop musicians planned on that kind of thing. They'd sit down with their producer and their arranger and their songwriter, and they'd plan, discussing the trends and what people were buying, what the last records were that went platinum and what they sounded like. That would give them an idea of what people were buying. Though they would want to maintain their own individuality, these pop artists would try to incorporate some of those ingredients.
But jazz musicians, as artists, didn't do that at all. For jazz artists who did sell a lot of records – like Herbie Hancock, Herbie Mann, me, Cannonball Adderly, and Wes Montgomery – the ingredient that got us over was doing our own thing. We didn't concern ourselves with how others were able to sell more records. The jazz audience liked the fact that we each had our individual sounds. So, whenever we would get ready to go into the studio – we had a producer of course, though we generally did our own arranging – we never put our ears to the ground and said, "Okay, what's happening out there? Let's see if we can do something like that." We just wrote or found melodies that we had fun playing. "Hang on Sloopy," "Wade in the Water," and "The In Crowd" used to be our set closers. We figured that, after playing our so-called serious music like Duke Ellington or whoever else we were playing at the time, that we would close our set with something a little more light-hearted. That's how we started playing "The In Crowd," "Wade in the Water," and "Hang on Sloopy," to close our sets. We noticed that they would always get a lot of applause. So when we got ready to record, we decided that we would include those songs too.
The first song of that type we recorded was "Something You Got," in 1964. People responded by purchasing that record. They came into stores asking for the LP that had that song on it. They also liked the fun songs. When it came time to make another record, we said, "Okay, we've got our serious side. What's going to be our fun side?" And, actually, we didn't have one.
We were going to play live in Washington, D.C., at the Bohemian Caverns. We were sitting at a coffee shop there a couple days before the recording sessions were to start trying to figure out what the fun song was going to be. Nettie Gray, the waitress, asked us what we were doing. Then she asked, "Have you heard Dobie Gray's 'The In Crowd'?" I hadn't. Eldee and Redd had heard it, and they liked it. She said, "Well, it's on the jukebox over there." She went over and played it. I said, "Yeah, that kind of song. Why don't we do that?" So I went out and bought the 45, and we learned it. We recorded three nights – Thursday, Friday, and Saturday – and on the first night, as we got to the end of our first set, Redd said, "Hey, let's play that new tune." We started playing "The In Crowd." People started clapping their hands, dancing, and making noise. We looked at each other amazed. That's what started that trend of hits.
iRJ: What were some of the clubs in Chicago that were your favorites to hang out and perform?
RL: There were so many clubs in Chicago! I guess this all started in the 20's, 30's, and 40's. When we came along in the 50's and early 60's, there were still many great clubs on the North side, the West side, and the South side. It was a joy to behold because musicians had many choices.of places to play. There weren't many musicians who could say they didn't have a gig. If we heard someone say that, we'd ask, "Well, what's your problem?' Many of the clubs played jazz. Some had blues. In Chicago, a club was either blues or jazz. On the North side, I think they had some Rock & Roll clubs, but also some jazz clubs – and a couple blues clubs.
The club that stands out mainly in my mind was the London House, which was a supper club. I played there with the trio. Before London House, there was a club called SRO, on the corner of Goethe and Clark. We were the house band there for quite some time. Then we left there, and we became the "off night" band at London House. The two big clubs for jazz were London House, for jazz trios, and Mr. Kelly's, for jazz vocalists like Sarah Vaughan, Ella Fitzgerald, and Nancy Wilson. Big showrooms were Chez Paris on the South side and Club deLisa – and there was another one downtown. But, for jazz trios, London House was the room. We went from being the off night band two nights a week to being the opening band five nights a week. We opened for people like Oscar Peterson, Earl Garner, and George Shearing. Eventually, we became the headliner at London House, after the hit records started happening. However, before all that, we would play the London House four weeks in June. Then, we'd come back and play four weeks during the Holidays. We did that for several years. That place was like our home.
iRJ: Chicago has a distinct sound. How would you describe the Chicago sound in jazz?
RL: Any jazz musician who has spent time in Chicago –a lot of them, you have to remember, left early and went to New York and that New York influence took over – but any of them who spent time here first had the touch of Chicago. Here, you had the gospel and blues presence that didn't play so strong in New York. So there was that influence – not the blues, per se, because we were definitely not blues players – but more of a soulful sound. Gene Ammons performed around Chicago for a long time. You don't get any more soulful than that. And Sonny Stitt – I think he was from Pittsburgh – played around Chicago for a long time. Most musicians who came from Chicago, you could tell because you had to swing pretty hard.
Listeners in Chicago were pretty open-minded, as long as you were sincere in what you were doing and as long as you gave it all you got and didn't try to imitate somebody else. It's that Midwestern thing. I think the fact that Chicago is in the Midwest had a lot to do with not only the musicians who spent time here and were born here, but the audiences here, who were down-to-earth and didn't consider themselves ultra-sophisticated. But there's much less phoniness in Chicago, as a big city. Creative people in Chicago could relax and be who they were to get to a certain point before he or she left to go to New York or L.A. If they did that, success was not necessarily guaranteed, but at least you could bring something original to the table.
iRJ: Do you think that young musicians today can survive by just living in Chicago, or do they need to leave and go to New York to make their name in the music industry?
RL: Well, Ahmad Jamal didn't leave to go to New York, nor Gene Ammons, Sonny Stitt, or me. There were a lot of musicians who stayed in their home towns – the Crusaders from Houston, Joe Sample from Texas. So it's not that you have to go to New York to make it. It's just that, after you get to a certain point, you get more publicity because there's just more of everything in New York – more clubs, television, radio. Those avenues are open to you, though more so when I was growing up than today. Today, there aren't as many jazz clubs in New York as there were when I was coming up. When we first went to New York, midtown Manhattan had the Emperor's and ten or fifteen other jazz clubs, from Dixieland, to Bebop, to Swing to Birdland. Also, there were clubs uptown – the Prelude Restaurant, Sugar Ray's, Count Basie's.
I think, getting your own thing together and having your own thing together before you go to New York is the way to do it. Nowadays, it's difficult. You can't sit in Chicago or Cleveland and anywhere else and say, "I want to go to New York and make a name for myself," because everything else has changed. And I don't have the formula. I wish I could say, "What you do now is this." I wish I could say that. We don't have record companies. One of the ways an unknown jazz musician could make a career was to make a record. The record company pushed it and got airplay. Well, there are no radio stations today or disc jockeys. So it's very difficult these days. If you know how to work the Internet, you can develop some sense of recognition, but you're not performing. One of the great things about yesteryear was that there were clubs. The record company could put you in clubs from New York through Philadelphia to Washington, D.C., to Cleveland, Chicago, Detroit, St. Louis, Kansas City, Denver, and L.A. They'd tell you to play that circuit. "There's a nightclub in each of these places," they'd tell you, "and we're gonna release your record. And you'll play a week or two in each one of these clubs, and there's a jazz station and a jazz disc jockey – or two – in each one of these cities, and we're gonna push your record." That kind of thing doesn't exist anymore.
iRJ: Through your experimentation with different styles and genres of music, what have you gained?
RL: I went to a multicultural high school, so I was exposed to all kinds of music and different cultures in school. I lived in a multicultural neighborhood and my parents never said, "This is good; this is bad." So I grew up just loving all kinds of music. When it came time in my late 20s and early 30s, to make records, the kinds of music I had been exposed to came out in what I wanted to do allowing me to express myself as an artist.
So, I wasn't doing hip-hop and rap. But, when I was invited to be a part of some of that music, I said, "Sure, I'd love to do it." Latin music, R&B, Blues: I could include that and involve all of it in what I was doing. It just evolved as I moved along. Depending on what the last record or two was about, that told me, "Well, we went this way on the last record or two. Maybe I'll go this or that way." I always had options because I left myself open to the influence of my life, starting from when I was in high school through today.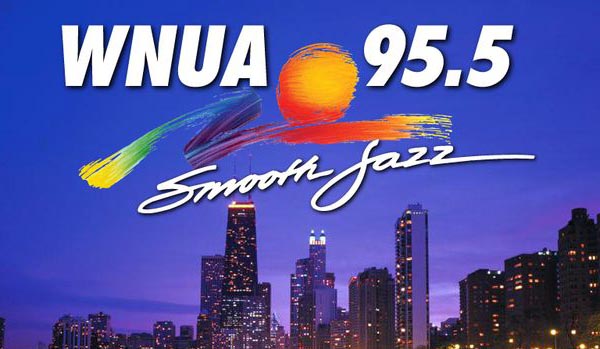 iRJ: You've done so many things to market the Ramsey Lewis brand through radio, hosting your own show, and your recordings. How was that Ramsey Lewis brand developed?
RL: When I got into television and radio that was before those terms were bandied about. No one talked about developing your brand. I was just earnest and honest in what I was doing. I was doing an interview on what was to become WNUA – it wasn't called that then – and Yvonne Daniels had a morning show. I had an album out called Tequila Mockingbird, and she invited me on to talk about the new album. So, I went on her show and we talked about the album – and she was a friend, so she kept me on for quite some time. I must have been on for a half hour or more, not only talking about my album, but other music as well.
After the show was over, John Gehron, who was the manager of the station, said, "I like what you and Yvonne were doing. Why don't you do a show together?" I said, "Yeah, but I'm touring – touring, touring, touring." He said we could tape it during the week and then they'd play it on Saturday night. Yvonne agreed to do it, so I said okay. That show became very popular, so much so that other stations around the country started asking if they could carry it. We didn't syndicate it, but we were up to 12 stations. John asked if I wanted to keep doing the show, and I said yeah. That led John to ask me one day if I wanted to do a morning show I told him, "My thing is touring and playing the piano." But he said, "No, we can arrange it where, when you're here, you'll do it live. When you're not here, you can tape it before you go out of town. And there you go." So I said, "Sure, I'd love that."
I had another friend who had a TV station, Nicolette Ferri. She's on WTTW here in Chicago. She used to see me around, and she listened to the show. And she said, "Ramsey, why don't you do something on television?" "Yeah, that sounds good," I said. In fact, a couple years earlier, I had done a few things on television. We did this show called Legends of Jazz. There was no thought of developing the brand or evolving the brand or anything on my part. It was just being prepared with what I do for opportunities to open for me.
iRJ: Tell us a little bit about your last album, Taking Another Look, which came out in 2011. How did that album come about?
RL: I had been out on tour and when I came back, my agent called me to ask how the tour went. He told me he was setting up my next tour and that some of the people he was calling were asking if I was ever going to do any of the material from my Sun Goddess album on tour. I said I hadn't thought about that. We would do the instrumental version of "Sun Goddess," because I didn't have a singer. But he put something on my mind. So I took a break for the holidays. Then, after the holidays, I put a trio together – guitar, synthesizers – and we played a little bit to see how it felt. It sounded really good. But before we got together, they asked if we were just going to jam, or if there were any particular songs I wanted them to learn. Because I'd been thinking about it, I told them to check out some of the songs on the Sun Goddess album. So we decided to play some of that. And it really felt good.
Frayne, my son, said, "Well, if you're going to do the songs from Sun Goddess and you're going to go on tour, maybe you should call it the Sun Goddess Tour." That's exactly what we did.
iRJ: You've done just about everything. How would you like to be remembered?
RL: I would only like to be remembered as a fine human being, hopefully, a credit to the human race, and a pretty good musician. Far be it for me to have some grandiose idea of how I want to be remembered or how I think I've been influencing the business or music in general. I'm too busy now being in the moment and writing new music, practicing the piano, enjoying my grandkids and my great-grandkids – and, of course, my kids and my wife – and just enjoying life, moment to moment and day to day, to think about too much farther down the line. It'll take care of itself.
iRJ: What's on the horizon for you?
RL: I'm writing music. Al Jarreau and I are planning to go out on tour together in the United States and Europe. You never know what's going to come out of that – an album, maybe.
iRJ: Smooth jazz and WNUA were such an influence on Chicago – and all around the world. Did you foresee the demise of WNUA?
RL: Nothing is forever. And that genre of music called smooth jazz was built on some music that started out with Grover Washington Jr. Grover could play on the stage with Sonny Rollins – any of the straight-ahead guys – and not only hold his own but show you what's up. He also had the ability to play very lyrical, very rhythmically. He and Joe Sample and Al Jarreau – and myself and others – were the mainstays of WNUA before it was even called that. It grew into a very popular station until someone bought it and changed the call letters to WNUA. And they kept playing us. However, it became so popular that younger musicians wanted airtime and wanted to be on the station, but these musicians did not put in the time to gain the experience and knowledge that the artists I mentioned beforehand had. Though they became popular on the station – Kenny G especially – they did not show the experience and knowledge of the music.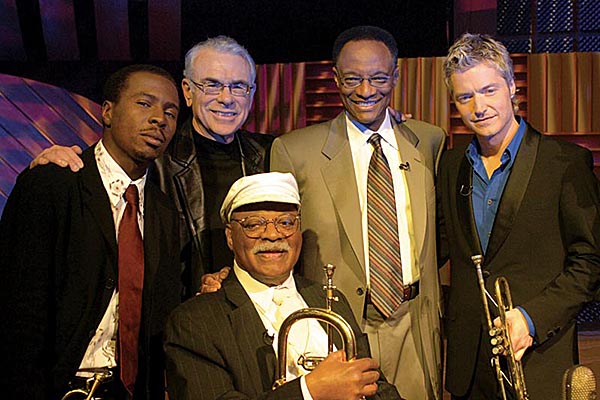 Legends of Jazz (l-r) Roy Hargrove, Larry Rosen, Clark Terry (seated), Ramsey Lewis, Chris Botti
So Madison Avenue needed a genre – or, in this case, Michigan Avenue – and they chose to call it smooth jazz. And the young musicians coming up took that as a signal that it was smooth, it's easy, it's soft, it's this, it's that. Therein lay the demise of the music at the station. After a while, there were those people who ultimately said, "It's boring. Everything sounds the same." They were getting less and less of Al Jarreau, of Joe Sample, of me, and of others and more of the Kenny G sound. It seems like he was a pied piper of this genre of music, with all the young musicians coming up figuring that if you want to make it big you have to sound like Kenny G. Therefore, everything on the station started sounding the same. Then the popularity of the station started dying, and people in Chicago started turning to WGCI and V-103. V-103 started mixing in the music that WNUA was playing only with more  R&B. It became more interesting to people. Of course, before WNUA went, there were about 80 stations across the country that called themselves smooth jazz.
I fought that when I was on the station, saying, "No, you just can't play the same way, the same kind of thing every time." And they'd ask, "What do you want to play, Ramsey?" I'd say to play some Ben Webster, some Oscar Peterson, some Billy Taylor." And they fought me. "No, we can't because when people tune in and hear Oscar Peterson then they'll think they have the wrong station." I said, "No, no! Give me a chance." So, once an hour, they would let me play what I wanted. Letters and phone calls would come in from people who wanted to hear more of what I was playing. So they let me increase to once every half hour, then three times an hour. But they didn't give that opportunity to all the other shows throughout the day. They would only let me do it on my morning show. So they didn't see the handwriting on the wall. They didn't get how people were writing in or phoning to ask for more of this or that – you know, variety.
iRJ: Would you ever consider going back to TV or radio again?
RL: TV's the thing now. Radio no longer has the influence. It's been scattered to the Internet and Web sites now. But we're talking to some TV people and putting together some ideas. I think, in the next several months, you just might see me on television.
iRJ: Wow! That's great! It'd be nice to go back to something like Legends of Jazz. We need that. It was such a great show.
RL: Indeed. Because that show came off so well, in performance and presentation, but also in response from the television audiences – the letters and phone calls that the station got approving and enjoying the show – that's the reason that I have the opportunity, maybe, to get back into something like that. It looks like I will.