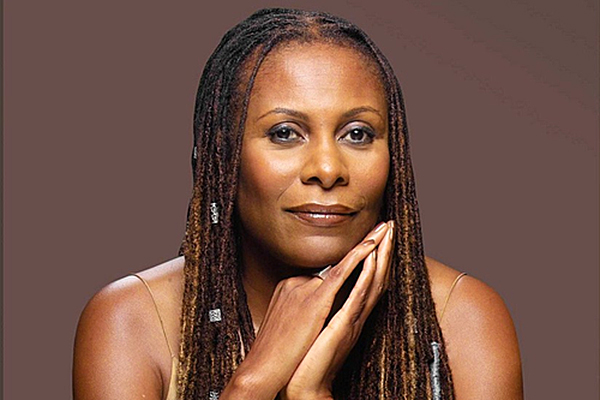 Brenda Russell has a timeless style that has kept her in demand for nearly thirty-five years. This singer is also a prolific songwriter and her lyrics have transcended several genres of music. Her songs have been recorded by nearly fifty artists. She has also collaborated with countless individuals in the music and film industry. Talents that have recorded Russell's songs include Luther Vandross, Aretha Franklin, Sting, Tina Turner, Ramsey Lewis, Ann Murray, Babyface, and Diana Ross
Her career began in a duet with Brian Russell (her husband at the time), and she later became a solo artist. Russell has achieved tremendous success in her solo career and still remains relevant to this date.  In addition, she is considered to be an individual on the cutting edge in her field. Her single, "Get Here", was later recorded by Oleta Adams, which became a worldwide hit in 1991. In 1998, she wrote the score for How Stella Got Her Groove Back. The following year, she wrote two songs for Liberty Heights, which she performed in the movie. Russell has been nominated for a Tony Award as well as Grammy Awards for her work. She co-wrote "Shug Avery Comin' to Town" for the Tony Award winning Broadway production, The Color Purple. Her eight studio albums have demonstrated her multifaceted talent.
Brenda Russell sat down with iRock Jazz to tell us about her career and current projects.
iRock Jazz: What was it like watching your father as a musician?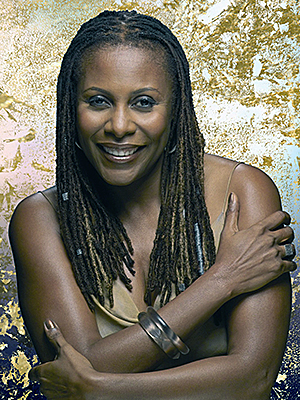 Brenda Russell: Both my parents are musical. My mother was a singer-songwriter and my dad was a drummer. I was surrounded with music and I loved it. It opened up my whole world and I was able to escape in the music. My mother always had groups at our home singing Harmony and my dad had the best voice I've ever heard. I was actually intimidated by him [laughs].
iRJ: What was it like leaving Brooklyn and moving to Canada?
BR: It was culture shock. I went from a total black community to a total white community and being the only black child in my school. In Canada, I experience meeting many white people who didn't have an agenda against blacks. That was a huge lesson for me because I learned all people were the same. Everybody laughed, everybody cried, and had humor. I was isolated from the whole black experience in the United States, but I was aware of it from my dad. My dad was from North Carolina. So he grew up with Jim Crow laws. Frankly, I think this is why he moved because it was a lot easier for him as a black man to live in Canada.
iRJ: How was it performing in the Toronto production Hair?
BR: I had the pleasure of playing many roles in the play. I played the lead, which was usually a white girl [laughs]. I played the lead and I played the three black women singing White Boys, which was hilarious [laughs]. We had so much fun and it was a great show. It was my first theater experience in Toronto.
iRJ: What was it like to embark on your solo career in the 1970's?
BR: For people who don't know, I was in a duet with my ex-husband called Brian and Brenda Russell. We were an interracial couple. We were out the same time as Leon Russell and his wife Mary, who were also an interracial couple. People would always get us confused with them, which was kind of funny. It was terrifying when we became divorced because my professional life began to change. I was writing songs and singing and it was very scary. However, I was very fortunate I had a hit single, "So Good So Right", one of my first in 1979.
iRJ: How difficult was it to have an interracial marriage in the 1960s and 1970s?
BR: That was about 1975. Our first gig was going on tour with Elton John. We went overseas and he signed us to his record company call Rocket Records. Professionally, it was sweet. Socially, we had no problems because we moved to California around that time and it was a very progressive state. The only time we had a problem is when we went overseas.  Some guy from South Africa came over to my husband and said 'how can you be with her?' The guy was so freaked out. We just laughed. Other than that, we never had a problem.
iRJ: Were you surprised at the success of Luther Vandross' recording your song "If Only for One Night"?
BR: Luther recorded the song and it was the best Christmas present I ever had. I found out on Christmas he recorded it. I knew him personally and I knew he was a big fan of my music. But, that was a huge compliment. So, until this day, I'm so honored to be a part of their recording because it was a segway into "Creepin", written by Stevie Wonder.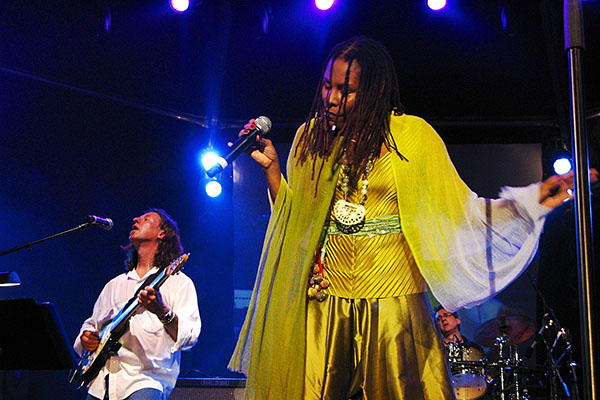 Brenda Russell performing in St. Kitts (Photo by Jana Krenova)
iRJ: What was it like working with Luther Vandross?
BR: I only had the opportunity to work with Luther in the studio on a background session we did. He had arranged background parts and called some of his friends to sing them. They were some of the best background parts I've ever heard. He was a genius at arranging backgrounds; just totally unique. I loved working with him.
iRJ: On your next album you relocated to Sweden. Why did you decide to relocate?
BR: I went to Sweden because I was invited to do a television show. Strangely enough, my record company at the time, which was Warner Bros, was dropping me from the label and they contacted them for me to do the show. The label was trying to discourage them from using me and to use one of their other artists. But the show wanted me. I went to do the TV show in Sweden and met many new friends. I found some of the most brilliant musicians that I've ever encountered. They were very savvy. I ended up falling in love with all of them and stayed there. I also ended up writing "Get Here" in Stockholm.
iRJ: Did you have a feeling that song would be such a huge success?
BR: "Get Here" was one of the most unusual songs that came to me. I feel all my music comes from God, but this one wasn't what my record company wanted because they kept asking me for dance music. I always try to do what I know best. This song was haunting me and I didn't write it down and I didn't record it. I went to bed that night and I woke up and it was still there. This had never happened to me before. I sat in my studio in Stockholm overlooking the city and I wrote "Get Here". I thought it was the corniest song ever and I was leery about playing it for anyone. I played it for my engineer and that's how it started.
iRJ: Tell me about Piano in the Dark?
BR: I had two friends, Scott Cutler and Jeff Hull, who were working on music and they sent me the song. He called me back in a few days and asked me what I came up with. I collect song titles as a rule. So I glanced in my notepad of titles and came up with piano in the dark.
iRJ: What was it like to go between scoring music and your solo career?
BR: I loved it all. I was still in at the time I didn't step back to analyze much. Doing the Color Purple was extraordinary. It took us five years to write it. My co-writers were Allee Willis and Steven Bray. We did a demo of two songs and we were up against a lot of credible songwriters. We had so much faith we would get that job we sent the two songs. Shug Avery Comin' to Town survived. It is still in the show. Not much devise when you write for Broadway because he constantly asked you to rewrite. As a pop writer, you never rewrite what you do. Either the artist wants to record the song, or they don't. In the theater, it happens every day. It was a huge emotional hill to overcome. I personally get very attached to music that I create. It was a really difficult lesson to learn that they were going to throw things out all the time and it was tough.
iRJ: How did you stay relevant?
BR: I think it's important to stick with what you know and not worry about what's going on the radio. I never cared about that. I always wrote from my heart with the gift that I was given. I stick to this and I can sleep at night. I had a lot of invitations to become a disco queen last. You would not believe the people who wanted me to record with them. I stay positive and surround myself with good people. I stay away from the dark side of the business, which is not an easy thing to do and still have faith in your ability.
iRJ: What inspired your Against the Law video honoring the 50th anniversary of Dr. Kings March on Washington?
BR: It's been a very spiritual experience. The song is about an experience I had while visiting my grandmother in North Carolina as a child. When I was about nine, my first encounter with segregation was a trip to the theater. There were two lines one was long and one was short. I got on the short line and they were on the long line. They kept laughing and laughing. I didn't understand why they kept laughing. I was from Brooklyn, what did I know. We didn't have segregation in Brooklyn at the time. I got to the window and the woman asked me, 'can't you read little girl?' I looked at the sign and it said white only. I write about this experience in the song. It took me my whole life to write about this experience in the song. I had never dealt with my pain and anger over that experience. It's one thing for people to have prejudice and bigotry towards you, but for the United States of America to declare you unworthy as a human being was outrageous. I'm sure a lot of people had buried the pain so I thought I would write about it.  It's getting played on the air in London. I wrote about an American experience, but I knew American radio was probably not ready for this song.
iRJ: Do you consider yourself more of a singer or a songwriter?
BR: They are both equally balanced. I think what always set me apart from being just another singer was I always wrote songs. I didn't realize that other artists like Aretha Franklin would call me and say 'I want a Brenda Russell song.' I didn't see that coming but I've been blessed to have these two gifts and I use them to the best of my ability.
iRJ: Will you continue to sing about social issues?
BR: As much as I'm able too. It's all about inspiration to me and I've always touched on social issues. I always try to open hearts and touch on love and peace. I'm a peaceful loving person and I love to heal people with music. That's my job. I will always write about social issues and inspire.
iRJ: What are some of your upcoming projects?
I'm working on the Color Purple, which is now a production in London. I'm promoting "Against The Law" and working on a new musical.
Brenda Russell believes in peace and love. "I am a citizen of the world and believe in peace and love to all people. Russell also said, "that is what I write about and what I sing about." It is this philosophy that she said that her music brings people together and continues to do so today, "It's the motivating force behind everything I do and the way I live. I want my music to bring people together
Words by Shonna Hillard