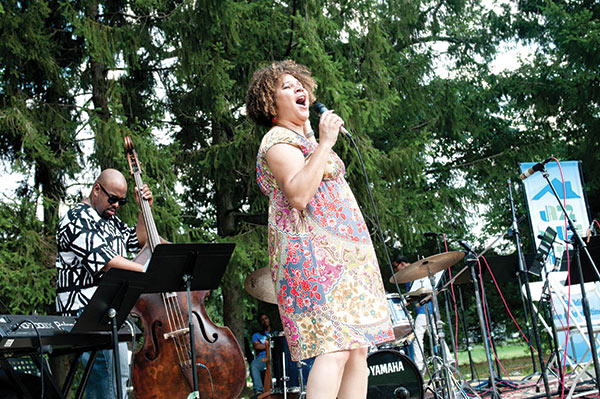 A day of exceptional music is in store for New Jersey metropolitan area residents at the 4th annual Montclair Jazz Festival, Saturday, August 17th in Nishuane Park, from 12:00 noon to 8:00 pm. This year's festival, supported in part by Stage Sponsor City National Bank, will feature a host of national and international guest artists including Artist-in-Residence Christian McBride with special guests Kenny Barron and Carl Allen; Anat Cohen & the Choro Ensemble; Freddie Hendrix Septet, Oscar Perez's Nuevo Comienzo featuring Melissa Walker; and Ed Palermo Big Band Does Zappa & More. Jazz House Kids large ensembles will perform alongside the professional musicians throughout the day.
An exciting new addition this year is the Family Jazz Discovery Zone, a collaboration between Jazz House Kids, Montclair Public Library, and the Montclair Art Museum and sponsored by Whole Foods Market featuring music-related story books read by festival musicians, a host of other kid-friendly art activities for wee-boppers and their parents and healthy eating demonstrations. Also new in 2013 is a Beer Garden sponsored by North Coast Brewing Co.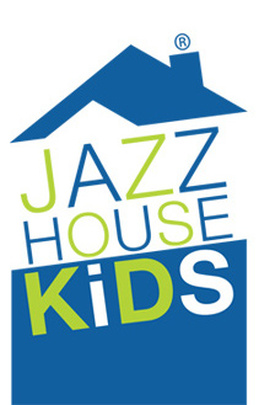 Produced by Jazz House Kids, a nationally-recognized arts organization under the direction of jazz vocalist and recording artist, Melissa Walker and with creative direction from bass virtuoso Christian McBride, the Montclair Jazz Festival is the brainchild of Walker and features international music artistry in a family-friendly environment. "It's been exciting to see how in just a few short years, our festival has blossomed into one of New Jersey's significant summer music events with more than 3,500 in attendance," says Melissa Walker, president and founder of Jazz House Kids. "Montclair, known for its arts scene, now has a jazz festival to add to its cultural offerings."
Artist-in-Residence Christian McBride is a GRAMMY-winning bassist, composer and arranger. He has been one of the most important and omnipresent figures in the jazz world for 20 years.
He also serves as Artistic Chair for Jazz House Kids. This year, McBride presents NEA JazzMaster Kenny Barron and drummer Carl Allen. Barron's unmatched ability to mesmerize audiences with his elegant playing, sensitive melodies and infectious rhythms has made him one of the undisputed masters of the jazz piano. Bandleader and in-demand drummer, Carl Allen has over 200 recordings to his credit, and has provided rhythmic support for an array of artists for nearly three decades.
Music lovers will also be treated to the wizardry and soulfulness of clarinetist-saxophonist Anat Cohen. A multiple winner of Jazz Times and DownBeat awards and readership polls, Cohen is one of the most versatile musicians in the business today. Her Choro Ensemble will feature the traditional music of Brazil, lively and celebratory.
Ed Palermo's Big Band has been performing and recording for 30 years, and in the past decade has become widely known for playing Palermo's unique arrangements of Frank Zappa's complex and entertaining music. Performances by Jazz House Summer Workshop faculty will include the Freddie Hendrix Septet and Oscar Perez's Nuevo Comienzo with special guest Melissa Walker.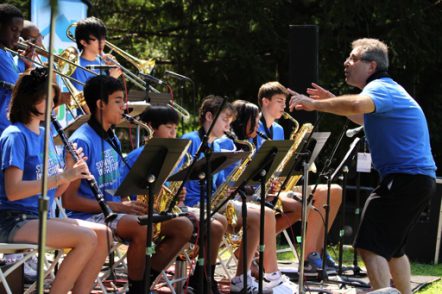 The future of the music will be showcased as more than 100 students from the Jazz House Summer Workshop perform throughout the day. WBGO Jazz 88.3FM's on-air host Gary Walker will be on hand to emcee.
The Montclair Jazz Festival is proud to welcome back City National Bank of New Jersey as the festival's Stage Sponsor. A minority-owned and managed bank, City National Bank plays a pivotal role in strengthening urban communities. "Their mission beautifully aligns with ours at Jazz House Kids, and we are thrilled to partner with them again, making communities stronger through the power of music," says Walker.
Montclair Jazz Festival joins the ranks of the Monterey Jazz Festival, SF Jazz and the American Jazz Museum (Kansas City) through sponsorship by the North Coast Brewing Co. One of the pioneers of craft beers since 1988, this California-based brewer has won more than 70 awards nationally and internationally. In partnership with the Thelonious Monk Institute, North Coast Brewing has created a special beer (proceeds of which benefit the Institute), Brother Thelonious, which will be one of four beers for fans to sample this year. The festival is also supported in part by the National Endowment for the Arts, New Jersey Council for the Arts, New Jersey Performing Arts Center, The Silver Family Foundation, Parentgiving, with festival partners The Lindeblad School of Music, Montclair Township and the Montclair Ambulance Unit.  Media partners include WBGO 88.3 FM, the Montclair Times and iRock Jazz, a cutting edge online jazz journal.
The Montclair Jazz Festival is a day of fun not to be missed. Fans are invited to bring friends & family, lawn chairs, blankets, and picnic baskets. In addition to the new North Coast Beer Garden and Family Jazz Discovery Zone, food and artisan craft vendors are part of the offerings in the historic 17-acre park. Directions here.
To volunteer, become a vendor, or for more information, visit www.montclairjazzfestival.org, visit the Facebook page, email at info@jazzhousekids.org or call 973-744-2273. For information about Jazz House Kids visit www.jazzhousekids.org.
The show will go on rain or shine.