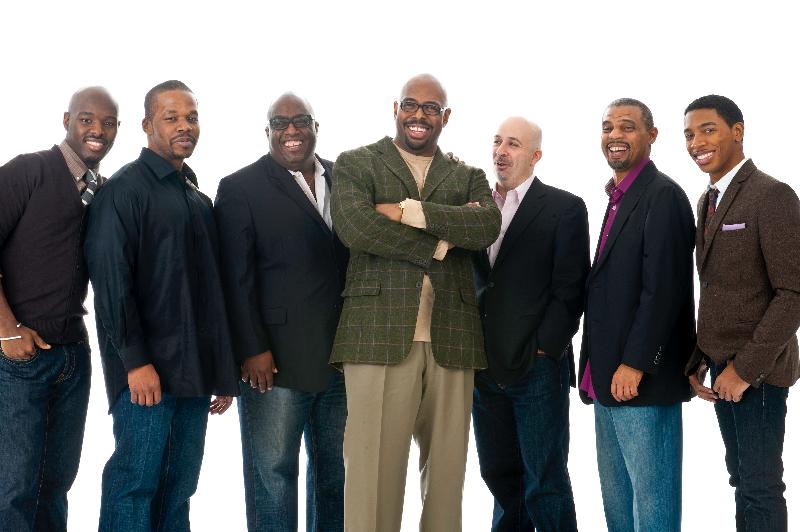 Who needs a dandelion pesto malfatti when you can have a juicy bacon cheeseburger? Instead of an afternoon of croquet and tea, how about kickin' it on the patio with an ice-cold beer? As the great Albert Einstein once said, "If you can't explain it to a six-year old, you don't understand it yourself." Sometimes it's the simple pleasures in life that feel the best. Out with his latest album People Music, the always swingin' Christian McBride and his group Inside Straight have put together a collection of tunes that anyone can snap their fingers to.
With Steve Wilson on alto saxophone, Warren Wolf on vibes, Peter Allen and Christian Sands on keys, Carl Allen and Ulysses Owens on drums, and of course Mr. Christian McBride on the upright, Inside Straight is one of the hardest hitting groups on the music scene today. Straight out of the hard bop tradition, Steve Wilson is both a brilliant sideman and a powerful soloist. His tone is full bodied and his melodic phrasing sincere. As Christian McBride would call him, Warren Wolf is the, "undisputed heavy weight champ of his instrument". Wolf evokes memories of the great Milt Jackson with his thoughtfully constructed solos and his rock hard sense of time. With Carl Allen on drums, People Music is a drummer's clinic. "To play with Carl is like having on some old slippers. You're just comfy, you just lay in the pocket, and everything is gonna be good," says McBride. Young gun Ulysses Owens beautifully contrasts Carl Allen with a driving, natural swing feel of his own. An original member of Inside Straight and longtime friend of McBride, pianist Peter Martin has a touch that is light and easy and lays down a rich harmonic center for each composition. Bringing an entirely different approach to the piano on this album, Christian Sands injects the music with youth and excitement. And holding it down on bass is the great Christian McBride. With a tone that is robust and a bouncing swing that centers the players around him, McBride creates a sound that truly has a sense of oneness within the band.
McBride's approach in People Music is, "no frills, straight ahead, right down the middle, good old fashion, grits and gravy swing." With much of today's contemporary jazz wrestling with the challenges of accessibility, People Music provides a sound that is inclusive and relatable. Jazz can often feel like a wall of sound to the untrained ear. Inside Straight does a beautiful job creating a cohesive sound, clearly marking the musical structure, and accentuating one another's solos. What makes People Music special is that it embraces a kind of beauty found in the comforting warmth of the familiar. In compositions like, "Listen to the Heroes Cry", the listener is pushed with a free and open feeling A-section and is then brought back to earth by an unexpected good ol' walking bass line. Christian McBride uses the age-old concept of tension and resolution to remind the listener of just how damn good swing can feel. Inside Straight explores many more rhythmic feels then just straight ahead 4/4 swing. In the composition "Gang Gang", drummer Carl Allen lays out a muscular 6/8 feel reminiscent of an African bembe rhythm. Simplicity is a quality that can easily be forgotten by those who have mastered their craft. To see a group of virtuosos pay homage to swing is something truly special.
By Zeb Stern