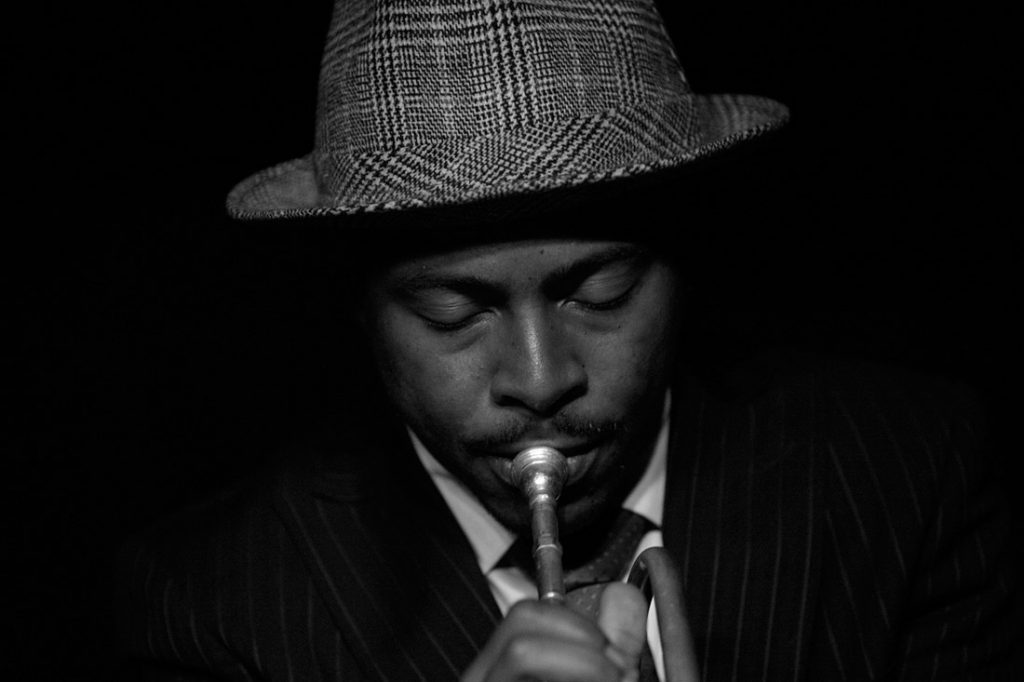 Roy Hargrove is a Grammy-Award winning trumpeter. In a career that has spanned over 25 years, Hargrove has worked with some of the most significant acts in and out of jazz, including Herbie Hancock, Stanley Turrentine, Christian McBride, D'Angelo, Common, and Erykah Badu. Hargrove maintains a consistent touring schedule, playing both major festivals and intimate concert venues. His most recent album, Emergence was released in 2009 on Verve Records.
When listening to Roy Hargrove, you are introduced to several elements – a crisp tonality, an efficient use of space, and so on. Those are the technical traits of his sound. However, when approached as an abstraction, we are presented with a sonic amalgam comprised of varying influences. And by no means does this take away from him as an artist. Roy Hargrove is without a doubt his own man. And that's why we can't help but to continue coming back for more. When speaking of music, he does so with an air of reverence often embedded within discussions of sacred texts and higher forces. In doing so, he shows the utmost respect for those that have come before him. As he has carved his own bright future, he does so whilst acknowledging the geniuses of the past. This is what makes him who he is – a genuine musician.
Recently, iRock Jazz sat down with Roy Hargrove to talk about his illustrious career and some of the individuals that have affected him along the way.
iRJ: One of your mentors was David "Fathead" Newman. Why did he have such a big impact and influence on your life?
RH: Well, the first time I saw him, I was probably about 11-years old, and I was in the summer band program. My band director at the time used to bring his friends over just to show us how it was really done. Fathead was one of the guys that came over. He was playing baritone sax and the tuba section was playing the bassline from "Chameleon" by Herbie Hancock and he just soloed over it. This was one of my first up close and personal experiences with improvisation. When I saw him making all that music and he wasn't reading any of it, I made up my mind that I was going to learn how to do that.
iRJ: You made a statement a long time ago that people are turning a deaf ear on jazz because the musicians are trying too hard to appear cerebral when they play. Do you still feel that it's the same today?
RH: Well, yeah. I think that's kind of a general problem. Jazz musicians seem like they're afraid of the swing [laughs] or just afraid of making music that is beautiful. I think it really has a lot to do with trying to be innovative or be the next new guy or make the next new message. All people want to do is enjoy themselves when they hear music live. It's up to the musicians to do that – to make sure that they enjoy themselves. I don't want to get into a thing where I'm dogging everybody; you know what I'm saying? It's just hard to find musicians that are trying to actually make music.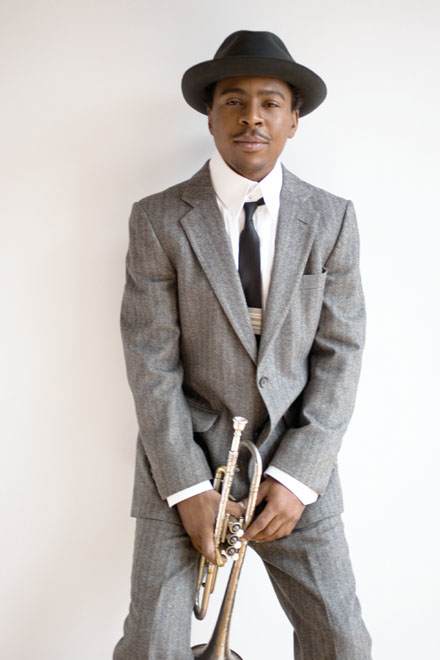 iRJ: When you were in Chicago, you used to go and play at [tenor saxophonist] Von Freeman's old place. What was that like?
RH: That guy was the truth. It's just inspirational to see guys that have been on the earth for that long, playing music like that. There wasn't a tempo he couldn't play at or a set of chord changes or anything. He was one of the greatest ever. He was definitely an icon.
iRJ: You played on the Red Hot + Riot album and tribute to Fela Kuti. What did Fela mean to you and why did you choose to contribute to that album?
RH: I had a good time doing that mainly because a lot of the instruments that they had in the studio were interesting to hear and to see since they were coming from Africa. I had never seen some of those instruments before. And to hear them on a recording was inspirational. And just to be a part of that legacy that music is something that makes people move. I'm all about that.
iRJ: If you had to put a weight on what's most important to you – tradition or innovation – which one would it be and why?
RH: Awww man [laughs]. You're killing me [laughs]. First of all, I don't think innovation is something you can try to do. It's something that happens whenever it's supposed to happen. It's something that's in the air. We can't control that. So I have to say that, for me, tradition is important because when you know where you've been, you know where you can go.
iRJ: Recently, you performed in a tribute to Dave Brubeck. What did Dave Brubeck mean to you and your career?
RH: Dave was great musician and innovator. I was just glad I had a chance to meet him. I believe that he was also a great human being – him and his wife. They were very hospitable towards me. I was just thankful that I got to meet someone that was truly a cornerstone in jazz history.
iRJ: In a recent conversation, T.S. Monk mentioned his father speaking of jazz as the music of their time. In terms of that idea, how would you describe jazz today?
RH: I'm not really the guy to ask that one, because I don't talk about the music that much. I just try to play it. That's my thing. It's different for everybody. It's an individual thing. There's a lot of cats that are playing very modern and they choose to go the route of a more modal way of playing and then there are a few that are beboppers and then you've got some guys playing the contemporary thing. So I think it's hard to say. Most of all, there's a lot of people that are trying to combine different genres. All I can say is what I hope it to be [laughs]. I can say that I wish that there were more people trying to deal with the swing and play some beautiful music as opposed to all the ugly music [laughs].
iRJ: When you started working with D'Angelo it started opening doors with contemporary music and jazz. Now, it seems that a lot of jazz guys are embracing hip-hop and vice-versa. Where do you see that relationship going today?
RH: I think that it's really good when guys can collaborate, especially with the jazz people and the hip-hop people because there's nothing that can stop us at that point, as opposed to there being dividing lines between us. I think that if you're going to play some funk or you're going to play hip-hop, you should do that 100% and not try and combine it so much with jazz. If you're going to play jazz, you should swing all the way and not try to dilute it so much. When the true collaboration comes, you keep the music pure in the particular style that you're playing in. So if you're going to play some hip-hop it's got to be bumping and it's got to have some bass. It's got to have a groove or something that you can remember. It also has to have its political standing, where it's speaking to you. And if you're playing jazz then it has to be acoustic and it has to have a beat and it has its natural beauty because of its rawness.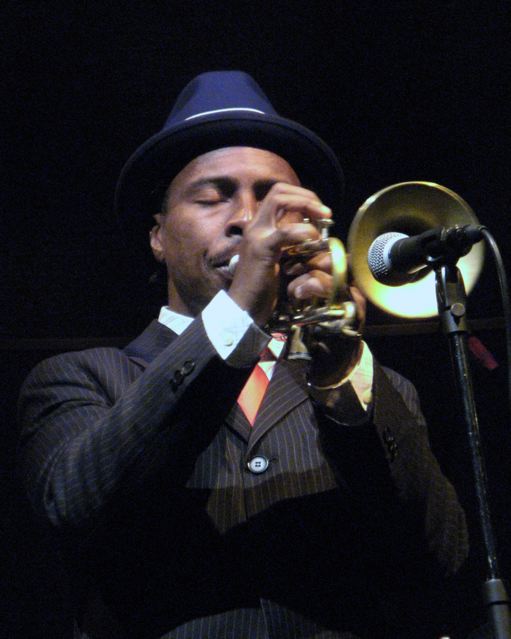 iRJ: Did you ever play with J Dilla?
RH: I never got to meet the man, unfortunately. I wanted to. But I listened to a lot of his stuff. I was a big fan of his.
iRJ: When you were at Berklee [College of Music], during the off hours, you honed your skills in a club called Wally's. That spot still exists, but a lot of clubs like it are closing. How much is that going to hinder young musicians who want to find a place to cut their teeth before they get out there?
RH: That's why I'm glad that Wally's is still around. There has to be a place for the people to congregate. I think that – that's what New York needs rights now, a place where the young players can come and see how it's done. That's what Bradley's [jazz club] was. We're kind of missing that right now. I wish we had a place like that where we could see the veterans of jazz perform and see an example of how it's supposed to be. I was fortunate enough to have been able to go and see people like John Hicks and Walter Booker, Jimmy Cobb, Larry Willis and Kenny Barron and these guys do their thing. They teach you how to be a grownup on the bandstand.
iRJ: One of your first instructors was Dean Hill. What were some of the principles that he set forth that built the foundation of who Roy Hargrove is today?
RH: Mr. Hill basically showed us how to play the blues. He would take us in the office and he would sit there at the piano and he'd play a little groove on the piano. He would play a couple of phrases that you could catch on to. And when it came time for us to perform, he would be cheering us on, encouraging us to play with heart and feeling. It's still an inspiration to me right now.
iRJ: What's new on the horizon for you today? What are you working on musically right now?
RH: I'd kind of like to get involved with some more music that involves technology since that's where we are right now. I'd like to get into some of that. My brother is like a beast on the computer. He plays piano too. So I'm interested in some of those things. But you'll see [laughs]. If I tell you what it is, then it won't be any fun when you get it because you'll already know [laughs].
Roy Hargrove is a student of the game. And as such, he is in a perpetual state of learning. This is why his career has never grown stagnant. Along the way, he has played with the best, a point that only signifies his elevated stature amongst his peers. However, even in his individual glory, Hargrove never grew too big to engage the world around him. That is why we've been able to enjoy everything from Habana to Hard Groove, from the RH Factor to the Roy Hargrove Big Band. Musical progression never stops. That is one lesson you can't learn on your own. Roy Hargrove has been acquiring knowledge for the last 25 years and we've been reaping the benefits ever since.
By Paul Pennington