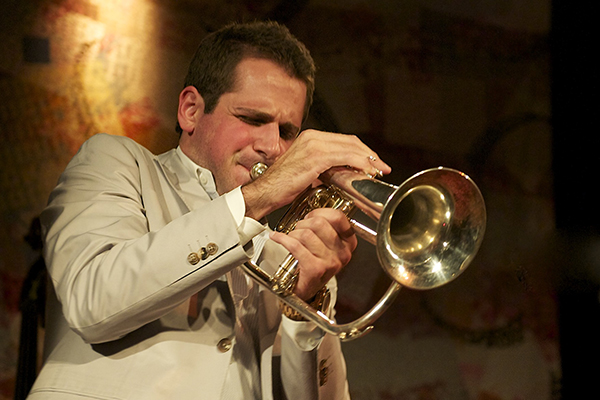 To impress the likes of Quincy Jones it takes real talent, dedication and commitment to the art of music and jazz trumpeter Dominick Farinacci has just that – real talent, the dedication to hone is craft and commitment to be the best musician. A native of Cleveland, Ohio, Farinacci grew up listening to the sounds of such greats as Louis Armstrong and Miles Davis. Being inspired by their talent and artistry he decided to take up the trumpet which has led him to win numerous competitions and awards. Farinacci won the Disney "New Star Award" as well as the "International New Star Award", previously won by pianist Diana Krall and bassist Christian McBride. His new U.S. debut album entitled Lovers, Tales and Dances features a rendition of the Quincy Jones theme song from the 1965 film "The Pawnbroker". Jones saw Farinacci while performing at the Vibrato Grill in Los Angeles and said, "This kid is 360 degrees!"
Farinacci was personally chosen by trumpeter Wynton Marsalis to be a part of Jazz at Lincoln Center St. Regis of Doha, Qatar. He serves on the board of the Amy Winehouse Foundation and is also the director of the Tommy Lipuma Creative Center for the Arts youth program in Cleveland. After Hurricane Sandy he started a campaign to raise money and toys for the children affected by the storm, and as a result, he was featured on Good Morning America. Farinacci will perform at the Atlanta Jazz Festival Memorial Day weekend and is currently working on a new untitled album.
iRock Jazz recently spoke with Dominick Farinacci regarding his music, Amy Winehouse, Quincy Jones and his future as a rising musician.
iRJ: How did you get your start with the trumpet?
DF: I started playing when I was 11-years old, I wanted to play the drums, but a couple of people in my family already played drums – everyone wanted to play drums and you needed some musical experience. I didn't have any, so they said, 'All these slots are filled, but we need some trumpet players'. So it kind of just happened by default. I got good at playing the trumpet fairly fast. I heard some really great recordings that inspired me to try and play like them, so I think it was the challenge that spurred the initial interest.
iRJ: Who are your musical inspirations as a trumpet player?
DF: My first musical inspiration was Louis Armstrong. I wasn't listening to jazz before that; I heard a recording of him and I said 'Man I really want to try to play like that', and then from there I got into different trumpet players from that generation, and a little bit later on I got into Miles Davis, Clifford Brown, and Dizzy Gillespie. Over the years the musical taste kind of expanded to all different kinds of genres of music and I noticed two consistent things I'm always attracted too is – beautiful melodies and very interesting engaging kind of groups from all around the world, so if those two things are happening I can draw all kinds of sources of inspiration from the music regardless of what kind of genre it is.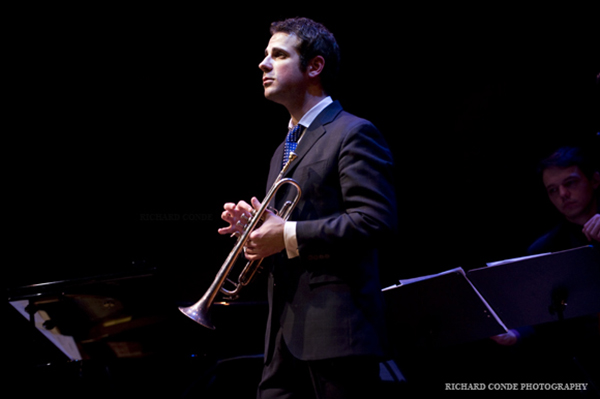 Dominick Farinacci photo by Richard Conda
iRJ: How did you become one of the chairs of the Amy Winehouse Foundation?
DF: I met her father just a few months before she passed away and shortly after she passed they started the Amy Winehouse Foundation. I always loved her music, I got to know her family and when they launched the foundation. They had invited us over to London, to perform at a couple of venues out there to help raise awareness for it, so it turned into a really wonderful experience and most recently I got to perform a special dedication of one of her favorite songs "A Song For You" the Leon Russell song. I got to perform it at the very first "Amy Winehouse Inspiration Awards" at the Waldorf Astoria in New York just a couple of weeks ago. It is a wonderful family and a really good organization and its quite an honor to be apart of it, especially because its somebody I always listened to, since she first came out. And she is such a soulful singer she really possesses all those great soulful qualities of singers that came before her – Dinah Washington, Billie Holiday, and Aretha Franklin all these great wonderful vocalists.
iRJ: Did you ever get to meet her yourself ?
DF: Unfortunately I did not get a chance to meet her. I got involved with her family and they actually scheduled an event in July, right around the time she passed away, and so we were preparing for that event and that's when unfortunately she passed. So I wish I could have gotten to meet her it's been wonderful to get to know her family and everyone who's been around her whole life; they are great musical people.
iRJ: What does it mean to you to carry a part of her legacy as a musician?
DF: I don't know about caring part of her legacy I know it's certainly a big responsibility. She was such a unique voice but just to draw on all kinds of different inspiration that she gives artists and listeners from all around the world, at her peak when she was really performing well, she just had that soulful quality in her voice that really communicates to anyone. So you take pieces and parts of any great artist and try to incorporate them in your own way. Her song choices were really great, I really loved the songs that she wrote, and I know how personal they were to her own experience.
iRJ: You obviously inspired Quincy Jones enough he show up to one of your gigs. What was that like?
DF: I was very nervous [laughs]. He was sitting right at the front table, and I was performing a song that he wrote years back, the theme from "The Pawnbroker" a great movie from 1965. He's always been one of my heroes as he is a trumpet player, because he goes way back to playing in the trumpet section with Clifford Brown and Lionel Hampton bands in the 1950s. That's when I first checked out his actual playing, and of course the great stuff he did with Michael Jackson, Lena Horne and countless others.
He heard the song when it came out on CD we corresponded and spoke and hung out with him briefly, and the next thing you know he came out to the performance, we had a long conversation that evening, and I wish I recorded it. When you're sitting in the presence of a brilliant genius of a human being you want to soak up everything that he says. Sometimes it doesn't make sense at the time but eventually they come around and you say, 'I remember he said that in a conversation,' it was really inspiring and humbling.
iRJ: You were also invited to launch the new room at Jazz at Lincoln Center by Wynton Marsalis, what was that like?
DF: Jazz at Lincoln Center the St. Regis in Doha, Qatar, Wynton Marsalis is the curator of this new series over there, so we were there in the first couple months of its opening. I really enjoyed it, we played for two weeks every night, it is an interesting club, mostly ex-pats there and some of the natives. Part of the challenge that I really love about traveling around the world playing music is that each community, each culture is its own different thing. While there are certain things in our music that people respond to universally, however if you can capture that kind of soulfulness at a high level and engage the audience you can go anywhere to play this music.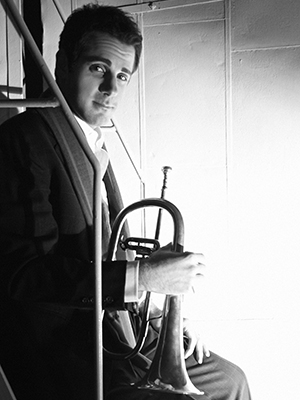 iRJ: You're moving up the jazz ranks pretty quickly, do you feel the acceleration of your assent to this different plateau when you're in the likes of the new vanguard of the young jazz artists?
DF: I guess in some ways, but as I get older I really developed a broader interest in music in general – all different kinds of genres and different rhythms and melodies as I am growing through my career step by step and I have been very fortunate over the years. It's more of broadening my perspective. I grew up listening to just jazz music, I was kind of a jazz purist but that led me to other kinds of genres and music to really get interested in. Not at all coming to carry the torch for this music rather what I do is influenced by jazz, which is at the root of my music. To have someone like Quincy Jones who at his root was a jazz musician, then he expanded his whole empire into something that's far more reaching then just the jazz genre. I know that's something that I aspire to and step by step being mentored and surrounded by the right people I am really excited to keep going and broadening my perspective on things.
iRJ: If you had to describe the next five years, how you would road map it? How much can you foresee and how much would you leave to chance?
DF: I don't like to leave any thing to chance, day by day things are changing based on my interest and passion and what directions that's leading. I am not just sitting back waiting for things to happen. In the next five years I have a really cool project lots of popular material I've been working on I want to get off the ground, I think that will help open more doors into different places in the world I go too. Generally speaking I love just bringing in musicians from different genres into my circle all working together inter-generational and creating something real special.
Dominick Farinacci will be performing at the Atlanta Jazz Festival on May 27th; to get more information click here.
By K. Gerard Thomas