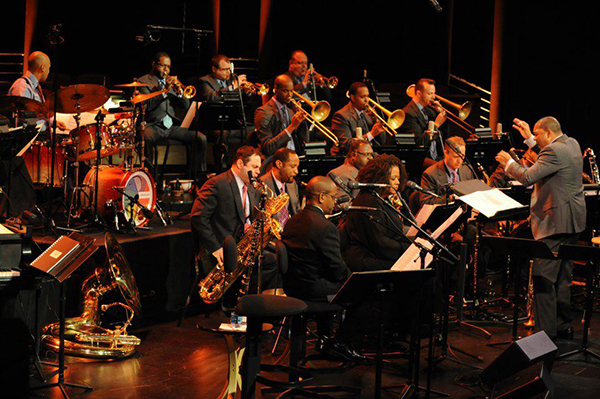 Wynton Marsalis conducts the Jazz at Lincoln Center Orchestra performing "Blood on the Fields"
At its best and most pure, music is three dimensional. Vivaldi proved it with his piece "The Four Seasons." George Gershwin's "Rhapsody in Blue" did as well, along with Curtis Mayfield's Superfly and Quincy Jones' Walking in Space. Storytelling is a skill mastered by talented and discipline wordsmiths, but to paint a vivid picture with notes and rhythm is a gift reserved only for the brightest of people. Trumpeter Wynton Marsalis has always been a musician worthy of praise; his approach to soloing and composition has always been a clinic of carving individuality out of the boulder of a proud Louisiana tradition. However, the audience at Frederick P. Rose Theater at Jazz at Lincoln Center bore witness to "Blood on the Fields," a piece that confirms that Marsalis belongs among the aforementioned masters of aural storytelling.
Originally conceived and recorded on three discs in 1995, Blood on the Fields was Marsalis' Pulitzer Prize winning oratorio, telling the tale of two Africans, called Jesse and Leona, captured and sold into slavery in America. This live performance of "Blood" is well abbreviated from the original version but was no less linear and gripping. Taking on the voices of our protagonists were singer and stage performer Kenny Washington and Paula West, best known for her film work and singing with the likes of Bobby Hutcherson and Regina Carter, to name a few. Although both Washington and West sang brilliantly throughout the evening, the Jazz at Lincoln Center (JALC) orchestra, conducted by Marsalis, who serves as JALC's Artistic Director as well, were the real stars.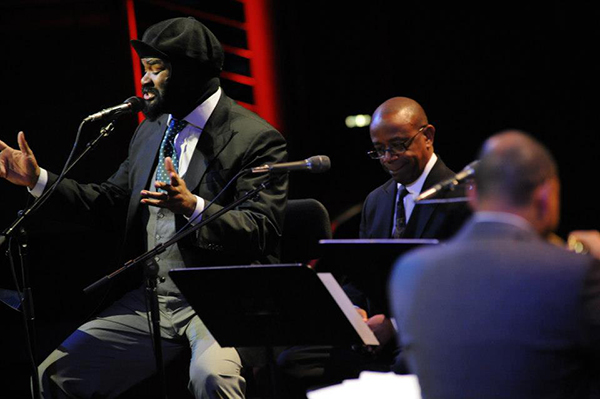 Gregory Porter
Right from the opening brass blasts of "Calling out the Indians," the JALC orchestra emoted a frantic stampede, but not of wild, four-legged beasts, but of proud men and women, former kings and queens attempting to avoid that which became inevitable for 100,000,000 of them. The interplay of Jesse and Leona was established during "Move Over" and "You Don't Hear No Drums;" West's protruding alto and Washington's almost nagging tenor acted out their back and forth of faith and futility, longing and spite. Fellow vocalist, two time Grammy-nominee Gregory Porter brilliantly portrayed the form of a land owner during "Soul for Sale," while the JALC orchestra captured the bustling of southern American streets with lively New Orleans Dixieland, with a slight Latin undercurrent during "In the Marketplace."
The most vivid moment came during "Work Song (Blood on the Fields)." As the horns played a blinding crescendo to emote a frightening sunrise, drummer Ali Jackson used his tambourine to illustrate unforgiving treatment of the slave; first rapidly shaking it, insinuating the trembling slave's apprehension to return to the fields, then following it with a single loud smack, sending a chill down the spine of an audience member with their eyes closed as they could see the crack of the overseer's whip on the slave's back. After a long pause, Jackson's tambourine was heard with a dense, slow cadence, showing the chained men and women marching to another day of servitude.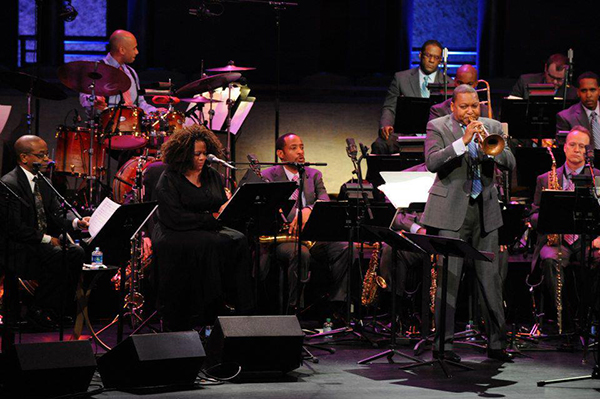 Wynton Marsalis with the JALC Orchestra
While "Blood" wrote this as a narrative through the eyes of Jesse and Leona, it was a tale that happened to far too many; a story that would've only differed in the slightest detail had another African's been told. Marsalis was a feverish conductor, and his solos on selected songs showed that he is an articulate auteur of the black struggle in America.
By Matthew Allen