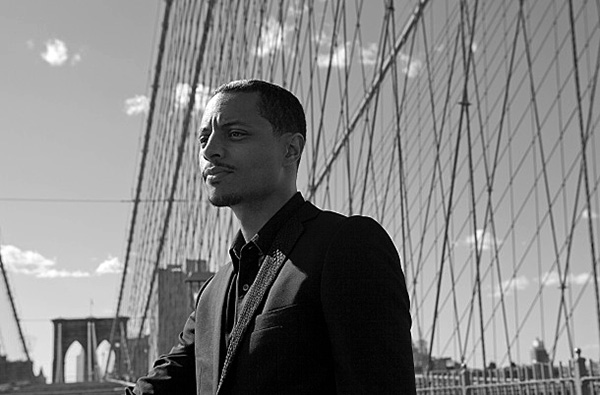 Jose James
Januarys in New York City can be deathly cold, affectively altering the heat of any building in the path of the sub-freezing winds. So, when fans of Jose James entered Manhattan's Highline Ballroom for his album release concert, having walked many blocks in 10 degree weather, it felt like exiting a freezer to stand inside a refrigerator. The sell-out crowd briskly bypassed the coat check to gather close to the stage, and soon, the collective body heat briefly aided calmed the concertgoers as they waited for the man with the "Glenlivet voice". The event, co-presented by Giant Step, whose championed James for six years, signaled the arrival of No Beginning No End, his fourth album and debut with Blue Note Records (the first of his albums available in America). With him, was his band of future hall-of-famers: drummer Nate Smith, keyboardist/organist Kris Bowers, bassist Solomon Dorsey, trumpeter Takuya Kuroda and trombonist Corey King. Each member is a sensation leader in their own rights and all contributed to the recording of No Beginning.
Jose strolled onto the stage toting his signature Yankee-fitted cap and an acoustic guitar to uncontainable cheers and applause. Bowers' Rhodes playing, with the band following, offered the capacity crowd with a sensuously funky prelude to let them know the vibe they've got in store. That's when Smith kicked into the drum intro for album opener "It's All Over (Your Body)," and all of a sudden, it didn't feel quite as cold as it did just moments before. If the not quite-fast-not-quite-slow groove played the role of the scalding, sweet hot chocolate that soothed the core of the listener, then James' supple vocals serves as the smoke coiling just above it.
For two hours, James and Co. played No Beginning No End in sequential order, omitting on two tunes ("Heaven on the Ground" and "Make It Right") playing right into the hands of those in attendance, whether they'd copped the album the day before, heard the online stream a week before or were waiting with painful anticipation for months. Moving from the North African-Moroccan anti-war anthem "Sword + Gun" to the breakout organ flavored funk of "Trouble" to the sky-blue-sparse chill of "Vanguard", James has never been more in control. In past New York performances, he exuded a reluctant charisma that seemed part of the relaxing charm of his music, only letting loose when it suited the song. Now, he's at his most dynamic as a live presence; unleashing a borderline brash confidence as a vocalist, revealing his prowess as an instrumentalist and bandleader and intermingling heartfelt confession (dedicating "Do You Feel" to his wife and unborn daughter) with a razor quick wit (joking about the cold weather).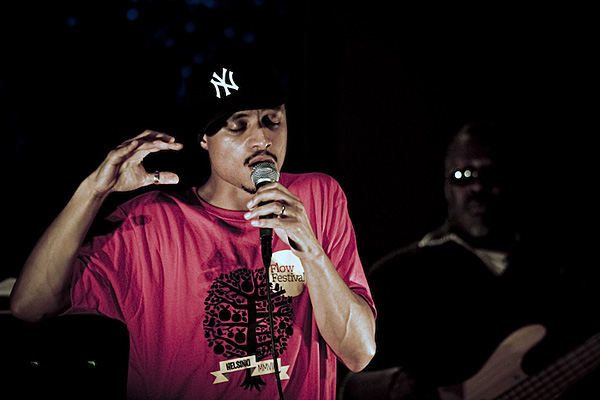 Jose James
While all members of the band played their roles with surgical expertise, Solomon Dorsey was particularly memorable for both his sublimely subliminal bass play, but his pleasing delivery as James' lone background vocalist. This was especially true during his solo of the aforementioned "Do You Feel", a ballad that recalls the glory days of Aretha's and Brother Ray's Atlantic Records. Dorsey did his best George Benson impression, scatting and playing with ease without tallying far from the theme of the song.
The climax of the night was James' three song encore, in which each song represented the best of James' artistry; No Beginning No End closer "Tomorrow", backed by Bowers and a string quartet showed James as the somber, yet hopeful jazz crooner. Then, he reached back to pay tribute to his soul music heroes with a pitch perfect cover of Al Green's "Simply Beautiful". Lastly, he dropped a percussive thermal nuclear blast on the Highline with fan favorite "Park Bench People", in which James, with special guest Taylor McFerrin put vocalese, aural turntable-ism and beat-boxing into a cauldron so hot that was relived once they stepped back into the blistering Manhattan cold night. Jose James has put the world on notice that he does not excel in multiple genres, but he excels at music, period. Whatever he was placed in before this night, James and his band smashed it into a powdery residue that blew away with the New York winds.
Set List:
"It's All Over (Your Body)"
"Sword + Gun"
"Trouble"
"Vanguard"
"Come to My Door"
"Do You Feel"
"Bird of Space"
"No Beginning No End"
Encore:
"Tomorrow"
"Simply Beautiful" (Al Green cover)
"Park Bench People"/"The Bottle/Winter in America"/"Black Magic" (Featuring Taylor McFerrin)
by Matthew Allen