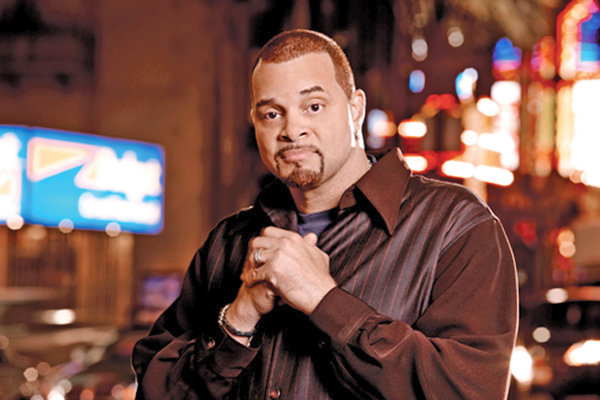 Sinbad
With a career that spans nearly three decades, Sinbad's stint and longevity in the entertainment industry is no laughing matter. The comedian says he took his laughs to the road and has performed nonstop since 1983, many of those years he was behind the mike for over 100 shows a year. The comic continued his stand-up career and also ventured into the acting arena where he shared his charismatic charm and humor, and distinguished himself as one of few in the industry who neglected to use profanity in his material.
Born David Adkins and the son of a preacher man, the Benton Harbor, Mich. native remained true to his roots, with his famous tribute to his father and his jokes about life as a child in the 1970s. A part of his childhood and a significant part of his comedy pays homage to music. The funk and jazz lover says he played the drums at age 12 and retired his experience as a percussionist for 30 years, which laid the foundation for his calling as a comedian. At all of his shows, Sinbad never lost sight of his number one fan: his dad.
"When people talk about the 'clean comedy', I never paid much attention to it," Sinbad confesses. "My father was a preacher and came to one of my early shows. My father would have backed me no matter what because he was that kind of a man. Back then, all of us were trying to sound like Richard Pryor. White, black, Hispanic – every comic was starting to sound like Richard. When my dad came to my show in Chicago, I said 'Let me change the words up and see what happens tonight while he's here.' So, when I changed it up, I still kept my edge. But, I was not only able to talk about every subject, I was able to go more in depth because I was able to push the wall more when I was clean [in my comedy] than being dirty. When I went on the road and made that decision to go clean and change my words, I don't think I lost any of my bite. It wasn't until I got to L.A. that they concentrated on 'what kind of Negro is he? Is he the good Negro or the bad Negro?' Then it became 'he's All-American and the squeaky clean one and I said, 'No, no no, I am not that brother. Out of all the brothers, I'm not the craziest one. So, there became a certain perception and because I was a comic, they made all these assumptions about my life. That's just one thing on stage I do."
Although he is infamous for his stand-up comedy, which includes his HBO specials, his appearance on Star Search, his time as a host on Showtime at the Apollo and his performances at nightclubs and theaters all over the world, the humorist admits he had to fight to prove his skills as an actor.
"I wanted to do movies and I wanted to do everything," Sinbad adds. "I wanted to be a spy, a killer and a comedian – I didn't care, I just didn't want to be put in a box. So, 'being clean' was never a problem. Being funny is what's the hardest. Whether you're clean or dirty, it's how do you stay funny and how do you stay focused on being funny and creative."
Over the last 20 years, Sinbad admits entertainment on the small screen has drastically changed, which makes it's practically impossible to compare today's age of television programming to the times when he guest starred on the classic television show The Cosby Show and co-starred on A Different World because of a new standard that has developed with the introduction of 'reality television'.
"Reality shows aren't even TV," he says. "That's called 'how do we save money so we don't have to pay an actor?' "Let's see how many people we can get to act stupid on TV. Now, everyone's a star and it used to be where people said, 'Oh God, I wish I could act and I wish I could sing', so there was always that wall that made you feel proud to be a performer, but you had the time and talent to push barriers because that's what you did. I was blessed to be a part of The Cosby Show and A Different World, and that's historical. That man [Bill Cosby] is an incredible individual. We talked about how deep this brother was and how he went so far beyond being a comedian."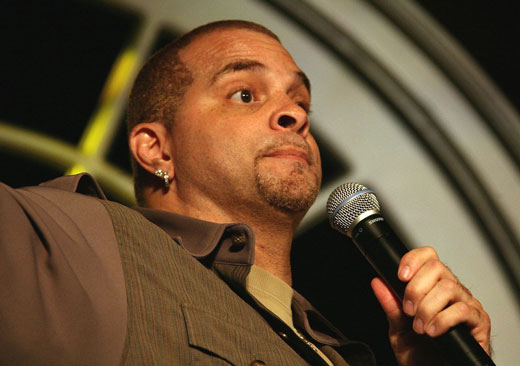 Sinbad
Sinbad confesses he had his own spin and unique approach to pop culture as the star of his own reality television series, Sinbad: It's Just Family. With the reluctance to participate in the deception and direction of the trend, the comic says he wanted to create a sitcom, but was criticized for it. The entertainer acknowledges a majority of 'reality TV' is deceiving and says viewers haven't seen a true reality television series since the first season of MTV's The Osbournes.
"I told them that I'm not here to fight with my family," he comments. "I'm here to actually show people that funny still works. The producers said 'We need more fighting' and I said that's not why I'm here or what I'm trying to do. If you leave me alone, I can show you another way to make your money with it."
Sinbad adds that life in the public eye isn't easy as times, especially when one's issues are magnified for all to see and judge, with the assistance of various social media sites and forums.
"They almost revel in what happens to you and almost get giddy when an entertainer falls down some steps or an entertainer gets busted driving drunk," he says. "The new news is let's make an entertainer look stupid."
Sinbad said the time he spent separated from his wife, Meredith, before they remarried was spent rearing his children. During that time, he admits he learned and understood things better.
The comic credits the late Redd Foxx as an influence in his career as a comedian, an entertainer and a performer, which he says he was careful to pay special attention to.
"It was a blessing working with him because he showed me how to work in front of a camera, he showed how to hit my mark, but the main thing he taught me was to not let anybody take my funny from me," Sinbad recollects. "I didn't realize that you would fight for you were all of the time. You had to constantly fight and maintain why they hired you in the first place. I didn't realize I was pissing people off because I had the nerve to know what I wanted to do. That's why a lot of comics become angry. They used to be so nice and now they're so angry."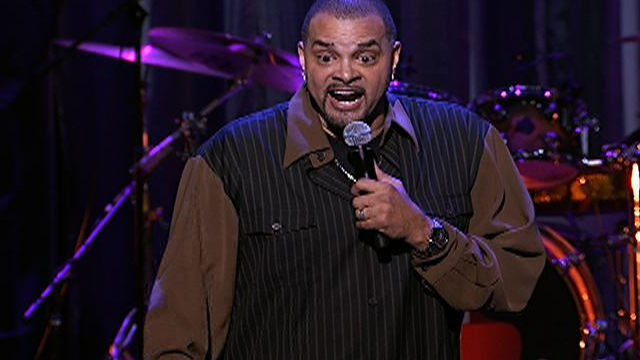 Sinbad
With a background as an instrumentalist and a music lover, the entertainer says his profession as a comedian parallels to that of a musician.
"Who's a better emcee than us?" he asks. "If we have to stretch, we can stretch. If the lighting doesn't work, we can work it. If the sound system goes out, we can work it. We're a natural emcee behind the microphone. Comedy and music is a strange parallel, especially when it comes to Jazz. Jazz is known for improvisation and moving notes around. In comedy, you're doing the same thing. Plus, most comics used to play an instrument and most of them played drums because it's about the timing and stuff."
The world-renowned entertainer confesses he has no plans to leave the microphone, but commits to continue to give back to the community, in addition to work with younger talents, produce and support the entertainment ventures of his daughter Paige and his son Royce.
"It's great when what you do can help somebody," he says. "I think that's greater than even being an entertainer. For you to live in your own little void with what makes you money is really a waste of space on Earth. If you're just concerned about where you live or what kind of car you drive, you're really just wasting space."
Sinbad says there's more to come for his career and doesn't want to pigeon-hold himself to one aspect of the entertainment business.
"I haven't scratched the surface of what I can do yet," he comments. "As long I have breath, I'm going to try to push the limits to do something else."
Sinbad will travel to Chicago and perform at The Chicago Theatre on Feb. 15. Visit www.thechicagotheatre.com for more information on tickets for this show.
Follow Sinbad on Twitter at @sinbadbad
By Iya Bakare