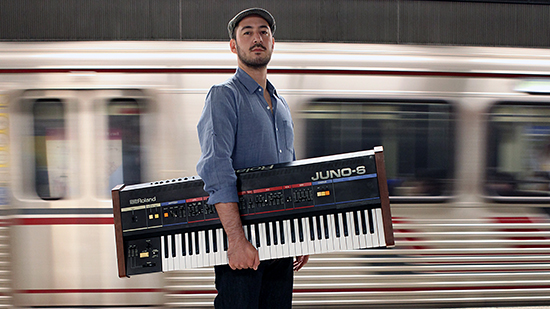 Mark de Clive-Lowe
Mark De Clive-Lowe is a jazz musician. Mark de Clive-Lowe is a DJ. Mark de Clive-Lowe is a producer. Mark de Clive-Lowe is a performer. Regardless of how many titles have been used to define Mark de Clive-Lowe, one word seems fitting to sum up the New Zealand bred, L.A. based, internationally known artist—free. While that word is often generously tossed around in music circles to describe how certain individuals have severed the restrictive manacles of labels and genres, the musician found freedom not by abandoning his music foundations, but through a series of life affirming experiences that helped to weave all of his many influences into a sturdy musical fabric. These experiences marked significant shifts in the artist's life and ultimately led to his career as a prolific remixer, producer and an aurally, stimulating live performer. His wildly popular, one of kind jazz club/dance party, reverently known as "CHURCH", bears testament that Lowe is taking music in a direction that would make Miles Davis smile and keep the b-boys rocking.
Sharing Miles' vision for progressive, perpetually evolving Jazz, de Clive-Lowe's musical development that formed his current musical identity began with a much more straight ahead approach to music. "I grew up in New Zealand as an aspiring young jazz piano player," he says. "Ultimately, I wanted to be in New York playing with Betty Carter and Art Blakey. I was really into that whole young lion's vibe."
Reared by his father on a generous helping of big band giants like Count Basie, Benny Goodman and Duke Ellington, coupled with his older brother introducing him to Errol Garner, Chick Corea and Ahmad Jamal's music, it would seem he would carve out a path leading to weekly gigs on the New York Jazz scene and setting up the next 30 years of his life.
Not so. Late 1996 marked a crucial turning point for de Clive-Lowe, which came in the form of an on-stage epiphany while playing the Town Hall in London. "I came back to New Zealand [from Berklee College of Music] and started playing lots of Jazz gigs," he comments. "Once a month we would play this club that featured Techno, Acid Jazz and Funk. So, we were jamming with DJ's, percussionists and more in this free form of music. Then, the next day I had to go back to my serious gig thing. I thought, 'why am I being so serious about the serious stuff when I can be more serious about what I love?'"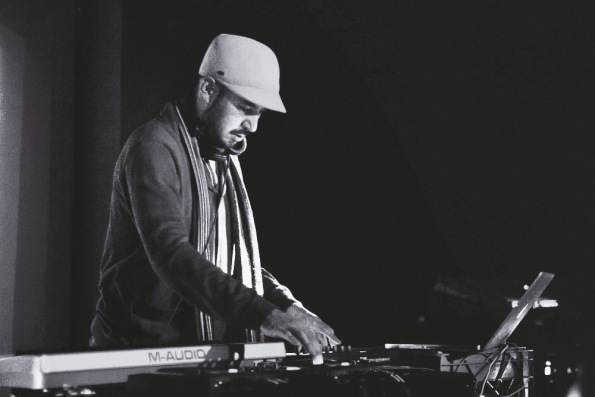 Mark de Clive-Lowe
Eventually, de Clive-Lowe 'fell headfirst' into underground club music, moved to London and ended up staying there a decade. "While I was in London, I was so entrenched in this counter culture club music that fascinated me on so many different levels. And I was very consciously running away from the Jazz musician on one hand and consciously deconstructing the jazz musician within."
 MdCL's London years and his inner struggles with Jazz and electronic music germinated the seeds of what would become one facet of his one of a kind, signature live show, "CHURCH", which he started in Los Angeles four years ago. "When I was in London, I had a resident party at the London Jazz Café called Freesoul Sessions," the musician says. "The premise was basically fully improvised electronic club music." de Clive-Lowe's ambitious project featured him organically producing full out songs on the spot with drums, keyboards, impromptu horn sections and singer's free-styling song lyrics on the go.
As he continued to explore this side of himself he avoided his straight ahead Jazz underpinnings, even to the extent where he would turn down "Jazz" gigs and favor synthesizers over a piano. In L.A., he did a gig with L.A. singer/writer, Nia Andrews, which emerged as another crucial turning point. "Nia asked me to play piano at her debut show. I resisted and wanted to play to Rhodes to give it a hipper sound. She insisted on the piano and to my surprise it reminded me of how much I love the piano. So, in doing so, I began to really embrace Jazz again and this essentially became the key point of difference to start "CHURCH" in Los Angeles."
"CHURCH", aptly named by Andrews partly because the first show was first held at a venue named Angel's and on the first Sunday of the month, was a hit. According to de Clive-Lowe, "CHURCH" is about being in the spirit of music and creativity, a celebration of music, dance and life. "CHURCH" became the canvas on which de Clive-Lowe painted the picture of his journey of music in one night. He recently celebrated the one year anniversary of "CHURCH New York" with Questlove of The Roots and other world renowned musicians.
In "CHURCH", Mark de Clive-Lowe manifested his visionary mash up of Jazz and club music, while his live performance have made him one of the most in demand live performers in the world. Both have given him the freedom to freely express his art and connect with people on deeper levels. "I love to be able to share music and my own creative idea," he admits. "In the moment with an audience, it's very special. There is something quite unconventional that I am presenting to people, but the reference points are obvious. The Jazz, the beats, the club music being produced right in front of you is amazing. People from all walks of life have told me that seeing my process lets them know that they can do what they want to do anyway they want to do it. There are no rules. I think everyone realizes that anyway, but to be able to remind people of that, I feel very fortunate to share that."
Mark de Clive-Lowe has not only found freedom in his own music, but is helping others around discover their own freedom one beat at a time.
Mark de Clive-Lowe is currently touring worldwide. Visit www.mdcl.tv to experience more.
By Johnathan Eaglin