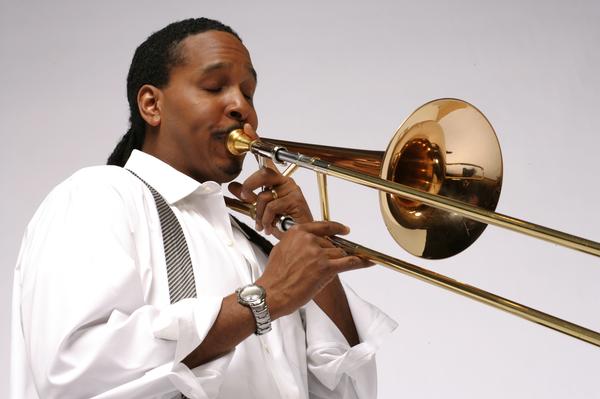 Vincent Gardner
As a musician and an instructor, Vincent Gardner balances the scale of teaching the mechanics of playing Jazz music, yet values the importance of real-life experience in the industry. As one who performed with The Count Basie Orchestra, The Duke Ellington Orchestra and others while enrolled in school, the trombonist says he is extremely grateful he had the opportunity to work with legendary musicians at the end of their careers. Those skills and relationships provided a different perspective to his craft than what he could learn in a class setting, and Gardner shares those lessons with his students at Wynton Marsalis' Jazz at Lincoln Center's Swing University.
The composer says he recently added Jazz 101 to his existing class roster, which was turned over to him by Phil Schaap. Gardner continues to teach his Bebop course, which stemmed from a conversation with Schaap about the subject matter.
"I've always been a history buff and it started with a conversation I was having with Phil about an idea for teaching a course on Bebop, and I started teaching it," he recounts. "I was interested in teaching it because it was the first style of music I started to play when I learned about the music of musicians like Charlie Parker and Dizzy Gillespie. Bebop originated from the Swing era in Harlem. When I first moved to New York, it wasn't Bebop that was being played, it was Hard bop and I always wanted to teach people the difference between the two."
Gardner says he was attracted to the sound from the Bebop era, which was characterized by the compositions of original, complex melodies over well-known chord progressions in faster tempos, and created room for innovation. When the Chicago native moved to New York, he heard music that featured more loose rhythm sections and had more Gospel and R&B influences. Hard bop musicians Thelonious Monk, Miles Davis and John Coltrane influenced this style of music. Utilizing his expertise on the subject matter, Gardner fueled his passion for sharing knowledge and love for music to rest his instrument for a moment to share the history of music with others.
Since the artist started his professional musical career, he says he has witnessed a change in the scope of the Jazz scene.
"Musicians are getting more fundamental knowledge through education in schools and Jazz is getting more exposure," Gardner comments. "Some people who are playing it now weren't playing it before because it's become worldwide, like in the countries India, Israel and other parts of the world."
On the contrary, the trombonist adds actual band experience is lacking and is almost nonexistent, which was an asset for a musician to experience back in the day, and he says was pivotal for his career.
"Getting a gig [and going on the road] with Art Blakey was school and college," Gardner says. "He had a thing for helping young musicians, and after working with him, musicians were ready to be bandleaders. Mentorship is the best road for musicians. I convey my story and the stories of the musicians before me at Swing University."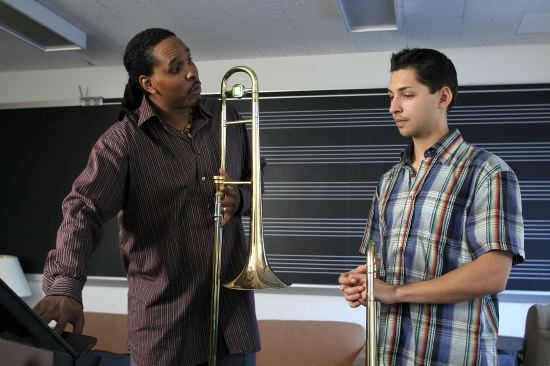 Vincent Gardner with Paul Tarussov
Along with musical techniques, Gardner commits to sharing the stories of the legends before him, such as John Coltrane.
"He [Coltrane] learned about work ethic and repetition, which is far better than what you can get in a book," he explains. "It is human experience and you can't write that down in a book. Being in a band of mixed ages and being in that environment night after night is the best way to do it. We can't get that back, but we can convey the love and appreciation for it."
Along with a resilient work ethic and unexplainable talent, Gardner says being out of the norm, such as certain physical attributes, help musicians to play on tempo.
"If the moon's aligned correctly and they work hard, those individuals can be great musicians," he adds. "I had long arms as a kid, which is great for me because I play the trombone. My father and brother played the trumpet, so I wanted to play something different. I remember sitting in the counselor's office with my mom and selecting it on the list, so there wasn't much to it."
The trombonist admits he tickles the ivory keys as well, but his passion lies with his horn. As a composer, artist and instructor, Gardner's lessons in musical techniques and appreciation for history far exceed what he teaches in his classes. As he travels on the road to his performances and teaches his classes, Gardner says he will continue to share that passion and gratitude for the craft with others.
In January Jazz at Lincoln Center will showcase the work of Gerry Mulligan, an artist who Gardner says was an innovator during his time. More information on Swing University Winter course offerings can be found here .
"He always heard music his way and had a different spin on things," Gardner comments. "He was innovative, which is why people were attracted to his 'cool school' approach."
by Iya Bakare