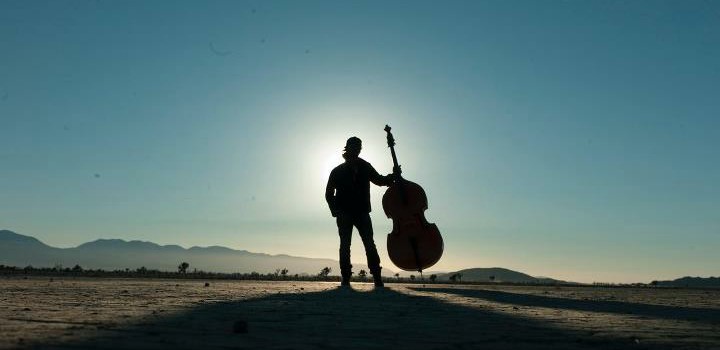 When bassist Ben Williams played in the 2009 Thelonious Monk Institute competition, he performed in front of some of the world's greatest bass players: Ron Carter, Christian McBride, Dave Holland and Charlie Hayden. The then 25-year-old proved he could handle the pressure, winning the coveted award, and becoming an instant star.
Since his victory, Williams has been on a tear, playing on stage and records with a host of virtuosos and legends like Jose James, George Benson, Pat Metheny and his latest venture with super group, Next Collective. However, the highlight of this phenom's short career has been his 2011 release, State of Art, a multi-genre inspired LP featuring his wildly adventurous playing style over soulful originals and affectively eccentric covers. After one year, Ben Williams looked back with iRockJazz on his prodigious debut.
iRockJazz: State of Art has a stellar lineup: Christian Scott, Gerald Clayton, Jamire Williams and Marcus Strickland. How did you assemble them all?
Ben Williams: These were my favorite musicians to work with. I'd worked with all of them before in different settings, different bands; me and Jamire worked together with Jackie Harrison, I did lot of a gigs with Gerald's trio, Matt [Stevens] (guitar) I'd met through Christian. These are guys I just really love playing with and we've all had good times on the bandstand. I thought the way they approach music fit really well with my concept of a band. They're all very unselfish musicians, they all listen very well and they play toward one goal. I love playing with guys like that because there's magic to be made.
iRJ: The album was recorded at New York's Sear Sound Studios, where lots of great records have been made lately. How much of a difference did it make with the album?
BW: The label suggested that studio. I'd recorded there before on a couple dates, so I was familiar. Sound wise, it's one of the best studios in New York. You get such a really warm sound in there. The natural sound you get before mixing is already great. It's really comfortable; it feels kind of like a home.
iRJ: Your choices of covers were incredible. When I saw "Little Susie" on the tracklist, I thought, 'Is that the Michael Jackson song from HIStory?' And it was! How did that one find you?
BW: I'm a big MJ fan and I like his whole catalog. It wasn't necessarily one of my favorite MJ joints, but I always thought it had a really cool melody; very simple. It didn't sound like a typical Michael Jackson song; it was almost like a classical piece. Whenever I cover a tune, I have more success working with simpler tunes – it gives me a lot more room to work with, so I can do my thing to it.
iRJ: You also covered "Part Time Lover." Jazz covers of Stevie Wonder aren't uncommon, but your arrangement is slow and bluesy.
BW: That came about kind of by accident. I was sitting at the piano messing around, coming up with ideas when I came up with this little vamp, chord progression. Then, I heard the melody come into my head and it sounded good, but I said, "That's not mine." I slowed it down in my head and I figured out, 'That's "Part Time Lover."' I didn't sit down and say I'm going to arrange a Stevie Wonder tune. It happened pretty organically.
iRJ: Then there's "Things Don't Exist" by Goapele. Unlike "Part Time Lover", you were pretty loyal to the original arrangement, which sounds dark without lyrics.
BW: I've been a fan of Goapele for a while and that tune is one of my favorites of hers. When I was putting together music for the record, it kept popping into my head. I wondered if it was worth doing it as an instrumental. Then I thought of Marcus [Strickland], who played soprano on that song. He's incredibly gifted at interpreting vocal melodies. In his band, he does a lot of arrangements of tunes by vocalists and he transcribes vocals, and his style already is, though very rhythmic, very melodic and lyrical. So, I thought Marcus would kill this, and I gave it to the guys to see what they could do with it, and it was perfect.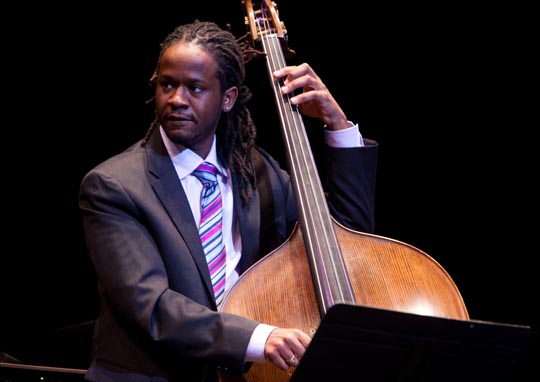 iRJ: On to your compositions. "Home" was the first song that really caught my attention. How was it born?
BW: With "Home…" I used to do a lot programming – beats – for local artists. So, that bass line was from a beat I did years ago. It was really just a bass line and drum rhythm. I was going through stuff on my computer one day and this track came up and I thought, "Man, this bass line is kinda killer." Then, there were pieces of music I had written aside from that, and I just pieced it together, and it worked.
iRJ: Another standout track is "November."
BW: I wrote "November" while I was in college in November 2008 when Obama was elected.  I still have faith in Obama. I think he definitely needs a second term. I think we're at a very pivotal point in our history. It's kind of bringing out the true colors in a lot of people too. We have our first Black president and we're legalizing gay marriage – all these fundamental changes – and the people who aren't really down for all this change, they're really coming out of the woodwork.
iRJ: "Moontrane" contains a Go-Go vibe, no doubt inspired by Chuck Brown. Now that he's passed on this year, what did he mean to you as a fellow D.C. native?
BW: Chuck Brown is to D.C. what Louis Armstrong is to New Orleans. He's a hero to D.C. Without him, there is no Go-Go, and you can't imagine D.C. without Go-Go.
iRJ: Emcee John Robinson joined you on "The Lee Morgan Story." What is it about Hip Hop and Jazz that makes it such a potent combination?
BW: The essence of Hip Hop and Jazz come from the same place. They're both music that come from a struggling urban setting. For Hip Hop, in more of a poetic way, artists talk about their lifestyle, how they grew up, and Jazz is the same way. We forget about the social context in Jazz, like [Max Roach's] Freedom Now; Duke Ellington's music celebrates Black heritage; Mingus was very socially conscious. It all has the same DNA. If you take the drum pattern of a Roy Haynes tune and place it next to a Hip Hop beat, they'd sound the same. It's not apples and oranges – more like apples and applesauce.
by Matthew Allen