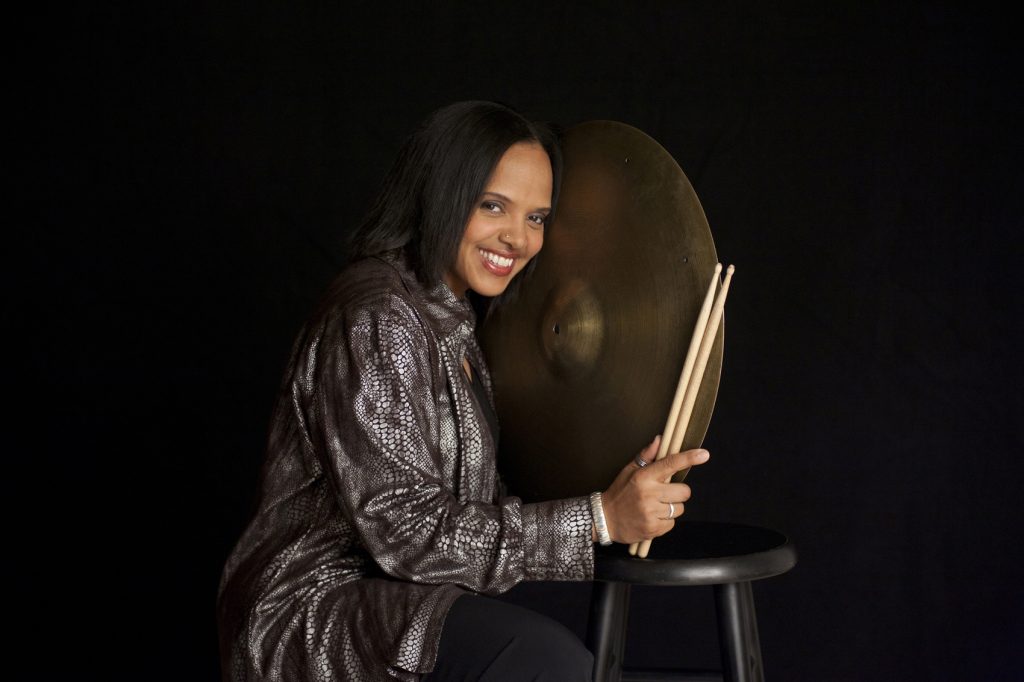 "Keep supporting Jazz. Its a great art form that should never be forgotten."
These are a few words from Terri, letting us know how much her passion is for Jazz; it still rises in her. Terri Lynne Carrington, a 2011 Grammy award winner for her CD, The Mosaic Project, has very strong staying power in the realm of Jazz and hopes to spread the love of Jazz to others, who love it just the same.
After winning the Grammy for The Mosaic Project, it became a special meaning to Terri because of the nature of it all;the honor and prestige of the Grammy award itself was sort of like the final recognition of what shes been doing in the field of Jazz in the past years. The concept of The Mosaic Project consists of 21 people which are all women that actually didn't start out in this fashion. Terri started with just a few women then overtime, added more. One of the very first musicians on the project was a woman from Israel named Geri Allen, then came Esperanza Spaulding. Overtime, Terri added more women and could vision that she was on to something special, which consisted of an all talented women group and mentioned that she felt real good about it.
"You know, I just kept adding and it became sort of like a retrospective of my career to have worked with so many women over the years."
Normally, and specifically in the realm of Jazz, you don't hear about too many women musicians all in one band, however, in Terri's project, there are many, also many women musicians have come before her that are still going strong today that she admires like, the great pianist and singer, Patrice Rushen and Geri Allen. There are even female saxophonist and base players out there doing their thing. But one trumpet player that she ultimately admires is Ingrid Jensen, who has been around since the 80's (just like Terri). Therefore, having retrospect on what Terri has produced, gives her a very proud feeling about her accomplishments and realizes that shes on the right track that she has had the privilege of working with talented women.
"I think I have a way of putting the right people together; thats the producer in me coming out. I think that was really the magic there of putting everybody together that work well together on one project that has really strong, strong players. This project has unified us and is a celebration for us."
Since the Grammys, Terri has been working on a project called, Money Jungle; a remake of the original Money Jungle done by the late and greats, Duke Ellington and Charlie Mingus. On her project there will be Christian McBride, Gerald Clayton and a few other surprises. Terri is just about finished with this project has rearranged some of the original songs and has added a couple of new songs. Now, as far as a label is concerned, there isn't one yet, however, she's discussing this and will have one soon.
"I do know that this project (Money Jungle) is in the middle of editing and overall, I'm excited about it!"
The late Duke Ellington said, "Jazz means freedom of expression." Terri agrees with this statement, feeling that its a natural thing for artists to use elements of the music of their generation and to mix it with the higher art of jazz. Therefore, in this day and age, with all the R&B, rap, rock etc., you can still see jazz music pushing through and holding on.
"Jazz does not mean music from the 30's, 40's, 50's and 60's. Jazz of today, hopefully incorporates strong roots and the history of tradition also with the license to move forward and in my mind this makes Jazz fresh again."
Terri Lynne Carrington simply has a real love for jazz and it shows. The percussionist is currently on tour with Dianne Reeves as a special guest. This past August she performed at Jazz festival Martha's Vineyard. To find out more about this amazing musician, you can log on to www.terrilynncarrington.com
Geraldine Smith