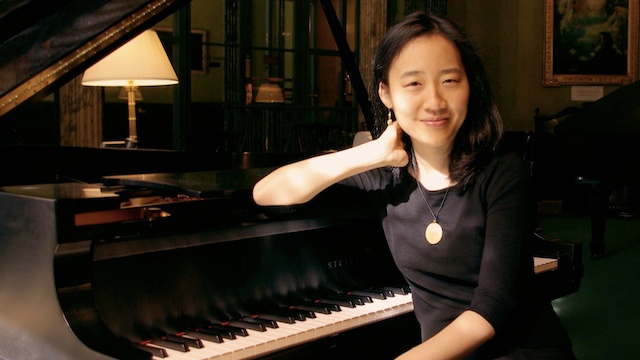 "I don't consider myself to be the bravest person….I went through some pretty embarrassing moments, falling on my face and making mistakes. But there's something about the music. Like I said before, it's so alive." – Helen Sung
Helen Sung is a pianistic virtuoso whose musical beginnings have allowed her to create sweeping musical expressions. Her technical merits as a musician are those of a classically trained pianist, making her better suited for concert pianism. So how did she move the pendulum into jazz? Her journey has taken her into the depths of the art form; apprenticing with some of jazz's best. In this first interview, we are given a glimpse into some of her most humble beginnings and musical inspirations. It is an open and honest reaffirmation of her evolution into jazz. Helen is refreshingly candid about who she is as a jazz musician. Her voyage is a symbol of personal courage and passionate determination. Helen Sung will be at Jazz in the Valley at Waryas Park in Poughkeepsie, New York on August 19th. She will also be traveling with the Mingus Big Band this month to Japan, Taiwan and Thailand. To learn more about Helen Sung please check out www.helensung.com .
[The following is an edited version of a longer conversation]
iRJ: I read that a "Tommy Flanagan solo changed everything for you," causing you to leave classical music and switch to jazz. What exactly changed?
HS: Well, there's a little bit of a back story! I was trained as a classical pianist, and trained under a teacher from the Russian school, which means she was very strict and basically considered anything other than classical music not worth listening to. So that was the kind of environment I was living in. I left high school and went to college at the University of Texas at Austin and thought I was well on my way to becoming a classical pianist, whatever that meant! Because I'm not from a musical family there was no precedent. So I was almost done with my undergrad there and a friend of my mine convinced me to go with her to a Harry Connick, Jr. concert. And I didn't know who he was!
iRJ: Really?
HS: No. I mean classical pianists; we're in practice rooms like twenty-four seven! I was particularly geeky. And she said, "Oh no, you'll love it and he's cute and everything." He was coming to town with his big band. And I said, "Okay, sure!" And so we went. I remember enjoying his singing and big band. But in the middle of the concert he sat down and played a couple of solo pieces. And I remember having a visceral reaction to it like "Whoa!" I never thought it was legal to play the piano like that! (Laughter) All the rules I'd been taught all my life, he had a total disregard. But this music was so alive. Something about jazz that was so alive. It really grabbed me. Ironically, but that same week the jazz piano professor at the University of Texas gave a faculty concert. I was just so fascinated. They were offering an intro to jazz piano class, and so a bunch of my friends who majored in classical music decided to take that class. I felt sorry for the teacher! He was so patient with these "non- swinging" classical pianists! But after that my friends and colleagues happily went back to their classical courses. But something in me said, "I need to find out more about this music." I begged the jazz professor to give me lessons. He finally relented. One of the things he started me on was this Tommy Flanagan recording called "Confirmation." And I remember just being so amazed by the clarity of his improvisation; it was like something that was written out, and the sound, his touch and the sense of swing. And after that I thought, "Man, I have to be able to play like that one day!" So that just started me on the whole journey of becoming a jazz artist.
iRJ: Wow, that took a lot of courage!
HS: Yeah! I don't consider myself to be the bravest person. I always tell people, "If I could do it, anyone can do it!" I went through some pretty embarrassing moments, falling on my face and making mistakes. But there's something about the music. Like I said before, it's so alive. I credit jazz music because it has such a close connection to who you are personally. It is a music that has made me a better person because I've had to deal with myself. In jazz you can't really hide behind the notes. Do you really have something to say? Are you going to do the work that it takes to be able communicate it? Will you say it in an intelligible fashion? So yeah, it was a lot of work. Looking back I can't believe I did it, actually.
iRJ: Well, I'll say it again, that took a lot of courage! Kudos to you!
HS: Aww, thank you!
iRJ: The musical process is about creativity and innovation. What inspires you to create new music?
HS: While being trained as a classical pianist, I never thought about composing. That wasn't something that we were encouraged to do. I was fortunate enough to get into a jazz program. I really credit the Monk Institute of Jazz Performance and their program. I was part of the first class, which was at the New England Conservatory in Boston. Since then it has moved around; it was at the University of Southern California for a while, and then it went to Loyola, New Orleans and I believe it is back at UCLA now. I really credit that program with giving me the opportunity to become a jazz artist, because I needed time; I was playing catch up. It was so amazing for that time to be spent with the masters and the architects of the music. So basically they kicked my behind for two years! It was a two year diploma program, and Ron Carter was the artistic director. I remember being paralyzed at first when I was learning the music. I remember saying, "I want to play something that's never been played before; I want to be totally original…." This was when I was still back in Texas. And of course nothing would come out! Or I would be so tied up in knots. I remember the professor saying, "Helen, just play something! You know, it's already been played. This is not the first solo you're going to play or the last one. Just play something and don't over-analyze yourself into a corner." Ron Carter said, "You want to develop your voice? You want to have a personal style? Then write music!" He would see us once every two weeks, but we would have to have a new composition for him every time. It was a very small program; it was just seven of us forming a jazz septet. And we would play these compositions and he would critique them. The discipline of having to do that…wow! I never thought I would write anything that I would like enough to play. Then I realized I had different reasons for writing music. I was having problems with a certain harmonic progression, so I said instead of putting it as an exercise; why not put it in a song that featured this harmonic progression? And it became a song that I still play today. Writing music is part of the self-expression of jazz. It's inspired by the music itself. I am so grateful to be a jazz musician because it has freed me to even dare to see if I have something original to say. It can come from hearing a melody in my head, or hearing a rhythm or just a harmonic progression. It's exciting! I think there's mystery and magic in creativity. I mean I don't want to sound too way out, but music is spiritual. And I think it's a connection to God and His sharing music with us. It is a blessing. So that inspires me.
iRJ: You know, I did an interview with Anat Cohen. She said the same thing: Music is spiritual.
HS: Oh wow! It's almost like an imperative. It's something we do. But it's also the magic and mystery of music that compels us, too. It's a privilege to be an artist.
iRJ I don't think of jazz when I think about Texas. But you're now in New York City. What is the scene like there?
HS: In New York City?
iRJ: Yes!
HS: Oh so you mean coming from Houston?
iRJ: Right! You came from Houston to the Mecca!
HS: Okay, well I never played jazz when I lived in Houston. So, I can't really claim part of the Houston thing. But I'm part of it by default, I suppose! But actually, Houston has it going on! I'm from the same high school that produced Jason Moran, Robert Glasper, Eric Harlan, Kendrick Scott, Jemar Williams, Alan Hampton, and Walter Smith III; we all went to the same high school, except I'm a like a step-child. The guy who really built that program is Robert Morgan, but we all call him "Doc." He said they adopted me as an "honorary jazz student." (Laughter) Although when I was there, I was totally classical, I had minimal contact with the jazz department, which is a shame. So Houston, hmm…. Chris Dave, he's another drummer from there; Mark Simmons who plays with Al Jarreau is also from there. There's not another place quite like New York in terms of the amount of clubs and the opportunities to play. We are so spoiled here! All the musicians of the world want to come here. And a lot of them are here. Any night of any week, you can go to at least five to ten different places and hear world class music. I feel so fortunate to be here. I never thought I would end up living here. Even as a classical pianist, I remember everyone saying that "New York is the Mecca of everything." It's the center of the artistic universe, so to live here now, sometimes I can be jaded and start complaining about how hard life is. But, New York is quite amazing! The inspiration it gives and the level of artistry is vast. And that's a huge challenge too. But I think New York is a place that will keep you on your toes. And anything can happen here. You never know who will hear you and you never know who you'll meet. That can happen elsewhere too, but New York is special because it's so concentrated.
iRJ: I would say that you are already a New Yorker now because you are complaining! That means that you have been there long enough! And don't forget about us here in Chicago! We'd love to see you come by! So come on by!
HS: Oh, I love Chicago! I don't play there enough. I'm working on that.
iRJ: What was it like working with Terri Lyne Carrington and the Mosaic Project?
HS: Oh, that was so amazing! Terri has done so much. She is a true child prodigy—from birth I think! This project has become something so remarkable. I remember when we were making the record; she wanted to make it an all-female project. People had asked her to do a record like that in past interviews. She didn't feel like it was time yet. She wanted to wait for the time when every person on the album was who she wanted, and not just because they were female. I was so lucky that I came along at the time when it happened for her. The music is really amazing; it's so diverse, but it's so strong and soulful. It's Terri! And we just finished a big European tour earlier this month where we played a lot of the major festivals which was the first time I've done anything like that. So that was really exciting for me.
iRJ: Really?
HS: Yeah, I'd done stuff here and there, but never anything all in a row – almost three weeks. It's been a huge growth experience with a lot of exposure, which is very exciting. It was a chance to stretch and explore and I hope we can do a lot more because the music is so rich. We were so lucky to have Diane Reeves with us the whole time. To tour with someone of that caliber of artistry was very inspiring and humbling. Experiences like that aren't easy, but there is so much going on. But afterwards you feel like you've grown, and feel like you've reached another level. I think that's what every artist strives for; at least that's what I strive for. One of my mentors is Kenny Barron and his goal is to never stop growing. And all my favorite artists are like Herbie [Hancock] and Wayne [Shorter] in that regard.
by Mark A. Moore