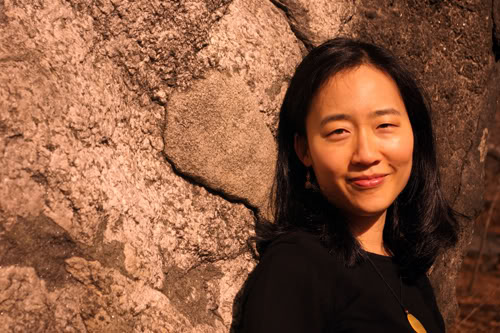 "To me, jazz is still taught from the master to the apprentice. It's not just communicating technical information or knowing theory or knowing which scales to play on which chords. To me, jazz encompasses life, too. It's a world view. It's an attitude." – Helen Sung
Women of jazz continue to make outstanding contributions to the art form. Helen Sung is part of this tapestry that continues to challenge the senses and create new sensibilities. She has worked with an array of jazz giants that would be the envy of any serious musician. She is well grounded as a musician and is acutely aware of her significance as an educator and artist. In this second interview, we talk more about her aspirations and vulnerabilities as an artist. We come to respect her devotion to the art form and appreciate how far she is willing to go to absorb the essence of jazz. Her future is bright and she will continue to reestablish new challenges for herself and her music. To learn more about Helen Sung please check out www.helensung.com .
[The following is an edited version of a longer conversation]
iRJ: Is there an artist that you haven't worked with that you'd like to?
HS: Oh gosh, that's a hard question! There are several! Several!
iRJ: You know I ask that question of a lot of artists and they all say the same thing! I'm starting to think I shouldn't ask it because you all answer that way!
HS: Oh no, it's a great question! Well, you know, I got to work with Wayne Shorter once a long time ago! And I would love to work with him again in some capacity. The way the music is today, bands are together for short stints unlike years ago. Back in the day, you'd have bands playing together for years. I'm not saying it's bad, but it's a different discipline. Even with my own band, unless I have a long tour, which I've had some in the past, rarely am I able to get the same people each time.
iRJ: In your opinion, why is it like that?
HS: There's not a lot work for weeks on end anymore. So everyone is always moving around. And I don't blame them because I am the same way. If I get called for something, I'm a free agent. Major League sports are going that way too. (Laughter) It's rare that you can sustain work for long periods of time. I played with T.S. Monk's band and he said that his father would be at the same club for six months! This is in New York! That's crazy! Ron Carter told me that they would play seven nights a week, three to four sets for a whole year! I think that's amazing. That's why they were able to make so many records in such quick succession. They were playing all the time. It's different now. It's the time we have and we have to make it work. But I hesitate to say that I don't want this to be construed that I want to take somebody's gig! But I will tell you people's artistry and music that I really admire. In jazz, I'd love to work with Roy Haynes one day. It could be just one gig. He's just so amazing! I hope I'm like him in some respect. He just keeps getting better! He's just having a great time on stage and going for it every night! I'd love to play with Chick Correa. That would be so much fun. Or maybe I could play with McCoy Tyner. That would be amazing. I've always been a great fan of Meshell N'Degeochello. I think Prince is fabulous. I know he's veering outside of jazz. You know I feel lucky to have played with some many amazing jazz artists. Artists like Tom Harrell and Dave Holland are other examples.
iRJ: Is there an area or genre you haven't played that you'd like to explore?
HS: I feel like my music is pretty wide-ranging. So after I moved to New York, I was very lucky to work with Lonnie Plaxico. He really schooled me in so many things. Even though I'd been studying jazz for a few years, and I'd been to the Monk Institute, my life had been pretty much classical and jazz; jazz in the sense of bebop, hard bop and straight ahead. Lonnie is like an encyclopedia of music. He introduced me to so much stuff. He must have burned at least a hundred CDs for me! He introduced me to the world of soul and R& B, funk, fusion and pop and all that stuff. Groups like Earth, Wind & Fire, Stevie Wonder, Tower of Power, Parliament, Sly and the Family Stone, Bill Withers, Donnie Hathaway. I mean I never knew any of that stuff.
iRJ: Really?
HS: I know, isn't that awful?
iRJ: It's not that it's awful. It's just that you are a jazz musician and you didn't have those beginnings. So you didn't know that stuff.
HS: No I didn't. I think my exposure was Sesame Street and Mr. Roger's Neighborhood! (Laughter)
iRJ: Helen, you are very honest. I mean hey, it's who you are and it's what you knew!
HS: Yeah, but I am so thankful that I had my time at the Monk Institute, and just some time to do gigs in little places you've never heard of. I feel like jazz music is from African-American culture and it has grown. And now it's a global music. One thing I love about jazz is that it is the most generous art form that I know. It can take in so much and be influenced and it influences almost every popular form of music today. But it never loses its originality. I'm so grateful there was room for me in the jazz world. I remember I'd be playing with vocalists in these social clubs that were all African-American. And I'd be the only Asian person there. But the music is like the culture; it's a very generous culture. They let me in. I remember just observing them and learning from them. Music is not just learning technical things; it's hanging out with the jazz masters and listening to their stories, and absorbing things from them that you can't quantify in a classroom in my opinion. That was a big part of my education. I feel like if I just listened to the music, I still feel like it would not be enough. That would be part of it, but being embraced by the culture was important. That's a lot, but I wish there was a neater way to say it. Lonnie really opened up worlds for me and I just jumped in. That's why I feel like my music is wide-ranging. I loved doing straight –ahead, I've done free and the fusion stuff with Terri more so and some of the late Miles' fusion. What I find interesting by today's music, is the whole fascination with odd meters and complicated structures. Things like Steve Coleman, or Greg Osby. I would love to have the chance to work with that.
iRJ: You worked with Esperanza Spalding?
HS: I did! I worked with her alongside Terri-Lynn Carrington. We did some trio stuff. It was fun. Esperanza is great! I don't want to speak for everyone, but I guess being a "woman in jazz," there is this reservation about putting together all-girl groups; although, I think they are important and serve their function. I think I have the same outlook as Terri; if the person who I think is the best for the chair is a woman then so be it, but not because she is a woman. It was so neat to meet Esperanza and Terri because I hadn't really met other great female artists that were on such a high level. (And I feel bad saying this, without putting other people down!) To be able to work with them was really exciting.
iRJ: I totally get it. Let's be realistic here, all-girl bands don't grow on trees! It's good that you've recognized that there is value in the group and of you coming together to put out good music.
HS: Yeah, it was really exciting to be a part of and it was inspiring too.
iRJ: I noticed that you just got back from the Litchfield Jazz Camp where you are an educator. What does an education in music or jazz mean to you?
HS: I never knew about jazz camps. I remember when I played my first jazz cruise and I remember saying, "Wow, these people really are crazy, they really love jazz!" These kids in the camps are so lucky. And of course I feel so honored to be a part of the camp. I think teaching is a huge responsibility. And I started teaching at Berkley last year.
iRJ: Wow! Congratulations!
HS: Thanks! I've kept it very minimal because the commute is very hard. And I wanted to test the waters first. I am a little bit afraid of the responsibility that a teacher has. But what I feel a jazz education is… it has become more and more institutionalized, which has its good and bad sides. To me, jazz is still taught from the master to the apprentice. It's not just communicating technical information or knowing theory or knowing which scales to play on which chords. To me, jazz encompasses life too. It's a world view. It's an attitude. Spending time with teachers is important. I think jazz camps are really neat. We were assigned to a combo and worked with them over the course of a week. We watched them be challenged and then frustrated. Then they performed in the final concert and did really well. That was a neat experience. I can show them the way that I took; that is what my teachers showed me. They showed me what songs inspired them, they showed me what solos grabbed them or why they transcribed certain things. I was lucky enough to study with Danillo Perez. I also took some lessons from Kenny Baron. But in the end, I feel like each student has to figure it out in their own way. I couldn't just copy what Danillo did. It doesn't mean the same thing. I had to figure out what it means to me. And that's the wonderful and frustrating thing about music. Everyone's journey is different. That's art. That's the magic and mystery I alluded to earlier.
iRJ: In closing, in your mind, where is jazz going?
HS: I think jazz is in a holding pattern. I think something exciting is coming around the bend, but I'm not sure what it is. If you look at the paradigm of how jazz grew for the past century, there was the whole thing about bands playing together for years. There was so much work and each band was so distinctive and personal. When you are playing day in and day out, you'd better come up with something. I think now it's so different. You're like a marksman—you've got one gig and you have to hit it out of the park. It's a different skill, but you don't get into the music very deeply. Artists today are trying to grapple with that. How do you continue growing with that kind of environment to work in? I think it's gradually being figured out, but I think we are still in process. To be perfectly honest, I don't know where jazz is heading but by nature of its origins and its ability to survive, and the energy of what is swing, it's heading some place good.
by Mark A. Moore