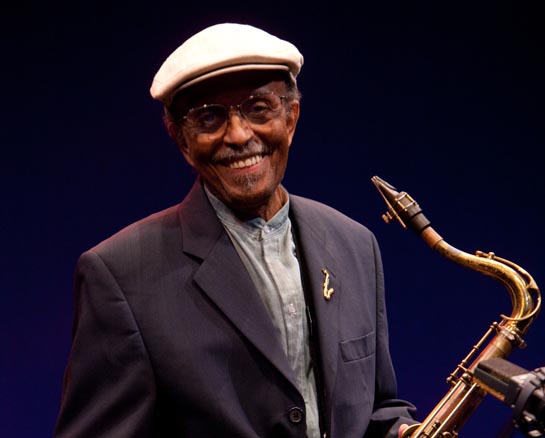 IRJ: You all are in Chicago now. What brings you two to Chicago?
JIMMY: We're playing now at a place called the Jazz Showcase. We're the Heath Brothers Quartet. My older brother passed away and I'm in the middle. I'm older than Tootie. We've been here for four days. We have a four o'clock matinee today and then end it at 8.
IRJ: What are you playing?
JIMMY: We play some old stuff, some new stuff. Anything that is musical that we like to play. I'm always trying to write something new. I've got over 125 compositions and I'm still writing.
IRJ: You attended the First Annual International Jazz Day Celebration that kicked off in Paris France in April, which is Jazz Appreciation Month, this year. What was the extent of your involvement?
JIMMY: The main purpose is to introduce people to the world of jazz. Herbie Hancock set it up. I'm on the board of trustees for the Monk Institute, so I was involved with it on Herbie's invitation. I did play with Esperanza. I played with Dee Dee Bridgewater on another song. I played with Hugh Masekela, the African trumpet player, and Stevie Wonder sat in on the harmonica. It was a pleasurable experience for me because I had never played with those people.
IRJ: That's bringing a lot of different branches of music together underneath one umbrella.
JIMMY: You know music is life and life is music. There's ongoing music and there's music that we should not forget as African Americans because it was created in this country by us. And while they may claim it all around the world, jazz started here with our people.
IRJ: What is the depth of your involvement with the Thelonious Monk Institute?
JIMMY: In addition to the jazz competition we host every year, we're now beginning a two-year course at UCLA. We've already been in several colleges around the country over the last 25 years, and so we're starting at UCLA in September to teach a group of students who have a certain standard. They will be taught by Herbie, Wayne Shorter, myself, and other professionals who bring them up to snuff as far as what it means to be a professional musician. They are a talented group of young people that come from over the world to attend this particular institute.
IRJ: Sonny Rollins has said of the Heath Brothers that you all "have made the world a better place" and are "what jazz is all about." Marian McPartland said that you all are "certainly the top echelon" and that you "know all the tunes," have "been around forever and played with everybody." And you all have played with everybody! From John Coltrane, Dizzy Gillespie, Miles Davis, Milt Jackson with MJQ (the Milton Jazz Quartet, later evolving into the Modern Jazz Quartet), Art Blakey, Herbie Hancock, Art Farmer, Bobby Timmons, Benny Golson, Sonny Rollins, JJ Johnson, Thelonius Monk, Wes Montgomery, Ornette Coleman, Yusef Lateef, and the list goes on including the folks you just previously mentioned. You all are jazz ambassadors and certainly at the top echelon in this music.
JIMMY: You know, I was around with those people and that's what prompted me to write an autobiography called I Walked with Giants. It was released by Temple University Press two years ago with a forward by Bill Cosby and an introduction by Wynton Marsalis. This book has interviews from all of those people you mentioned, like Trane and Miles and Dizzy and other people like that, including Art Farmer, [Dave] Brubeck, you know a lot of people that I walked with, you know the giants of jazz.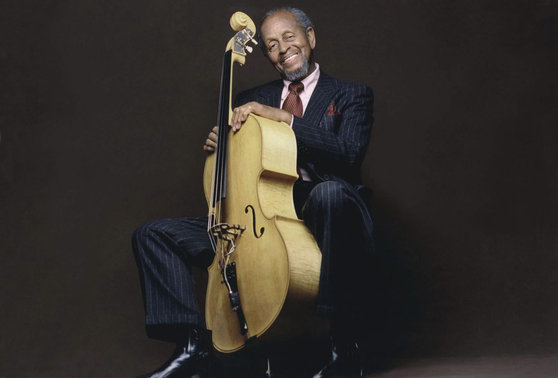 IRJ: In an interview that Percy gave at one time, he made emphasis that "it ain't been easy." What would you say has not been easy in terms of walking with giants?
JIMMY: As an African American, nothing is easy here in this country. Me and Percy went to separate but not equal high schools. I mean, we went to the eleventh grade and we graduated with cap and gown from the eleventh grade. And students at the white school went to the twelfth grade. Percy became a second lieutenant and a pilot with the Tuskegee Airmen. I became a professor at Queens College and other colleges with a separate but not equal education. That wasn't easy! So that's why we would say it wasn't easy in this country. Because we were treated, and still are in certain respects, as second class. We're not there yet.
IRJ: Now that Barack Obama, a Black man, is President of the United States, some believe that this means that Blacks have nothing to complain about. In other words, we have "arrived."
JIMMY: It's obvious that we still have inequities. The Tea Party isn't going to help us. They want to turn it back with "Give me back my country." Where is their country? Europe? They came from somewhere else, too! You know, I call the Republicans the "Rich-uglicans" because they don't want us to be equal in any way. It's about the money, too. We've become a capitalistic government. It's an oligarchy. Obama is a public example of democracy – he's got a white mother and a black father. If that isn't democracy, I don't know what is!
IRJ: What do you think it's going to take to fix America?
JIMMY: We've got to get out and vote! But, let's talk about the music again!
IRJ: Yes, we did get off on a tangent there, didn't we?
JIMMY: I can't help it!
IRJ: Percy has spoken on the significance of young musicians listening to "everyone" and absorbing what they hear –to not just copy others' styles but build on that to say something unique that can truly be called their own. He said that you have to spend a lifetime learning not just what to say, but also what to leave out.
JIMMY: Heh! Yes, I agree with that! You know, it takes time to become a jazz musician. People now are in an instant world. Boom! I've got to make it today. And, like my brother Tootie says, there are no instruments in a lot of the high schools. Yet, I started playing the saxophone in high school. There were instruments in the school then. We had a band, a marching band and a jazz band in the school. That's not available in many urban schools so they have to make up something to survive. It struck a nerve in the world and they're making a lot of money doing it. Now there's a void with African Americans playing jazz. Europeans and Asians have come along and claimed our history and call jazz their music. Well, it has become integrated and it is democracy at its best because everybody in a jazz group can speak their own voice. You know, if you're playing in a symphony orchestra, one person is conducting and telling you what to do. Everyone is following along in lock step. In a jazz group, once we play the melody, then everybody can improvise and tell their story musically. Then, we come back to the melody and go out. It's complicated for listeners as well, because they're not exposed to it like they were in my time. They hear the latest hits and then gravitate toward those.
IRJ: You hit the nail right on the head!
JIMMY: You know the music is still here and it's not going to die. When I was a kid, they said jazz was dead. I'm 85 and jazz still ain't dead! Ha!
IRJ: And, that was the next question… if you thought jazz was a dying music. You just volunteered without even knowing that was the next question!
JIMMY: Ha, ha! You know I'm living it, so I know! You've got to get my book because I've got all of that! It took me 25 years to write the book! I was a professor at Queens College and I got my student who is now a saxophone teacher at Queens College. He's a tenured professor. The piano player that's with us now was my student at Queens College. It's a continuum. This music's a continuum; it's not going to die. You know, gospel music ain't going to die! Hip hop ain't going to die! As long as people are here, we're going to have these styles of music. It's life.
IRJ: Yes, jazz is life.
JIMMY: Music is life; whatever music you like. But, jazz is especially because it's so spontaneous. You see you don't improvise the same. Every night you've got something new. And, people are not like they were in my time because they are "hype-notized" by the television telling them what is good and what is not good. We as African Americans, as my brother Tootie said, used to go to a bar and hear somebody playing, and if we didn't like it, we would leave. Nobody had to tell us that you have to go see them because they are "bad!" If it was, it was through word of mouth. Now they tell you what to wear. Everybody's got to have a Nike hat! My daughter sent me a Nike hat and it took me an hour to pick the little sign off of the hat. I wanted the cap just like it was before that! I didn't need to advertise Michael Jordan or whoever! That's what jazz is. Variety and our own identity–your own identity. Not a copy cat. That's what you try your best not to be–a copy cat. I don't have to have Nike sneakers. I've got sneakers. I always get off topic with music because music is life.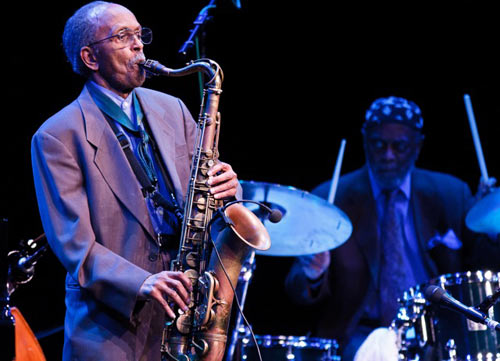 IRJ: With the saxophone being closely aligned to the human voice, do you think that is why you picked up the saxophone as your instrument of choice in terms of ease with which to find self-expression?
JIMMY: Well, I think we're all trying to imitate the human voice with our instruments, or human expression. If it's the drums, we're trying to get human expressions. I understand what my brother Tootie was saying, and I know if my pulse stops, I'm dead. That drum beat is why the young people love it so much. They don't care what you do with the music so long as that drum beat is there. You can curse, you can call a woman a name and all that kind of stuff. You know, Nas sampled me and that's cool, on "One Love" and that's now in VH1's top 100 all-time hip hop songs, and I was glad of that. We played for his wedding to Kelis. My son, Mtume, is big. He was big in funk ballads. He had a lot of gold records and made a lot of money. Music is music and it is life and we're going to always have music.
IRJ: Your song "The Rio Dawn" came up on Pandora this morning and it sounds so fresh and contemporary while staying true to your jazz roots. How do you do that?
JIMMY: We went to South America on a three-week tour for the US State Department and I love what I saw in Rio de Janeiro, and there are words to that as Tootie was saying, and some artists are starting to take notice of that more so I can get it out there. But, it was inspirational– the environment, the beach and all that. It was very beautiful and inspired me to write that song.
IRJ: What else inspires you to write?
JIMMY: Oh, I write for people. I wrote a song for my brother Tootie called "Two Tees." That's on the Endurance CD. I wrote a song for my wife called "Mona's Mood." I wrote a song for my brother Percy called "Big P." I wrote one for [John] Coltrane called "Trane Connections." I do a lot of big band things, too. I wrote one for Sonny Rollins called "Forever Sonny." I wrote one for an ex-girlfriend from way back; that one's called "CTA." Those were her initials. Miles [Davis] recorded it in the 1950's. I'm always writing for people. For my daughter, I wrote one called "Gemini." That's the one that Cannonball [Adderley] sold a lot of records on. Yeah, I write for people and things that I see that I like. I write about life experiences, you know.
IRJ: Appropriated in the music.
JIMMY: Yes, indeed!
IRJ: There's a book called Blues People: Negro Music in White America where this is discussed at length. Have you seen that book?
JIMMY: No, I haven't. I've got so many books on the music, but they're mostly biographies. The one about Clark Terry is one that I just got and which I helped write as Clark is one of my heroes. You see, me and Miles and Trane and Ray Brown, we were born in '26, and Lou Donaldson and Randy Weston and Tony Bennett. Ain't but a few of us left. And, we had the experience of being around during a very creative period they call bebop. You know. Dizzy Gillespie was one of my main mentors and heroes. Charlie Parker sat in with the band I had in Philly, with Coltrane in the reed section and almost burning his hand while staring at Charlie Parker! That picture's in the book. So, I've been around the music a long time and I'm enjoying every minute. Even speaking to you this morning!
IRJ: It's always interesting to find out what music musicians are listening to. What are you listening to right now?
JIMMY: I love the singer, Dianne Reeves. I've got her record Calling: Celebrating Sarah Vaughan. I love Dianne Reeves as a vocalist. You know, I was listening to Ludacris. But, he stopped. He's going into the movies. ("When I move, you move!") Some of the rap artists I like and the rest of them I don't. You know everybody is entitled to like what they like!
IRJ: Does it make you tap your feet?
JIMMY: Yeah, that's one thing that I find. I also find that music is losing melody, because a lot of the rap is the beat and the words, with no melodic lines and no harmony. I like some chords and melodies as well as the beat. Don't cut the melodies out! Church [music] still has got the melodies. They've got the beat, too!
IRJ: Where do you think rap music's going?
JIMMY: I think all of it is going forward. But, it's about money. If you hear something all night and all day, you're going to like it. You've been "hype-notized!" We need to get more jazz… More of it played at an early age especially in the schools. But, all music's going to be here even when we leave. Music's going to be here. They said jazz was dead when I was 14, and it still ain't dead!
IRJ: It feels like we're in touch with all of our ancestors through you.
JIMMY: Everything comes from something. "Call and response" or whatever, that comes from us, too. I'm glad that I'm still here to deliver my message and I'm glad that somebody still likes it.
From the tone of the conversation that just about refused to end, the Heath Brothers have been just about everywhere and have no intention of slowing down! The group is going strong with the two remaining brothers, Jimmy and Tootie, and additional sidemen as needed. The video documentary Brotherly Jazz: The Heath Brothers, on DVD since 2004, was recorded shortly before Percy Heath's death, and portrays one of the last times all three brothers played together. It also chronicles the Heath Brothers' personal lives as well as socio-political issues that many of their jazz contemporaries dealt with in the latter portion of the 20th century, including jail, drugs, discrimination and segregation. They continue to play across a variety of jazz genres, including bebop, hard bop, big band, soul jazz, and can be considered as innovators of smooth jazz and even hip hop. Both brothers also conduct work related to educating a new generation of jazz artists and enthusiasts. Jimmy stays involved as a member of the Board of Trustees at the Thelonius Monk Institute of Jazz and Tootie as an instructor at Stanford University. Their latest recording, Endurance, was released in 2009 by Jazz Legacy Productions.
by Tracey L. Lewis