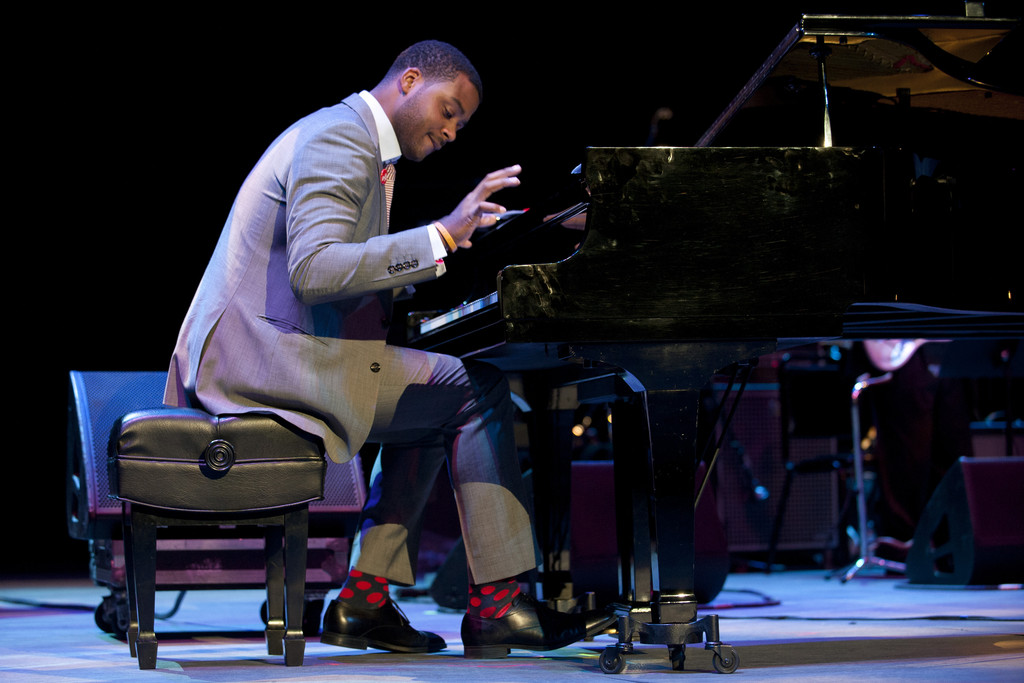 Musicians are often lauded for their ability to display a certain level of technical range, which translates into the total amount of notes a specific instrument can produce. Others equate range as the capacity to exhibit vast dexterity, enter into varying terrains of styles and reach both niche and general audiences while packing just enough gravitas to lend credence to the casual and seasoned listener. In jazz music, range is not unique—it is celebrated as well as expected. For 2011 Thelonious Monk International Jazz Piano Competition Award winner, Kris Bowers, cross-fading from classical to hip hop, jazz, and soul is the bedrock of a budding musical foundation. His range, which has received praise from the New York Times, has served as a golden key to unlocking the doors to the courts of music royalty from playing keys for hip hop kings Kanye West and Jay-Z's chart topping album "Watch the Throne" to being personally summoned to play by the Queen of Soul, Aretha Franklin.
The twenty-something year-old Los Angeles native, New York resident, musical globe-trotter and child of the 90's, was surrounded by the old school funk and soul of his parents and the hip hop and R&B that blasted from his personal radio. The melding of two generations became imprinted in his musical DNA and combined with his formal training in European classical music resulting in a gravitational pull to the sound of American jazz music. Bowers soon developed a musical philosophy based on open-mindedness, artistic freedom and the irrelevance of genres. "Jazz is the music that made me want to stick with playing the piano. With jazz you have the freedom to improvise, but also you have to learn theory and harmony, which makes it easy to play other genres. Jazz is the gateway to learning any type of music," he comments.
Bowers's subsequent introduction to jazz and music in general was less providential, more parental and to a certain extent prenatal—his mother placed headphones on her stomach to play soft jazz and classics. The first recipient of the Luther Henderson Scholarship at Julliard where he completed a masters degree in Jazz Performance with a focus on film composition, Bowers notes that education played a significant role in forging his musical identity since his parents signed him up for Yamaha classes when he was a child. Numerous awards, scholarships and many years of formal schooling later, Kris landed in New York and began fortifying his skill set training with Fred Hersch, Frank Kimbrough, Eric Reed and Kenny Barron as well as strengthening his range and reputation as a working musician on the New York music scene. You would think he was on top of the world, but he became conflicted. Though his parents instilled the value of education, the taste of immediate success as a full-time musician almost caused him to quit school. Two key friends, fellow Los Angeles native and Grammy-nominated pianist, Gerald Clayton, and fellow Julliard alumnus and Thelonius Monk Award winner, bassist Ben Williams, provided Bowers a much-needed reassurance. "I remember when I went to see Gerald [Clayton] play at the Jazz Standard".   I told him I was going to quit school and he talked me out of it. There were a few times I wanted to quit. Talking to Ben Williams and seeing other guys finish school, who are now touring and working, gave me motivation."
Bowers's decision to stay in school was life-altering, eventually setting him on a course that caused him to rub shoulders with jazz musical legends Wayne Shorter, Herbie Hancock, Terrence Blanchard, Dianne Reeves, Jimmy Heath and the most gratifying of all, playing for and meeting President Barack Obama. He admits his life also changed after winning the Thelonious Monk award. "My life has changed a lot. It has gotten a lot easier to get gigs. I've been able to get on people's radars and get hired for bands." The doors of education that opened opportunities for Bowers inspired him to create Campusounds.com, an online space dedicated to the discovery and promotion of great music on college campuses. So far, he's galvanized young student musicians to find another place to launch their music.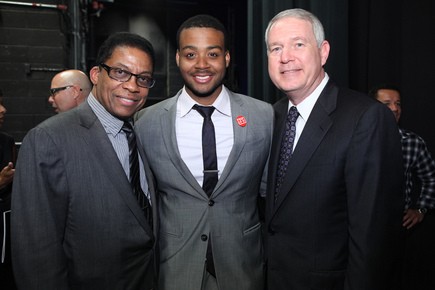 As noted, Kris Bowers's range finds its strength in jazz, while the influence of other genres provides intrinsic traits that define his musical make up. His approach and studies have led him into film scoring along the path of other jazzmen like Quincy Jones and Terrence Blanchard. "I'm just trying to figure out how to move in and out of both worlds. Terrence Blanchard and Quincy Jones are huge inspirations for me. I love the film composition aspect of being a part of telling a story—how to translate raw emotion into music. It's important to never lose sight of people connecting with emotion." He cites John Williams (Star Wars, Jurassic Park), Howard Shore (The Lord of the Rings) and Danny Elfman (Batman) as major film score influences.
Today, Kris is one of the most in-demand musicians keeping a hefty touring schedule and hitting the road with Jose James, his own band and most recently joining a cast of young musicians such as Alex Han, Sean Jones and Louis Cato, to provide the sonic backdrop to Marcus Miller's "Renaissance" tour. You can find out more about Kris Bowers and his music at www.krisbowersmusic.com and www.campusounds.com.
We asked Kris to describe the impact behind some his favorite musical genres for a look into what inspires and influences his depth of range. Here's what he had to say:
iRJ: Gospel music…
KB: It's the truest music. Whenever  I play gospel music or hear it being sung it always touches me right away. Whenever the music is played the passion of the person can be translated immediately.
iRJ: Classical music…
KB: The sheer emotion behind grand orchestra pieces is immense. Classical music is more about the sound, not the instrument. "For me, playing classical music is about striving to get the best sound out of the instrument, the way a classical musician does."
iRJ: Rock music…
KB: Old school rock has so much blues in it. Led Zeppelin's first album and Jimi Hendrix's music has tons of soul and blues.
iRJ: Hip Hop music…
KB: I love the Golden Era of Hip Hop like when A Tribe Called Quest was performing. Now it's not really the same. Hip hop is more about the feeling and trying to get stories across. When I sat in with Q-Tip (Hip Hop Fest), he hipped me to so many jazz albums that I had never heard.
by Johnathan Eaglin