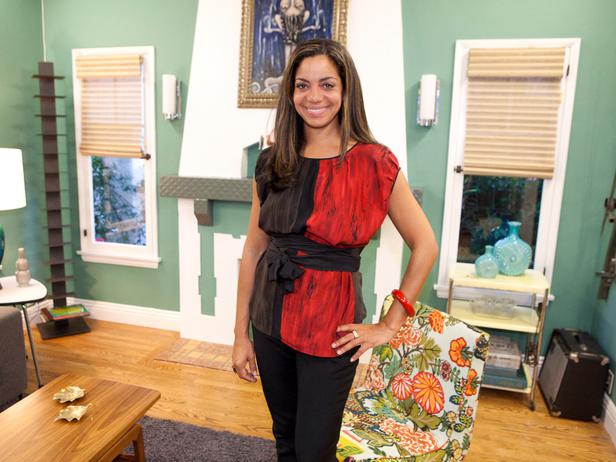 From residential and commercial interior design consultant of a private firm to Season 7's "Design Star" winner to host of her own HGTV hit television series "Shop This Room" – Danielle Colding continues her rise to the top
Self-professed interior designer, lover of fashion, collector of all things beautiful, artist at heart, resident of Paris in my mind, and, drum roll please… HGTV design star finalist (and I'll throw in there – winner!) Danielle Colding is all of that and far more! Out of Queens, New York and only 36 years of age, Danielle got an early start as a professional dancer turned interior designer in her home town of New York City. This Stanford University graduate earned her Bachelor of Arts degree in Anthropology and later earned an Associate of Arts degree in Interior Design from the Fashion Institute of Design and Merchandise in Los Angeles. Not long thereafter, Daniele opened her own commercial and residential interior design firm and the rest of it is virtually history. The team at iRock Jazz caught up with this busy host of her own new hit HGTV series "Shop This Room" the other day and here's what Danielle had to say:
IJR: What's the experience like having your very own home interior design show "Shop This Room?"
Danielle: The craziest part is while shooting, I couldn't talk about it. This whole new world opening up for me, being around a whole new group of people, and having this amazing experience but then when I came home, I had to pretend like every day was the same as before and yet it was completely different! So, the first thing is that I'm so happy to get to talk about it because it is really incredible! It doesn't feel scary to me anymore and creatively, I'm able to do what I want to do. It's such a blessing!
IJR: Do you feel that your whole experience on HGTV is sort of like living out your life's purpose?
Danielle: I do, and it's so … the way the whole thing happened, it was almost like there was a path that opened up in front of me that I had no idea was there! To be honest, I never ever thought I would be on TV – never! I never ever even fathomed it. I mean there are so many people saying to me now that it is so clear that this is my path and that I'm were supposed to do this and I mean it just feels so right. It feels great and I absolutely love it! The actual process shooting the show is making it fun. I mean I get to design and to be creative. I get to impact people. It's all these things that I've done my whole life coming together in this moment – it's pretty incredible.
IJR: During the last season of "Design Star," do you feel that your presentation on "The Talk" was a crucial "Cinderella moment" for you as a television career turning point and how has that affected your taping of "Shop This Room?"
Danielle: That's so funny because I would pinpoint that exact moment for myself. Before then, I was terrified of the camera challenges because they were very intense. You know, it was like "30 seconds, get it out!" It was the pressure to "say something, make it meaningful, everyone's looking! " That was so tough during the competition, but then somehow "The Talk" – I mean I didn't do particularly well that particular week, so it was like well, okay. I felt like I had nothing to lose. I think that was why I was so calm. I just felt like, you know what? I could be going home because my design was not that great, and I didn't finish. Sooo…. I'm going to enjoy this. And that was it. I remember being there and leaving feeling on top of the world and thinking that that experience was amazing! That moment where it all clicked! It's so funny, too, because I mention that moment to other people and they like other moments, too, where I started expressing myself more; but for me, you really nailed it – that was… it was just a turning point. And it was a point for the next challenge because I went into it so much more relaxed after that. It made me realize that I actually like this part of it, because I actually love designing.
IJR: Going back in time, how did you go from anthropologist to interior designer and eventually land a role after auditioning for "Design Star?"
Danielle: Now looking back, it all seems to make sense…this whole crazy path. I'm not really a planner. I'm more of a "go with the flow" kind of person. At the time, all of these random decisions seemed kind of random! But now looking back, it just all kind of fits together. Yes, I did study anthropology. I also did African American studies and Political Science, too. I really simply studied things that I enjoyed. You know, my mother always said, do what you love. Then I became a modern dancer in San Francisco. I danced all my life, and always danced on the side. That was always present throughout my studies. And then a really great guy, Robert Moses, came to Stanford during my sophomore year and started a company. So, me and maybe three other friends joined his company to start it. We would be in class and then dance on the weekends and during the evenings. Then when I graduated, I did that, and I loved it and also taught school. It's a crazy path! I mean, four years of dancing professionally, living in San Francisco and being broke as a joke, I was like what is the next step for me.
So, I reflected on what were the things that I was good at, the things that I loved to do. I really thought about what I'd like to wake up and do every single day – something that would make me happy and wouldn't be boring and, uh, I came up with interior design and it was like such a perfect fit. My whole childhood spent with my mother involved being in a house surrounded by beautiful things that we were always rearranging and playing with that stuff. But to answer your question more closely, what I did right before "Design Star" was that I had my own design firm which I started in 2006. I was really just working on my own for private clients and just struggling along with all of the other small business owners in America.
IJR: Having won and considering the fact that you're the second African American to win "Design Star," how do you play into that now that the two of you are successful, and while you're a lot younger, how are you going to bring a new audience of younger people into the design world from an interest stand point?
Danielle: I think it's about staying current. It's about infusing new techniques and having interesting solutions. I think it's about being fun and having fun. I mean people want to be entertained and that's definitely a part of it. But, you know, people want to see something interesting and novel. And, I'm so open to learning. I just never want to stop. Who's doing new things? Who's making interesting furniture in new ways? Who's using technology in new ways? On the first episode of my show, my carpenter makes these perforated screens where he takes a pattern from a tile and puts it on the computer, and then the router and churns out these perforated screens from simple plywood that look incredible! We were all so blown away by this. I think that's how you get a younger audience interested. You constantly expose them to new ideas, new techniques, and new ways of growing and evolving.
IJR: How do you plan to infuse any kind of Afro-centric flare to your work?
Danielle: That's such a part of who I am. If you could see my apartment right now, you'd see that we have stuff from all over the world! In terms of having an Afro-centric element, that's definitely part of my aesthetic. I mean, I call it more of a global influence but it tends to be a lot of African stuff, in terms of artwork and in terms of carvings and sculptures. And, personally, it's the most beautiful thing paired with super contemporary modern furniture. I love seeing a super sleek Italian sofa and a really amazing Cuba koobah cloth pillow thrown on it, or a sculptured piece that's really raw. So, I mean the juxtaposition of all of those elements is something that I just do and something that I love and it's really quite featured in my home as well.
IJR: What kinds of spaces do you like to design during your time away from the set?
Danielle: I'm definitely not a vanilla box sort, and while I live in Brooklyn, I'd have to say that I love a Brownstone like nothing else! You know, I love the mix of everything. I love super traditional architecture and then pairing that with super modern furnishings and African art. That to me is just magic! And, it works. I love ultra modern spaces. I don't really have any one solution. It really depends on the architecture. I've worked in nearly enough "McMansions" and unless the new construction is well-edited, a lot of it doesn't do it for me. I'm not really into overly huge rooms, you know that sort of trend that's been happening unfortunately for a long time. I like places with character and it can be tradition or it can be modern. It can be anything so long as it has character. I mean moldings, exposed brick, and then I like spinning it on its head and doing mid-century modern furniture with that. It can all have its own place.
IJR: I hear you mention your mom a lot in this conversation, and I can imagine that she plays a big part in the person you are today. What sort of inspiration has she been for you personally or professionally?
Danielle: Personally, I would definitely say my Mom is definitely number 1. She exposed me to art and music and dance and always told me that I could do anything that I set my mind to and to just do what I loved. She never talked about money. We didn't really have any, but she never talked about it as a motivating factor. I mean that is just pretty special. And, I'm not sure if you know this, but she passed away right before I auditioned for "Design Star." I spent really from May of last year with her battling cancer and taking her to chemo every week and so I can't even tell you where I am this year as opposed to last year. I literally have pinched myself because it's amazing that it's only been a year from one of the darkest times of my life last year. So, personally, she's it. I really did this for her and she really helped me every step of the way with winning this. It's pretty incredible. She would be shouting from the rooftops right now.
IJR: I'm sure you know that many of your fans are wondering if you're going to bring on Britany, Hilari, Mikel, and the whole crew from "Design Star" onto "Shop This Room" somewhere along the way! What can we expect?
Danielle: It is, in fact, something you will be able to look forward to! As soon as, I won't give you too many specifics, but it is something you'll see in the first five episodes. So far, we've shot five and we're waiting to see where it goes from there and if it gets picked up – fingers crossed – you know I love the creative people in my life and I'm a big believer in collaboration for it's usually where you see better results when the more people that are involved and say let's edit this or that…I like working that way. I loved the other finalists on "Design Star" and that was really one of the highlights for me because we were so close knit and it was so much fun. So, yes, I want them on the show with me!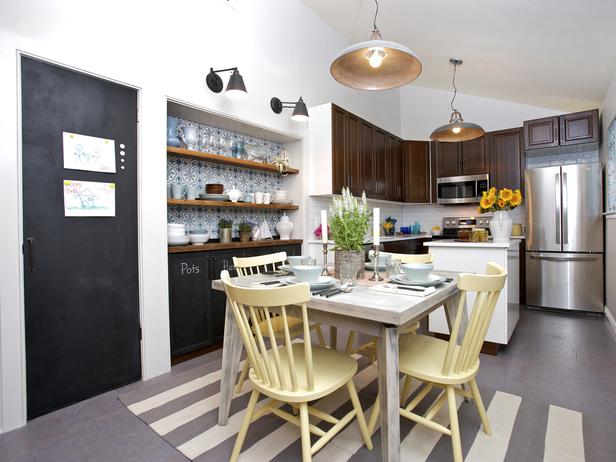 IJR: And, what do you think is to come beyond your current show? Do you have your sights on staying on TV or will you decide to invest more of yourself into other enterprises?
Danielle: I really have loved TV. What I really can see is doing a design show that focuses on designing in a different way, in an appealing way. Not just your standard makeover show, but actually something more educational or more related to travel and culture. That's what really does it for me. And, maybe that's where the Anthropology comes in. We design our world and our lives and our homes are such a big part of that. So, I can definitely see continuing on this TV path but in a different way. You know, educating people and sharing my experiences and my growth. And, in terms of having my own business, I love that, too. I love working with clients, I love having projects over time and I'm friends with my clients! We hang out, we have a great time!
I would really, really, really love to get into hotels to design, to get into restaurants, and some of those areas where creatively you can go nuts! With residential, it's definitely a different thing because these are peoples' homes and definitely you have to be respectful of that. I would love a project where I can just kind of go crazy and the advantage there would be that it would get attention. Those are some of my goals.
IJR: With social media being the catch phrase of the day, do you see a connection with implementing social media in your approach to interior design?
Danielle: I've been doing it much more while I have to say that I was a little bit late to the party! I mean I had a Facebook page and I loved Pinterest because it's all about collecting and sharing beautiful images, but I was definitely late to the Twitter game. I'm really starting to see the impact of it for myself and I now have the ability to better connect with people.
The way I think it can really work with design is by allowing me to easily share what I'm doing. I mean, if I go to a great store or see something interesting, I can naturally share what I think about it because there's a thought process behind things that I see. So, I see art and I think, oh! That could be amazing in a loft space. So, I mean, sharing those things with your followers is really very powerful. And, it ties in with what I hope to do with my show and that is to help people have more confidence in their ability to choose the things that they love. I feel our homes should really reflect that. And, where there are definite rules, every rule is made to be broken. So why not!
IJR: Since this interview is coming from iRock Jazz, you know our audience wants to know what's currently on your iPod! What kind of music do you listen to and how does it influence your design style?
Danielle: I'm pretty eclectic. I think my musical taste reflects my cultural background. I grew up with a step-father who was a musician and a cousin who was a Broadway singer, so we listened to jazz and blues and classic R & B. I think the Stevie Wonder's of the world are my "go to's." You know. That's really like the heart of it for me. I also listen to Hip Hop. I listen to regular rock because I love some classic rock stuff. I love The Beatles. You know I'm pretty eclectic so long as it just has to speak to me. I love women who can just sing their behinds off! That does it for me, too, like the Aretha's. Um, you know Dinah Washington; she just gets me (followed by infectious laughter …)!
IJR: What final thoughts do you want to share so that we know who exactly is Danielle Colding and what should we expect to see in the coming months or coming years from her?
Danielle: Danielle Colding is someone who has a love of design and beautiful things and culture and learning and I just want people to be with me on that journey. I'm never going to stop learning from my mistakes and learning from my successes. And, I come at this from a very humble standpoint. This is a gift and I know that. There isn't really ego there. I feel very, very blessed to have this experience and for people to know who I am is just really a trip. I am really thankful for all of the support. I've been getting so much positive feedback and so much love. You know, I really tune everything else out. It's been wonderful.
So, now, you've heard everything that Danielle had to share. As a self-described problem solver, Danielle uses her open, friendly and quirky personality to connect with her clients and she most certainly connected with us at IRock Jazz. And in looking back over the last year and half since embarking on this new journey in her life, Danielle cited, "I think the thing that is most surreal is that I'm now part of this HGTV design family… and it feels right. Who knew???" Well, we at iRock Jazz know that we have not seen the tip of the iceberg with respect to what this global chic, classic modern and edited traditional interior designer is capable of becoming. Tune in to see Danielle on her new hit television series "Shop This Room" Saturdays at 8:00pm EST on HGTV.
Fast Fact: Danielle Colding joined Facebook under the name "Danielle Colding Design" on March 1. As of the date of this publication, she now has nearly 1000 Facebook followers and that count is steadily trending upwards.
by Tracey L. Lewis