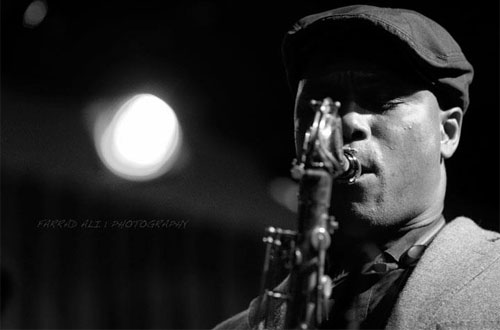 Growing up in the musically rich soil of Detroit, JD Allen uprooted and migrated to the concrete pastures of New York City, where his music has grown and flourished for more than a decade.  Called a "tenor titan" by Jazz Times boasting "an enigmatic, elegant and hard driving style" as mentioned by The New York Times and joining the ranks of giants, Sonny Rollins, Joe Lovano, and Chris Potter as nominees for the top tenor saxophonist by the Jazz Journalistic Association, Allen has not only won the admiration of major press outlets, but also the listener.  Need further evidence? Word of mouth praise for his 2009 Sunnyside Records album, Shine!, a Critics Pick Top 50 of 2009 by Jazz Times, led to a once in a lifetime gig for many artists: a weeklong stint at the famed Village Vanguard, ironic enough, home to recording by tenor sax heroes Rollins and Coltrane.
A consistent force on both the New York and international jazz scenes, JD Allen signed up to apprentice with legend, Betty Carter's, acclaimed Jazz Ahead program.  His on the job training developed musical growth, the deep underpinnings of composition that now are essential to Allen's approach, and the confidence to lead.  Lending his adventurous, yet mature sound to a slew of recordings with artists such as Orrin Evans, Jeremy Pelt, Ron Carter, Eric Revis, Wallace Roney and Meshell Ndegeocello, Allen's sideman features stand out, but it is as a leader where he shines most.  Allen's impressive discography, five recording deep, including his three critically acclaimed JD Allen Trio albums have been the subject of a number of accolades.  I have provided a list to provide adequate perspective of Allen's significant contributions and noteworthy recognition:
In Search of J.D. Allen, 1996 – Best New Artist in Italy, 1999

Pharaoh's Children, 2001 – Top Ten Pick by Jazziz Magazine

JD Allen Trio, I AM, I AM, 2008 – JD Allen awarded Rising Start Tenor Saxophone in the 56th Annual Downbeat Critics Poll

JD Allen Trio, Shine!, 2009 – Jazz Times Critics Top Pick 50 Albums, NPR "Take Five's" Top 10 Jazz Records of 2009, The Boston Globe Top Albums for 2009

JD Allen Trio, Victory!, 2011 – Four Stars by Downbeat Magazine, ranked as third best album of 2011 by NPR
And as he continues to create music, in fact Allen will release his next album The Matador + The Bull on Savant Records this June, I am confident the awards will continue to pile up.  Yet, for all the well deserved accolades that he's received, there's much more to the man than the trophies, and much more to the music than the notes played.  As much as I was enthralled by the amount of recognition JD Allen has received, it is his approachable humility that holds the most weight.  An artist in every measure of the word, who extracts inspiration from everything from the newspaper headlines to Rodin, JD is one of those musicians you can trust will preserve the past and fortify the future. And with that combination everybody wins.  iRockJazz was fortunate to catch up with JD Allen to talk about the Detroit influence in his music, finding inspiration through art, God's humor, the power of Louis Armstrong's music, and how naming his songs are as serious as naming a child.
iRJ:  Though your apprenticeship occurred largely in New York, how does the music of your native Detroit influence your music?
JDA:  The sense of no boundaries.  When I was in Detroit there was a mix of "avant-garde" chord changes in a bebop form.  The music was walking that fine line.  In New York the lines are clearly drawn.  The lines are more defined musically in New York and they more blurred in Detroit.  In Detroit it is intent first, skill second.  There is more "feeling" in Detroit, more craftsmanship.  It was like if we knew the rules, then we could break the rules.  In Detroit you were applauded and encouraged to go somewhere else.  So, it took some time to adjust in New York when I arrived, but I appreciate it now because it forced me to grow technically.
iRJ:  Tell me about your experience working with Betty Carter. 
JDA:  I was involved with a program called Jazz Ahead, Betty Carter's Jazz Ahead.  The emphasis was on writing your own music, which is the best way to find your own music.  The program was very big on learning standards and composing.  Before she (Betty Carter) would let us perform we had to do three original pieces.  It was intense.  If anyone played jazz standards she fired them!   She wanted us to find what was in ourselves and play that.  The main emphasis was composing. I didn't have the courage to perform my compositions until Pharaoh's Children album.
iRJ:  So, it's safe to say that the Jazz Ahead program was influential in helping you launch out.  With that said, in what role are you more confident–a leader or sideman?  What is more challenging? What is more rewarding?
For me, it's more challenging being a sideman. Being a leader comes a lot more natural for me.  When I'm performing with other folks I have a habit of playing the music to fit myself.  But, I will admit that what is lacking today in music is apprenticeship with other artists. I was Ahmad Jamal's sideman once.  I didn't have to be humbled.  I knew what I couldn't do.  However, gaining the confidence is what I got and I learned to buy into another's vision and how to help accomplish it.  I learned how to run a set and proper etiquette.  In Betty Carter's band, she was running everything.  She was in full control.  So, at 29 I decided to go out and be a leader.  I turned my limitations into pluses.
iRJ:  Who are some of your greatest music influences?
JDA:  Oh man, Louis Armstrong, Duke Ellington–I can appreciate the regalness of Branford Marsalis' music. I listen to a lot of classical music.  I listened to Louis Armstrong singing Black and Blue and it just began to stick out to me how this song could mean something to one person, but to another person it takes on a totally different meaning,  yet it means something of significance to everyone.  Louis Armstrong was able to communicate with everyone.  We all in some way play Louis Armstrong.  So, like I said, I listen to everything–classical music, opera's, commercials, everything.  I get inspiration from anything, not just music.  I keep it open and that's the hip thing about great musicians.  Branford Marsalis said that "a lot of times musicians don't just talk about music.  They talk about other things like art."  I love the philosophy behind music.  I think about why someone wrote a song.  There has to be more than just a note, music must have meaning.  Our job is to make people get that meaning.  My philosophy to my music is to find a great melody.  To me the greatest songs ever are Row, Row, Row Your Boat and Happy Birthday.  They are simple, but powerful melodies that are memorable.
iRJ:  Your albums and songs have very unique names.  Names like: Pharaoh's Children, So Get Rid of the Midgets and Send the Giants, The Learned Tongue, Action Jackson, The Bitter Pill.  What is the significance behind how you chose song names?
JDA:  A title is so important.  It's like the frame of a picture and the picture is only as great as the frame.  The name helps me to compose a song.  In essence, it gives birth to a song.  We have to name these children for them to take on a life.  The name is almost as important as the notes.
iRJ:  So, how does your audience play into the music you create?
JDA:  Well, I don't particularly write music for the audience.  Even during my live performance, I normally don't speak, call the song, or make a set list. I just play.  I feel like I'm a DJ and I play what is felt.
iRJ:  Well, it definitely seems like you are having fun.  Do you feel like you are living your dreams?
JDA:  I'm happy to be out taking a chance.  I built up enough courage and increase my confidence level.  I have wanted to be a musician since I was nine years old.  But, it hasn't always been easy. I have thought about the famous "plan B", but the only other thing I would rather do was to be a fireman.  It's the only other thing that would give me a feeling similar to music.  There have been many times when I've questioned what I was doing.  But, I can't imagine doing anything else.  It gets better each year.  There was this one moment on the train.  Back when I first got to New York, I was performing on the subway and this musician–a well know musician, I won't say his name–saw me, started laughing, and then threw a nickel in my hat.  At that moment, I was ready to give up.  I said, "God give me the energy!"  All of a sudden this young guy, who was selling batteries, just appeared on the train.  Without any provocation he gave me two AA batteries for free and then walked away.  I guess that was God's funny way of telling me not to give up.
Check out JD Allen at www.sunnysiderecords.com and look out for JD Allen's new recording, The Matador + The Bull, out June 2012.
By Johnathan Eaglin

JD Allen, Victory!