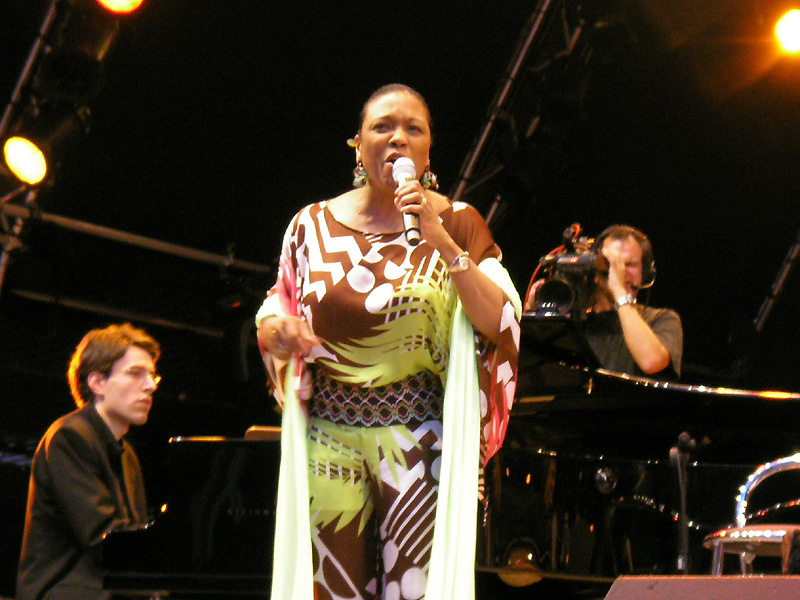 Dee Dee Bridgewater has been captivating audiences with her dynamic vocal skills and her brilliant stage presence since her debut in the early 70s, making her name one that rings synonymous with jazz. Bridgewater's stellar theatrical performances have earned her numerous awards including the coveted Tony, and made her a living legend among Broadway enthusiasts worldwide. And after serving the world decadent musical treats derived from her own soul for decades, the three time Grammy Award winning soultress is sharing her recipe for greatness with a whole new generation of artists, like the AfroPhysicist Theo Croker, on her new DDB Records label. Although she has performed at every major festival event around the world, for the first time in festival history, we are proud to announce that Bridgewater's iconic presence will grace the Newport Jazz Festival stage.
Fortunately, you all have the best seat in the house for Dee Dee Bridgewater's interview with iRock Jazz. So, without further delay ladies and gentleman, iRock Jazz presents Dee Dee Bridgewater.
iRJ: Let's start from the beginning. You birth name is Denise. How did you become Dee Dee?
DB: I was born in Memphis, TN, and at the time that I was born, that was an unusual name, especially in the South. So, the kids, my mother said, just started calling me Dee Dee, and it stuck. And I have always preferred being called Dee Dee to Denise. I think Dee Dee is a very warm, very open, very simple name, and I think Denise is kind of uptight [laughs] and proper. Yeah, I've never liked Denise. People who call me Denise do it because they try to show that they know me. I have an old girlfriend from growing up in Flint, MI, and she always calls me Denise; actually I have two girlfriends that call me Denise. And my mother would call me Denise when she was angry with me. And if she called my middle name, I was really in trouble. So yeah, Dee Dee has always been my name. I am now legally Dee Dee Bridgewater.
iRJ: You are viewed as a role model to many, especially in the jazz community. Do you feel the pressure of being a role model?
DB: I don't feel the pressure of being a role model. I don't think about being a role model; I think about living my life from day to day. I always think about how my actions can affect others. I try to follow that old adage, "Do unto others as I would like done unto me". I had a very strong Catholic up bringing. I went to Catholic school until they kicked me out at 14 [years old]. A lot of those teachings were embedded into me. You know, turn the other cheek and that sort of stuff. Well, I don't turn my cheek so much any more. But I try to be respectful, and I try to treat every individual as exactly that-an individual. I don't think I'm better than anyone else. I try to give time if I can. If I can't, I tell them that I can't and why. And I try to be accommodating because I remember as a young artist just starting out, how people wouldn't speak to me or they would just ignore me, and I remember how hurt I would feel.  I vowed that I would never do that to anyone because people can carry that meeting that they had with you around with them for years.
iRJ:  Do you remember your first big break?
DB: Yeah, I was singing with the Thad Jones-Mel Lewis Jazz Orchestra. That was my first big, BIG break. I'll tell you of another big break before then. My father, Matthew Garrett, introduced me to a dear friend of his from Memphis, who was working on his Doctorate at Michigan State, and that was the alto saxophonist, Andy Goodrich. Andy had a quintet, and he added me to that quintet at age 18. And he called it the Andrew Goodrich Quintet plus 1. [Laughs] So he took me around to a lot of collegiate jazz competitions, and so I performed at a lot of competitions. I was given special awards. A lot of the festivals didn't even have a vocal category for competition, and that's where my name kind of got on the map because I was voted in Down Beat as a singer deserving of wider recognition during that period. So that was my first really big break. My second big break was with Thad Jones-Mel Lewis, and Thad Jones was my mentor. For four years singing with that band was my spring board.
iRJ: Speaking of getting on the map, you are getting ready to log in your first trip to the Newport Jazz Festival, right?
DB: Yep, this is my very first time. I had to wait until I was 64 for George Wein to deem it, ok 
iRJ: So what prompted George to put you on this year?
DB: [Laughs] He came to see an off Broadway show that I did about Billy Holiday called Lady Day: The Musical, and he was blown away. He wrote me a long email, which I've never gotten a personal email from George, so you know that was something. And he was going on about what a great actress I was and how he thinks that it was time that I do the festival.
iRJ: Are there any other jazz festivals in the United States with the same prestige as the Newport Jazz Festival at which you have not performed?
DB: No, this is the one. And I was always asking, 'How come he doesn't want me at the festival?!' [Laughs] Sometimes you just gotta wait.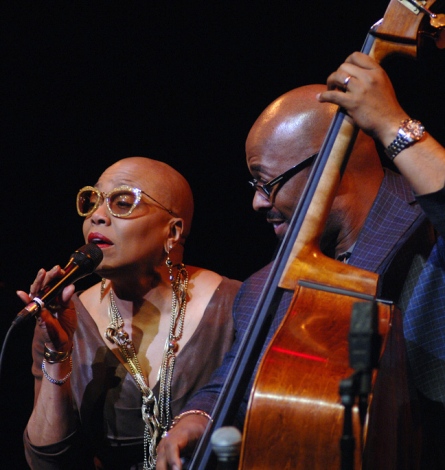 iRJ: You have a new record label now, and you're doing radio and a lot of other exciting stuff these days. Tell us about the Bridgewater Brand.
DB: Oh, I didn't know there was one. I'm just doing what I do. I've been producing myself since 1993, and I always had the goal of producing other artists. I was given the luxury of having DDB Records, which is really a vanity label. That means I can produce other artists and if the label, in this case Universal; actually I have two licensing deals. One is with Universal and the other I got in order to put Theo [Croker] out and that is with Sony's resurrected OKeh Records. You know, I just have goals; I don't really talk about them, I just try to get them done. Producing young artists has always been a goal of mine. I am really, really pleased with Theo's CD and the reception that it's getting. But that was 3 years in the making. It took a year before I could get him over to the states from Shanghai and we were searching for a deal for almost a year. And then finally when Sony expressed interest, it took us almost a year to negotiate the deal. So these things take time. But what has happened is that his music has come out at what I think is the perfect time. It's a time in which people are really receptive to his style of music. He is a very eclectic young man, I like that about him. And I told him that I did not want to do some straight ahead jazz record, not another one. I told him please, I've been in that business long enough; I don't even want to do it. I want to do something new and exciting and fresh, and that's what he offered.
iRJ: What's left for you to conquer in the music world that you haven't done already?
DB: Oh my God, there is so much left to do! Shoot, I don't even know! I don't know what the universe holds for me. I know that I'm doing a lovely project that happened kind of unexpectedly with the New Orleans Jazz Orchestra and Irvin Mayfield. I've been working with Irvin off and on for the last 3 years and just having a ball in New Orleans. So they are doing kind of a mini Jazz at Lincoln Center and they are going to name the theater The Dee Dee Bridgewater Theatre. So Irvine and I were talking about doing a recording project. I told him, 'You know it would be nice to do something and see if we could get it out so that it could coincide with the inauguration, and then we can tour.' So I had gone down there for the ground breaking ceremony and honey, the next month, we were in the studio. And it's turned into this beautiful project. Everybody that hears this album goes absolutely crazy for this album. So that's exciting.
And then I'm working on the second of my trilogy, which is what the Red Earth was about. That was about tracing my genealogy and my African ancestry. And now I'm going to go to where my parents' families came from. Both of their families originated out of Mississippi, and so I've always loved the blues-I promised my mother I would not sing the blues. But now that she is 87 and can't remember [laughs] I'm thinking now is the time. [Laughs] It's a joke. But she didn't want me to do the African project either, but when I played her that project the first time, my momma was up out of her chair and danced for an hour. So that was really, really great.
Words by Steen Burke