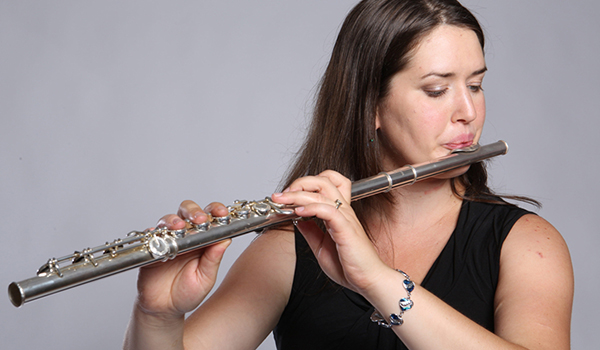 Born in Gothenburg, Sweden, flutist Elsa Nilsson brings an exciting sound to jazz. A graduate of the Cornish College of the Arts, Elsa began playing the flute at the age of 11. Her music, birthed from personal pain, is a beautiful expression of human emotions that transcends cultural boundaries.
In this exclusive interview with iRock Jazz, Elsa shares with us how traditional sounds inspire her, how tragedy drove her and how she hopes her third full length album, Already There Yet. will inspire listeners to see the commonality of humanity.
iRJ: You were born in Sweden; how much of the Swedish musical culture is represented in your music today?
EN: A lot; that's how I got into improvisational music. I came up singing sea shanties with my dad's band from a really, really young age. He stuck me in front of a microphone before I was two. There were the sea shanties and then the traditional music that had an improvised component, so that's how I started playing improvisational music, and I've kind of held on to it. I use jazz to kind of go deeper into it, but it all comes from a place of Swedish traditional music.
iRJ: How did you learn about jazz in Europe?
EN: It [jazz] is pretty prevalent over there; especially in Sweden. Swedes love jazz.
iRJ: Did you find jazz in the United States different than in Sweden when you came here?
EN: Absolutely, yeah. The whole approach to it is very different over here [United States]. Especially for me, since I play a very non traditional instrument for jazz. In Sweden, I had to really push to get to play at all. I had to jump through a lot of hoops in Sweden, but when I came to the US, it was like "Sure! Do whatever you want!" [Laughs] Which was nice.
iRJ: How would you define jazz-since you come from two different perspectives?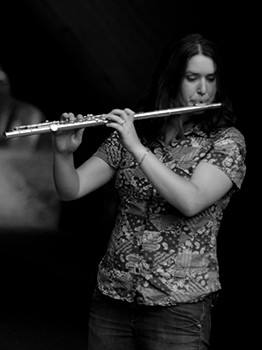 EN: I think jazz is the folk music of the US. Cause to me, folk music is the music that is the traditional music of that people. This country is so young that I feel that jazz has grown into being more that, or at least the roots of it. That's why jazz lends itself to blend so well with other cultures, and I just want to take it a step further in see if you can mix it with Turkish music, and Baltic music and Swedish music.
iRJ: Most of the new generation of jazz artists are blending genre to create their own jazz. Is that something you feel is necessary for jazz; to create something new or embrace the old standard and put a new twist on it?
EN: I feel either is perfectly valid. I feel like jazz is always trying to mix, and it's always trying to reach out to something new. And I think mixing different genre is in the tradition; I don't see those as two completely separate things.
iRJ: The flute isn't a traditional jazz instrument. What made you decide on it?
EN: When my dad broke his neck, he was paralyzed and he was in the hospital for nine months. I was 14 [years old], so it was like a really hard time for everyone in the family. The way I dealt with it was I buried myself in music. I would go to school, and my teachers were ok with me not being in class; so I just handed in my homework and went home and practiced every day. It has been-and still is today-how I deal with emotion and how I deal with the world. It's also why I switched to flute; I used to play nothing but piano. I switched to flute because you can't take a piano backpacking. One of my earliest memories of playing the flute is hiking out to these mountain tops in California and standing on peaks and playing. The freedom of that is something I try to capture in my music.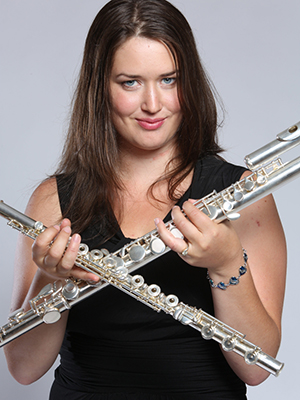 iRJ: Can you separate music and emotion?
EN: I can when I practice, but not when I am performing. Because I want to be communicating something, I want to express something when I'm playing. If I separate the emotion from the music, then it's like I don't care what I'm playing; and then why would anyone else care?
iRJ: If your father hadn't have had that accident, where do you think you would be as a musician?
EN: I don't think I would be a musician if that hadn't have happened. At that time, I was speed skating and doing a lot of other stuff, and music was just one part of who I was. When that happened, it became survival. And I still get like that. If I go one day without practicing, I get weird. [Laughs]
iRJ: Do you think this has made you a better musician or just an inspired one?
EN: Just an inspired one. There are so many places to play music from; this is mine.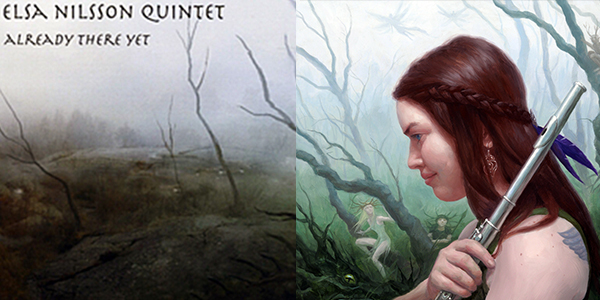 iRJ: Tell us about your new release and the inspiration behind it.
EN: It's called, Already There Yet. Pretty much every track on that record has a distinct ethnic flavor from somewhere. The first track is a Swedish song that I mixed with a Cuban rhythm. And there is a couple of straight up originals, but they all have something about them from a specific place. The idea behind this was to kinda show that all these really on the surface different cultures, have a lot in common musically. It shows when you mix them; it doesn't show so much when you listen to them next to each other. And I think people focus too much on what is different-what's different about them versus other people, what's different about their culture versus other cultures-and they are not willing to see what's similar and connect on that level. I was hoping that this record will be able to inspire people to look at the similarities between their cultures and other cultures.
iRJ: Is there one particular track on the album that you connect with more so than the others?
EN: Yes, but it changes [Laughs]. Right now I would have to say Vårvindar Friska (means "fresh spring winds") track 7, for a couple of reasons. Where I grew up, one of the biggest cultural tensions are between the Swedish natives and the Turkish immigrants. In that song, I used a Turkish groove with a Swedish melody. So it hits very close to home for me on a lot of levels. Another reason is because it has to do with spring, and I'm just tired of all the snow we had in New York this year!
iRJ: Are there any upcoming projects for you, beyond the album?
EN: I'm hoping to get out and tour Europe this summer; I'm working on booking a tour there. And I think for any new mission, it's the next album now. I'm thinking about what I'm going to do next or what the next project is going to be. And it's really exciting to get to take something that I have been working on for so long, and then complete it; and then get to kinda let it go and think about what's going to happen next. So the music that I am working on now is in a similar vein, but it's a little heavier.
By Steen Burke
Flutist Elsa Nilsson will perform her "absolutely gorgeous" (KSER, Seattle) interpretation of world jazz as she and her quintet split the bill with the "harmonically sophisticated" (Jazz Times) Davy Mooney Quartet. The show will take place at Blue Note Jazz Club (131 W. 3rd St.) on Friday, May 2nd as part of the venue's ongoing "Late Night Groove" series. Doors open at 12am with the sets beginning at 12:30am. Admission is $10 in advance and $15 on the day of the show. Tickets can be purchased here: http://bit.ly/ENDM_0502.